Business Sense
Best practices for building a good email relationship
Catherine Nasers, 9 Clouds
July 18, 2023
4 min read
Today, marketing emails are an essential tool for any business's marketing strategy.
Email is the most private and personable medium for businesses to connect with customers or potential customers. Unlike social media or paid advertising, the inbox remains a comfort zone of tailored information. It's the original source of permission-based marketing, where businesses can talk to contacts and learn from them in real time.
The world sends billions of emails every day. Although this might seem like a firehose of communication, it's still easy for businesses to stand out and provide value in the inbox.
There's a reason every form you fill out online requires an email address. Email acts as the intermediary between your online experience and your house. As leads and customers interact with your business in real life, your business needs to build an online relationship with them, with a clear and understandable email marketing strategy.
It begins very simply: your team should be gathering email addresses from all customers and leads.
So how do you build an online relationship between your business and those leads and customers? It begins very simply: your team should be gathering email addresses from all customers and leads.
It takes time to build your lists, but it's important to do it right and that means building it organically. Having a good email list protects you from being blacklisted, from being sent right to SPAM, and from being negatively impacted by new tech changes. Never purchase lists from a third party.
You should also remove email addresses that have hard bounced or unsubscribed. Sending emails to people who don't want them is a waste of your time. Keeping your list clean in this way actually will increase your engagement with recipients overall, since you'll be sending emails to those people who want to hear from you.
After you've started building the contacts in your database, the next step is to segment them into lists. You can segment them by store location, the products they're interested in, when they visited, or a number of other criteria based on the data you have. The key to building a list is to first determine the goal of your email campaign and, from there, decide what criteria are relevant to that message.
If your business isn't sending a specific message to qualified people, the only thing you're doing is cluttering people's inboxes. Email marketing is the best way to send relevant offers to people at the right time — not just blasting out your best offer to everyone.
Need ideas for emails to send? Many businesses are sending:
Personal, one-to-one emails to active leads
Lists of regular monthly incentives, sales, or offers
Product overviews
Blog post notifications (for subscribers)
Reminders for appointments or events
Here are two ideas for emails to get the right message in front of the right people:
Welcome emails, which orient newly converted contacts with the offerings and values of your business. This is often the most commonly missing piece of a business's email marketing strategy.
Segmentation emails, which qualify contacts based on what they click. For example, an auto dealership could send out emails to contacts who haven't indicated an interest in a specific vehicle or service. This allows the dealership to gauge their interest and learn from their browsing behaviors, and they can follow up with more relevant emails specific to their needs. Here at 9 Clouds, we send emails to contacts asking about their top priorities for marketing in the next year to learn what they most want to hear about.
With the right data and the tools, the process for contacting customers and leads is simplified and affordable, letting you automate more and customize your messages more easily.
Doing the work behind the scenes in your email database tool — like HubSpot, MailChimp, SharpSpring, or your own customer relationship management (CRM) tool — to get the emails and the information you need to segment them appropriately is important if you want to send the right emails to the right people.
When done right, email is a cost-effective, fast, and simple way to keep customers informed and excited about what your company has to offer.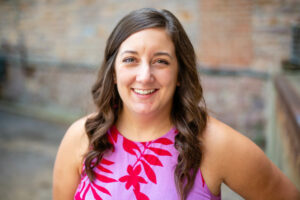 Meet the author
Catherine Nasers
Catherine Nasers is a senior account coordinator and digital strategist at 9 Clouds. She is experienced in healthcare marketing and specialty marketing and focuses on inbound strategy and project management.