Creating future leaders
Leadership Sioux Falls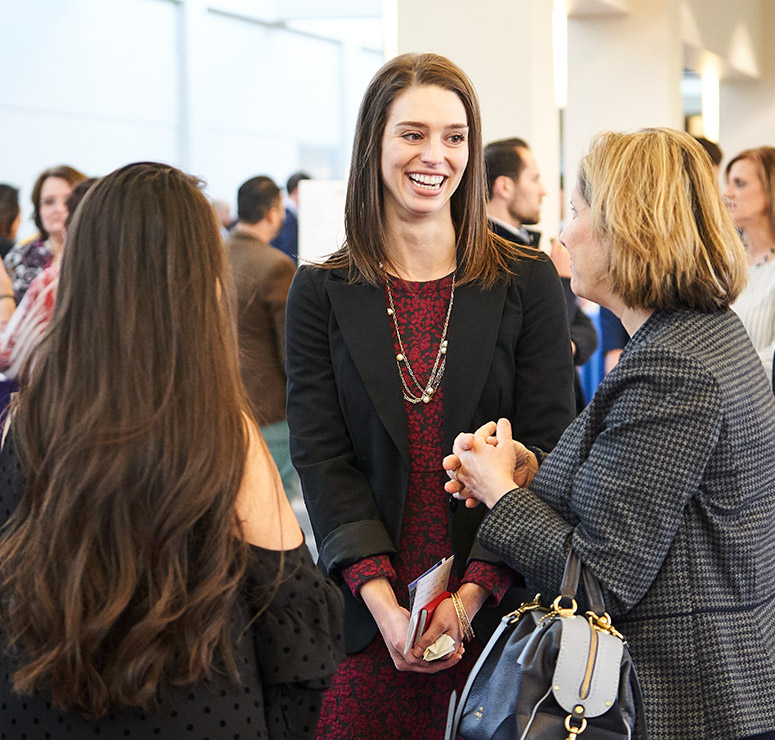 The Program
The Evan C. Nolte Leadership Sioux Falls program is designed to meet the community's need for active participation of informed and dedicated community leaders. The program is built around providing educational experiences, and this process focuses on helping participants identify ways they can serve and engage in active citizenship that aligns with their strengths and talents. If you are a community-minded, committed citizen and have an interest in shaping our community's future, Leadership Sioux Falls is for you.
Leadership Sioux Falls is not intended to be a leadership training seminar. Rather, students are presented unique opportunities to get behind the scenes in the Sioux Falls area and identify where their leadership would best serve our community. You will naturally build on your leadership skills and learn what makes our community tick through the top tier presenters we are able to secure.
Join LSF Class 38
Apply Now
Applications are now being accepted for Leadership Sioux Falls class 38. Applications must be submitted online by 3 p.m. on Friday, Aug. 4, 2023.
Applicants are encouraged to prepare their materials in an outside document before beginning the online form.
Program Information
Program participants will: be educated and motivated to have greater involvement in the community, expand their personal leadership talent, develop valuable contacts and communication networks and ready themselves for future leadership opportunities in their careers and community.
Employers and sponsoring organizations will: see benefits from the broadened perspectives and enhanced potential of participant, have doors open for greater corporate/organizational community involvement and visibility and create additional opportunities to influence positive change.
The community will: experience benefits through increased community involvement from participants and reap future benefit from collective commitment to effective leadership by program graduates.
To be eligible for selection, the applicant's employer/sponsor must be in support of the applicant's full participation in all required sessions. Participants are selected based on the information submitted on the application and in the required letters of recommendation. The selection committee will strive to enroll a class that represents a diverse range of occupations, backgrounds, interests and talents with preference given to individuals who have participated in past community and professional activities, have lived and or worked in the Sioux Falls area for a minimum of 1 year, are over the age of 25, are able to attend all required sessions, commit to serving and strengthening the community. Class members who miss sessions may be dropped from the program and will not graduate.
There is a $25 non-refundable application fee that must be paid before submitting the application.
If your application is selected for the program, a $900 tuition invoice will be sent to you and must be paid before the first session.
Tuition includes meals, supplies and all costs incidental to the operation of the program. Financial assistance may be available.
The Leadership Sioux Falls program has 9 required sessions, running from October through May.
Oct. 4, 2023 – 8:30 a.m.-4 p.m.
Oct. 25, 2023 – 2-5 p.m.
Nov. 1, 2023 – 8:30 a.m.-4 p.m.
Dec. 6, 2023 – 8:30 a.m.-4 p.m.
Jan. 10, 2024 – 3-8 p.m.
Feb. 21, 2024 – 6 a.m.-7 p.m. (travel to Pierre)
March 6, 2024 – 8:30 a.m.-4 p.m.
April 3, 2024 – 8:30 a.m.-4 p.m.
May 1, 2024 – 5:30 p.m.-8:30 p.m. (Graduation)
Optional enhancement sessions will offered throughout the program at dates to be determined.
In an effort to maintain class cohesiveness and out of respect to the professionals and venues who donate their time to the program, attendance at all sessions is a requirement for graduation. We also understand that illness and emergencies do happen, so we offer one excused absence for the entirety of the program. The application process is extremely competitive and we simply ask you make a commitment to the program.
The Leadership Sioux Falls experience does not end at graduation. Graduates become a new community resource for boards and task force groups in the private and non-profit sector. Graduates are asked to make return "guest appearances" at future Leadership Sioux Falls classes. Through contact with a wide range of professionals and the "behind the scenes" knowledge gained, Leadership Sioux Falls graduates are ready to expand their influence on the community.
LSF Class 38 is taking applications
Apply Now
I found getting a true look into the workings of industries, non-profits and the local government to be an incredibly valuable experience. In addition to that, networking with a group of peers at the level Leadership Sioux Falls provides is truly a once-in-a-lifetime opportunity.