Feature Stories
Dick Sweetman to lead St. Patrick's Day Parade as Grand Marshal
Larry Fuller, for the Greater Sioux Falls Chamber of Commerce
March 7, 2023
3 min read
Dick Sweetman grew up with roots stretching deep for generations in Ireland. On Saturday, March 18, Sweetman will lead the 43rd Annual St. Patrick's Day Parade as Grand Marshal. He is the first of the 42 grand marshals of the parade to be an actual citizen of Ireland.
Sweetman, 86, is part of a family long active in business and the community. He was head of Sweetman Construction Co. from 1959 to 1996, Terin Construction Co. from 1996 to 2009, founder of the Ellis and Eastern Railroad, and was part of the leadership of Ramkota Companies and Kelly Inns. He's still president of Spencer Quarries near Spencer, SD. And later this year, the state's first planetarium, a state-of-the-art gift from Dick and Kathy Sweetman, will open in the Washington Pavilion.
St. Patrick's Day has always been a fun-filled celebration for Sweetman family and friends. "It seems that everyone can claim at least a little Irish blood in their veins, which is ample excuse to hoist a pint or two", Sweetman says. "It is also a joyful break in the middle of the dreary winter, and we thank the good saint for it."
Sweetman grew up around E. 27th Street and Main Avenue and then 7th Street and Duluth Avenue. His parents, Richard S. and Evelyn, had five children. In 1952, R.S. purchased the construction company where he had worked for 22 years and renamed it Sweetman Construction.
Sweetman and his wife Kathy, were married in 1973 and have three children, Kelly Marie, Erin Elizabeth and Thomas Richard. Today, there are six grandchildren, too.
The Sweetman heritage is in County Wexford along the southeast coast of Ireland. The ancestral home is Clohamon and the Sweetman family traces its lineage back 10 generations to the early 1700s. In the mid-1800s, an ambitious group of Irish Catholics lead by a member of the Sweetman family tried unsuccessfully to establish an Irish-Catholic colony in Minnesota about 85 miles east of Sioux Falls.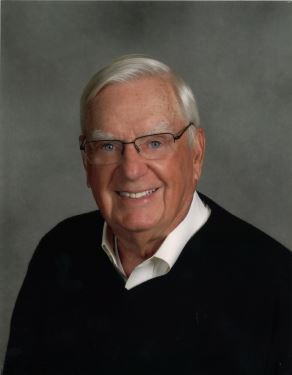 A 1958 graduate of the University of Notre Dame, Sweetman has maintained close ties with the university through its Ireland council. Sweetman became an Irish citizen in 2001 under a program that granted dual citizenship to people whose grandparents were born in Ireland. His family has maintained close ties with relatives in in Ireland. As he grew older, Sweetman says he began to realize that his "sugar coated" vision was not reality.
"On our first trip to the fabled isle, my first impression upon leaving the airport terminal was a sense of returning home," Sweetman says. "Hey! They are just like us! "
The St. Patrick's Day Extravaganza Committee plans the parade with support from the Greater Sioux Falls Chamber of Commerce. The parade was informally organized in 1980 by the late Sylvia Henkin. She stepped down in 2013 after serving as parade grand marshal for the second time. Her successor is Shawn Cleary, president of Tiger Corporation, an Irishman who proudly wears his green stripes.
The parade remains an event that brings the regional community together to celebrate – just as Sylvia envisioned. The parade usually has about 100 entries and is called the people's parade because anyone can participate as long as they are registered or part of a registered group and wearing an official St. Patrick's parade button costing $3.
Placement in the parade is on a first come, first served basis and is at the discretion of parade officials. Each entry must have some kind of Irish theme. More information on the parade, including registration and rules for participation, can be found on the St. Patrick's Day Parade Facebook page.
Buttons are available in advance at the Chamber of Commerce office, 200 N. Phillips Ave., and numerous businesses throughout the community. They can also be purchased the day of the parade at the start of the parade.
Parade sponsors are Avera Health, Holiday Inn City Centre, Sanford Health, Xcel Energy and a variety of downtown businesses.
Other activities:
Painting of the shamrock on Phillips Avenue in front of Mrs. Murphy's Irish Gifts at 11 a.m.
Parade down Phillips Ave. (13th Street to 5th Street) begins at 2 p.m.
The Vanguard Squadron will perform at the start of the parade, weather permitting.
The falls of the Big Sioux River will be lit green on St. Patrick's Day and the next day.
The Arc of Dreams sculpture over the Big Sioux River will be lit green.