Member Resources
Join The Crew
Holly Rader
June 16, 2022
3 min read
Many members appreciate the connections that they can gain through their membership in the Greater Sioux Falls Chamber of Commerce. Whether you want to grow your professional network or strengthen ties to other business leaders with shared interests, the Chamber has so many options!
One of our newer options for volunteering is The Crew. This group is different from most other Chamber committees because it doesn't have recurring meetings or a minimum time commitment. In fact, The Crew was designed for members who want a way to participate in Chamber activities, but don't want a long-term volunteer commitment.
The Crew is a fun and flexible way to volunteer for short periods of time that fit your schedule. You determine your level of involvement – often your shift is just an hour. You can volunteer as often or as little as you like, depending on your schedule.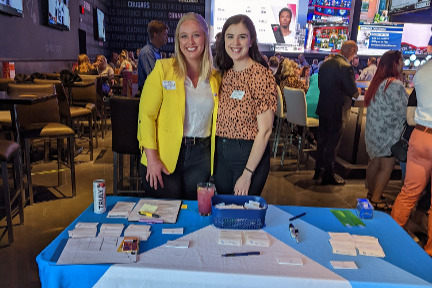 What does The Crew do?
Crew volunteers provide support at Chamber events to help make sure things run smoothly. Duties for Crew members might include working the registration table, ushering attendees, assisting with materials setup or taking photos.
Chamber events are held in the morning, over the lunch hour or at the close of the workday. While the commitment is low, this group of volunteers plays a crucial role in making Chamber events successful.
How to join
If you would like to join The Crew, or just want to learn more about it more information is available on the Get Involved page. When you join the Crew you'll receive a brief virtual training so that you are prepared and confident when you arrive at your first assignment.
Volunteer opportunities are shared with all Crew members once per month. You sign up for the shift(s) that you are interested in and fit your schedule. You'll receive a reminder prior to any event you're scheduled before, along with any special instructions needed.
Why be part of The Crew?
The low time commitment is an attractive aspect of The Crew for many volunteers. It is a way to be involved, without locking yourself into a set schedule.
One of the best benefits of being a Crew member is that you'll have so many natural opportunities to network as you help with the event. If approaching someone new is not your favorite part of networking, you might find that greeting them at the registration table is an easier way to start a conversation.
If you've been waiting for the perfect opportunity to get involved with the Chamber, I invite you to consider joining our fun group of Crew members! If you are already serving the Chamber in a different volunteer role – thank you! Volunteers make things happen for our Chamber.