Member Voices
Meet a member: Jordan Hartshorn
Jordan Hartshorn is the owner/operator of 17 McDonald's restaurants in South Dakota, Iowa and Minnesota. His franchise company, Hart2Hart, entered the Sioux Falls market in 2019 and expanded in the city in 2020. Jordan grew up in Aberdeen, where he began his career with McDonald's at the age of 12! He holds a bachelor's degree in sociology from the University of Northern Colorado. Jordan and his wife Ashley live in Sioux Falls with their two daughters, Norah (12) and Ava (9).
Why does your company choose to be a Chamber member?
McDonald's of Sioux Falls just reached our 60th year of membership. That longstanding partnership is due to the amazing work that the Chamber has done, for so long, ensuring that the community and businesses of Sioux Falls are woven together through the many programs and initiatives they facilitate. The Greater Sioux Falls Chamber of Commerce is a pillar for the vitality and success of Sioux Falls and we are proud to a member.
What is your favorite way to spend a day in Sioux Falls?
My perfect day would be to spend the morning at one of our girls' sporting events, then head over to the Tut Hill frisbee golf course for a game against my wife Ashley. We'd end the day at the Premier Center attending a sporting event or concert.
How did you get started in the food service industry?
I started working weekends at the 6th McDonald's in Aberdeen when I was 12. Mostly because my father was an area supervisor at the time and it felt natural to work at a place I knew so well. I immediately loved it and the people I got to work with. Every day was different and challenging. As I continued through the ranks of different roles and positions throughout the years, I'm now rewarded to watch others grow and succeed within our business as I did.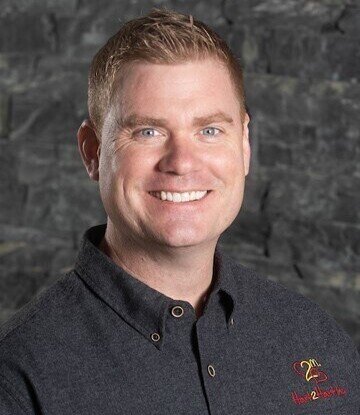 What is your favorite McDonald's menu item?
A 2 cheeseburger meal with Dr. Pepper. However, I take the fries and smash them into the middle of my cheeseburgers. YUM!
What might someone be surprised to learn about you?
I'm an avid foosball player. I play in weekly leagues, monthly tournaments and even travel and play Pro Circuit events every year. Most are shocked when I tell them that foosball has a Pro level tour and that there are even recognized world events.
What is one community or non-profit organization that you support? Tell us about it and why it is important to you.
We have long supported the Ronald McDonald House Charities in and around Sioux Falls. This charity is important to us because of the support and resources it offers to families that need help with the expenses of food and lodging while they are caring for their sick child.
If you could witness any event of the past, present or future, what would it be and why?
It is not a specific event, but I would love to see what the world looks like 100 or 1,000 years from now. With technologies advancing at the rate they are, it would just be fascinating to see what the human race is capable of doing within that time.
What is a skill that you'd like to learn and why?
I would love to be multilingual. It would be so cool to be able to just speak with and understand those whom I currently cannot communicate with. Building relationships with those who do not speak or understand English would be very fulfilling.
What do you think is one of the biggest challenges facing our community today? And how should we tackle it?
For starters every community will always face challenges big and small and we chose to live in Sioux Falls because of the way the community, businesses and local government handle such challenges. I would say that Sioux Falls has the challenges of any fast-growing city, such as infrastructure growth, residential housing, adequate educational/health care systems and staffing businesses to name a few. We need to secure new growth while keeping the unique charisma of Sioux Falls. Doing so means that elected officials are making decisions with the foundations of Sioux Falls in mind and that the community stands together in the face of adversity.
What is the best piece of advice you have received?
(1) Cash in must exceed cash out and (2) fast pay makes fast friends.