Member Voices
Meet a member: Lori Dykstra
Teresa Schreier
October 13, 2021
5 min read
Lori Dykstra stepped into the role of Chief Executive Officer of Feeding South Dakota in August of this year. As experienced nonprofit leader, she most recently served as COO for Girl Scouts Dakota Horizons.
Besides leading the state's largest hunger-relief organization, Lori enjoys serving her community as a Girl Scout volunteer and a member of the Sioux Falls Thrive Food Security action team. Lori and her husband Dave have two children, Dylan (13) and Emma (11).
What attracted you to your position at Feeding South Dakota?
Besides the fact that Feeding South Dakota is a well-respected, effective, mission-driven organization, I think my experiences and journey have been leading me here. It was meant to be. As a young girl I wanted to be a doctor so I could help others. Though my path led me in a different direction, my time as an executive and experiences in fundraising led me back to helping others.
What makes a great leader?
I think a healthy mix of respect, gratitude, humility and courage. Leadership isn't a destination it's something that you'll have to work at regularly throughout your career, regardless of what level you reach in your organization.
What might someone be surprised to learn about you?
I am a Black Belt in Taekwondo. While I'd never hurt a soul, it makes me feel strong and powerful.
What is the best piece of advice you have ever received?
I have two:
"Give more than you expect to receive." I find joy in supporting others, providing them with tools to achieve their goals. In doing this, I have achieved more success than I ever imagined.
and
"There is always room for one more at the table." I learned by watching my mother, who always opened her home and heart to those in need. If there was a friend who needed a meal or place to come at the holidays, they always had a seat at our table.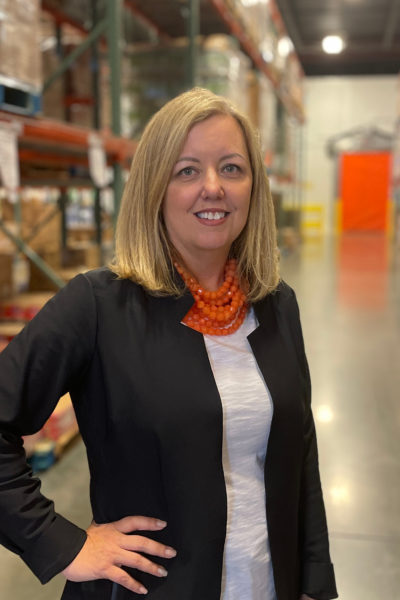 If you could witness any event of the past, present or future, what would it be and why?
The future… what will the world look like when this next generation takes the lead? I can't wait to see how they tackle big issues like food security, climate change, equity and inclusion. Will they close the gap of divide in this country? I believe they will. The future generation has me feeling hopeful.
What is something you are optimistic about?
Through my work with Girl Scouts empowering girls, I am incredibly optimistic about our future leaders. This generation of girls who are growing up right now will no doubt change the world!
What is your favorite way to spend a day in Sioux Falls?
A walk down Phillips Avenue taking in the artwork, some shopping or a visit to Falls Park with my kids and then top it off with a stop for a black drip coffee from Coffea.
What is one of the biggest challenges facing our community today? And how should we tackle it?
With the Covid-19 pandemic even more of our neighbors are faced each day with impossible choices. Choices between buying food or buying necessary medication or paying for childcare and utilities. Choices no one should have to make. Addressing this challenge starts with education on food insecurity needs in our community through organizations like Feeding South Dakota. Taking action by volunteering at a mobile food distribution or helping to deliver the backpack program. Giving back, donating food or funds to aid in the fight against hunger.
Sioux Falls is growing rapidly… what recent change has been most striking to you?
The entertainment, artwork and shops has made it a place I am proud to take visitors.
What is a skill you would like to learn, and why?
To sing. I've always wanted to be a better singer and maybe then my kids wouldn't ask me to stop singing in the car with them.