Member Voices
Message from the chair
Paul Hanson, Sanford Health
May 2, 2023
3 min read
I am proud to be a part of the Chamber that does so many things well.
The Greater Sioux Falls Chamber of Commerce is proud to be the leading business advocate for our region. We work hard to foster a healthy business environment and promote economic health.
When people hear "chamber of commerce," they think business. And that's a good thing! But it may mean people don't always recognize all the things your Chamber does to build our community. This issue of Chamber News reminds me there is work happening on multiple fronts to help make Sioux Falls a great place to live and work.
Our Military & Veterans Affairs Committee can occasionally fly under the radar, but the work they do is deeply appreciated. This month, that committee will host the annual Armed Forces Day Ceremonies recognizing all members of our nation's armed forces. The military installations in Sioux Falls are an important contributor to our community. For example, the National Guard Readiness Center that is currently under construction is a $20 million project that will support training requirements for a growing number of reservists.
There is an election scheduled this month for an open seat on the Sioux Falls School Board. Setting policy for our district's 24,000+ students is a big responsibility. Your Chamber has organized a Candidate Forum to give the public an opportunity to ask questions and get to know the individuals seeking to fill that role. Working to support an informed and engaged citizenry is another way the Chamber fosters a strong community.
Strategically, one of the best investments we can make for the future of our city and region is to support and develop the next generation of leaders. The 37 members of this year's Leadership Sioux Falls class graduated from the program this month. I am confident that they will help positively shape our businesses and other organizations in the years to come.
Finally, part of being an advocate for business means clearly communicating our policy positions. This issue contains our 2023 Legislative Scorecard, detailing how the votes of your local legislators align with the Chamber's positions on bills from the most recent legislative session.
I am proud to be a part of the Chamber that does so many things well. We advocate for you in Pierre, provide a broad range of resources for your business and lead initiatives that support a high quality of life for our community.
All of this work is possible because you choose to invest in membership. Thank you,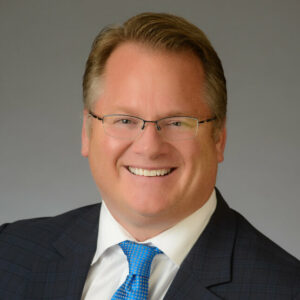 2022-23 Chair of the Board
Paul Hanson
President, Sanford Health