Member Voices
Message from the Chair
Alex Ramirez, USA Media TV
May 2, 2022
4 min read
As an artist, I value the importance and the impact the arts have on the character of our community. Our city is a very vibrant place where so many artists express their talents through performance and visual art.
People come to Sioux Falls from other towns and surrounding states to enjoy the arts. There are those who travel to attend large events like the annual Sidewalk Arts Festival or a major concert at the PREMIER Center. Some come to simply spend a weekend listening to local musicians and enjoying the works of local artists that hang on the walls of our coffee shops. Some people will take the opportunity to purchase a handmade gift. All of this activity impacts our economy. And not just from visitors' spending but residents as well.
It is vital that we continue to support our artistic community.
I believe it is vital that we continue to support our artistic community. It contributes so much to the high quality of life that we enjoy here.
Our growing city and region benefit greatly from investments made by many organizations in all sectors. I am very proud of a recent investment made by the Greater Sioux Falls Chamber of Commerce, in the form of the acquisition of the Commerce Center building. There was very careful consideration from the Chamber's Executive Committee and input from some of our past board chairs. I would like to thank them for their help and dedication. This investment is an example of the commitment from our chamber to grow and invest in our downtown and our community as a whole. This decision was made with our membership in mind, and it will serve us all for years and years to come.
Our Chamber's signature professional development program, Leadership Sioux Falls, will graduate 37 leaders from its 36th class this month. The class has spent the past eight months learning about opportunities and challenges within our community. They've had the chance to form new relationships and stretch themselves personally and professionally. These are leaders of tomorrow and there is no better way to maintain a strong community than to invest in the development of leaders.
This month, we will celebrate Armed Forces Day with a program at The Alliance. I invite you all to join me there to show our thanks to all military active duty and veterans for their service!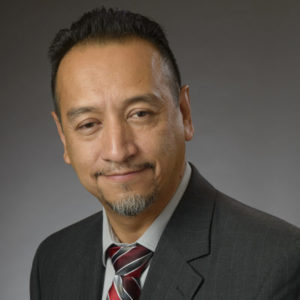 2021-22 Chair of the Board
Alex Ramirez
USA Media TV