Feature Stories
A first class upgrade for first responders
Megan Raposa, for the Greater Sioux Falls Chamber of Commerce
June 1, 2023
10 min read
City's new Public Safety Campus nears completion
It wouldn't take much to improve on the current facilities.
For Sioux Falls Fire Rescue, all it'd take is a training facility that's not either a condemned building or temporary structure.
For the Sioux Falls Police Department, a little more space would go a long way.
And a lot of Metro Communications workers would be happy to even have a building with a window.
But doing the bare minimum isn't the Sioux Falls way.
That's why the city is investing $55 million into a new, state-of-the-art public safety training center on a 42-acre campus. The facility will include multiple buildings, classrooms, training facilities and a new home for Metro Communications. It's an investment in public safety that will both accommodate Sioux Falls' continued growth and set the region apart as one committed to supporting first responders.
"I'm extremely proud to lock arms with our public safety teams as we open this facility and provide first-class training to the men and women that will keep this region safe for decades to come," Mayor Paul TenHaken said.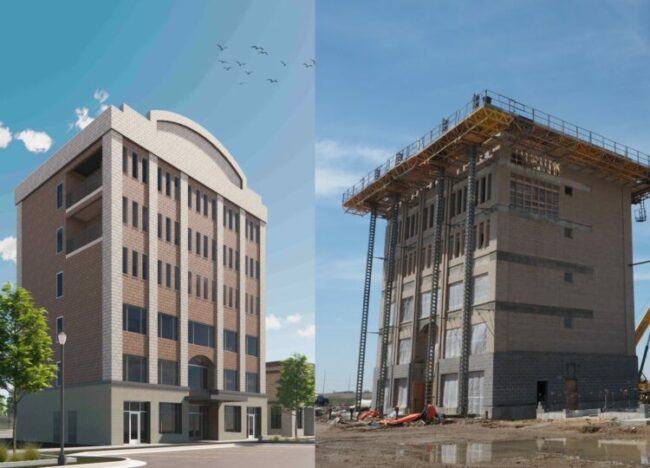 Identifying the need
The current V.L. Crusinberry Regional Training Center opened in 1978 near the Sioux Falls airport. In the 45 years since, it's reached the end of its useful life, Police Chief Jon Thum said.
"It was made before most of us (in the police department) were born," Thum added.
For years, firefighters have been using a temporary training prop to meet the minimum requirements for training because the existing tower out at the airport was pulled out of service because the building was deteriorated.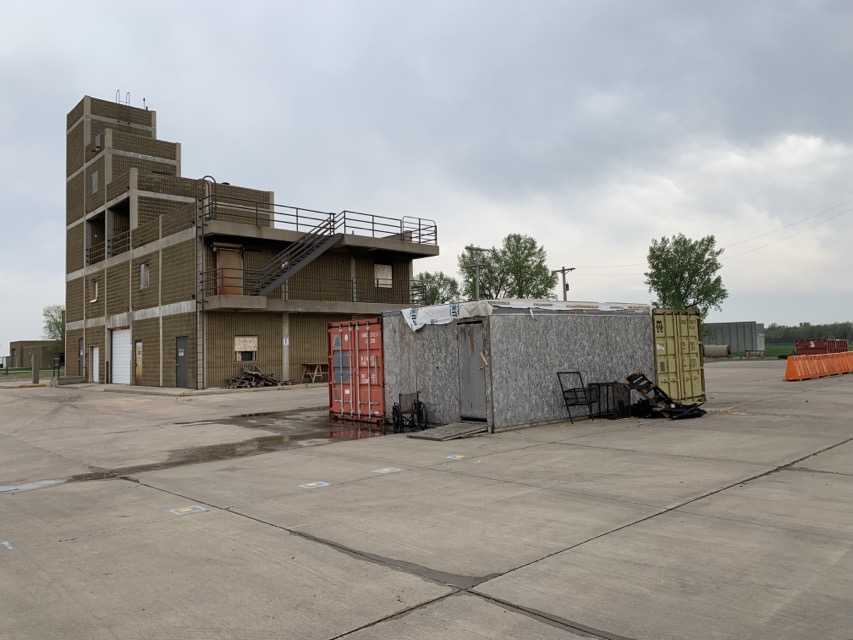 "We put a lot of heat and a lot of fire out there," said City Councilor Curt Soehl, who worked as a training captain for two years at the facility.
In 2018, the city put together a master plan for public safety, including the need for a new training facility. By the fall of 2020, councilors approved a $50 million bond to fund the project, and a few months later, the city purchased land along East 60th Street and Sycamore Avenue. Construction began in November 2021, and now about 100,000 square feet of brand-new training facilities are slated to open this fall.
"Back in 2020 when public safety investments were rare, we bucked the trend and made a big commitment to the safety of our city by bringing forward an investment in this campus," TenHaken said.
It's not just an aging facility behind the need for a new public safety training center. There's also a lot more people living here than there were in 1978, and the police, fire and 911 call center have all grown as well.
The population of Sioux Falls in 1980 was about 81,000. Today, it's over 200,000. In the last decade alone, the Sioux Falls Police Department has added 57 full-time staff, a 21 percent increase. In the same time, Sioux Falls Fire Rescue saw a 17 percent increase, adding more than 30 full-time positions.
It's also no coincidence that the Public Training Campus is being built at a time when across the country, some communities are seeing calls to defund police.
"Other parts of the country are removing resources for law enforcement," Thum said. "We understand that the less training and the less resources you put into something, the less returns you get from them." Thum added that the new campus shows the city's commitment to maintaining excellence in its public safety training as the population continues to grow.
A shared hub for public safety professionals
All of that growth also correlates with an increase in calls for service to police and fire. That's where Metro Communications comes in.
"We're really the lynchpin for that entire public safety team," said Division Chief Mike Gramlick, interim director of Metro Communications. "As (our facilities) improve, so, too, does the service delivery across all our public safety team."
The new Metro Communications facility will have state-of-the-art technology, Gramlick said. It'll have $2 million worth of new equipment, designed for increased functionality and ergonomics. And, by sharing a campus with the police and fire training facilities, dispatchers will actually have a chance to build relationships with the people they're sending off to calls day in and day out.
"I'm really excited to see how those teams come together more closely, communicate more effectively and problem-solve together," Gramlick said.
The new facility will also have amenities for employees. They'll have spaces to get together on breaks, eat lunch, go outside, and, yes – windows.
"It's a fortified building, so it's built to withstand really serious natural disasters," said Erin Bofenkamp, project manager with the city's public works department. "There's thick walls, very few openings, and even the windows have steel things that come over them on the outside in case of a natural disaster. It can really lock down."
It's also got another very important feature: room to grow.
"This really is the facility for our next 50 years," Gramlick said. "It's extraordinary how we're thinking ahead about how we're going to stay ahead of the curve with this area's growth."

Expanded training potential
The new Public Safety Campus will have a total of six buildings, including a gun range and an emergency vehicle operation course that spans 13 acres. It'll also include a streetscape designed to look like Phillips Avenue, that'll allow police and fire to train in buildings that look a lot like what they already encounter in town on a daily basis.
The biggest building will be the administration building, which will house classrooms, administrative offices, the 9-1-1 call center and a brand-new emergency operations center. While there will be a number of police and fire employees housed in the new building, public safety will still rely on the existing law enforcement center downtown to be the public's access point to police. The new campus also includes a number of tactical buildings, each designed to mimic different types of spaces where police and fire would be interacting.
One building is six stories tall, and each floor has its own layout and design. One floor will look like an office, another like apartments, and so on. Another tactical building is two stories tall and designed more like a strip mall, and the third replicates a larger two-story home. The tactical buildings also have a new urban search and rescue feature.
"There's actually a wall in there that they can collapse to simulate a building collapse," Bofenkamp said.
It's a total of 10 different training floors with 10 different layouts, and for firefighters in Sioux Falls, that's a big deal, Fire Chief Matt McAreavey said. It'll help avoid so-called "training scars" where officers get so used to their training setup that they act more out of habit than out of an actual in-the-moment assessment of a situation.
"We can keep people fresh if they don't know what they're walking into," McAreavey said.
For police, there's also a simulator that'll put officers in real-world scenarios. It's essentially a very large video screen that functions like virtual reality, and officers have equipment on their belts that interacts with the screen.
"We're only limited by our imagination now," Thum said. "We're not limited by facilities."
In addition to the new tactical buildings and administration building, the Public Safety Campus will also have a new firearms training building. It's a fully enclosed building with 15 lanes for training in real-world training conditions
"For example, built into the ceiling they have the light bars that you find on police vehicles," Bofenkamp said. "They're going to have those going, sirens going – they try to duplicate that stressful situation, so people are prepared to work in the exact conditions they're finding out in the field."
The emergency vehicle operations course will allow public safety officials to work on their driving skills, practice vehicle safety and even simulate pursuits.
The final building on the campus is the storage and maintenance building. It'll be large enough to hold fire trucks, SWAT vehicles and other large equipment. That building will also have outdoor classrooms that police and fire can use for training that involves working with dangerous materials or debris.
"They will do debriefs in outdoor training classrooms, then go in locker rooms, put clothes in a bag, go to a cleaning area and not get debris everywhere," Bofenkamp said.
Construction on the entire 13 acres is being managed by Peska Construction.
This really is the facility for our next 50 years. It's extraordinary how we're thinking ahead about how we're going to stay ahead of the curve with this area's growth.
There's a sense of intentionality with every part of the new public safety campus, down to the names of the roads in the streetscape. Streets are named after four police officers and firefighters who lost their life trying to keep Sioux Falls safe. Those four men are Fire Captain Charles E. Larson, Fire Apparatus Operator Thomas Masters, Police Captain George A. Saville and Police Night Captain Edward Pike.
The campus also includes an emergency operations center, which is a designated spot for city teams to gather and respond to Sioux Falls' next big weather event or other emergency. It'll streamline operations and lead to more collaboration.
With all the excitement for the tactical buildings and various bells and whistles, what police and fire officials stressed most was their excitement for that potential to work closer together.
"Just having that day-to-day awareness and relationships with each other just allows you to integrate seamlessly when it really matters," McAreavey said.
The campus was designed with the help of the people working in public safety. During the master planning process, the city asked police officers and firefighters to go out and take pictures of some of the most common things in Sioux Falls. Then, designers replicated those scenarios in the training buildings.
Designers – including WSKF Architects and Abercrombie Planning and Design – spent over a year and a half working on the campus' final design. Both of these companies were chosen because they specialize in public safety facilities.
They also took inspiration from other regional training facilities like the one in Omaha, Bofenkamp said. Ultimately though, it's a facility designed specifically for Sioux Falls and with tremendous collaboration among city departments.
"There's no way we could've pulled off a project of this scale without the full support of the city team," Thum said. "And that's public works, finance, planning and development … it doesn't just happen without everybody getting behind it."
An investment for decades to come
The city is funding the project primarily through the $50 million bond approved in 2020. There's also an additional $5 million coming out of the city's capital fund. Taxpayers won't notice a direct impact, though, because before financing this bond, the city paid off $25 million in other existing bonds, Finance Director Shawn Pritchett said. That was possible as a result of federal pandemic relief funds.
The city also agreed to fund the $2 million equipment purchase for Metro Communications. It's a tab the county was originally set to pay, but the city agreed to foot the bill in exchange for some county-owned land near the Denny Sanford Premier Center.
The $50 million bond is set to be paid off in 20 years, unless the city takes action to pay it off sooner.
The new facility will certainly serve current officers and firefighters, but both departments hope it will also help recruit people to those positions in the future.
"Nationally, it's really hard to recruit officers," Thum said. "And we're not immune to that. They see a move like this (investing in the Public Safety Campus) as a commitment to our profession and a commitment to public safety."
From an economic development perspective, the new campus also shows the broader business community that Sioux Falls is a place that invests in public safety, Pritchett said. Those investments can have a ripple effect in attracting more people and more businesses to the region.
"To have a regional training center like this that's going to be a shining star … it's going to be great for Sioux Falls," Councilor Soehl said. "It just makes sense for us to do it, and it's the right time."