Media Releases
Ag Appreciation Day to be held August 9
Brooke Hendrickx
June 30, 2023
2 min read
The 40th annual Ag Appreciation Day will be held in conjunction with the Sioux Empire Fair on Wednesday, August 9, 2023. Farmers and ranchers from around the region are invited to visit the fair and enjoy a free lunch. The event is organized by the Agribusiness Division of the Greater Sioux Falls Chamber of Commerce.
Event chair Jay Buchholz, Sioux Valley Energy, describes the day as a chance to recognize the role area farmers and ranchers play in daily life and the opportunity to showcase an industry that plays a vital role in the local, state and national economies.
"Ag Appreciation Day reminds me both personally and professionally how Agriculture impacts my life. Whether it's working with farmers or value-added ag businesses at Sioux Valley Energy, or when I'm looking for the "perfect" meat selection for my grill, Ag Appreciation is a day when we can serve our farmers and ranchers and showcase their industry. As a Chamber, we offer this event to bring producers and non-producers together over a meal, to continue to tell the story of agriculture," said Buchholz.
Lunch will consist of pork sandwiches, chips and drinks. The pork is sponsored by Smithfield Foods and will be smoked onsite by the Minnehaha County Pork Producers. Organizers expect to serve lunch to more than 2,500 local farmers. More than 125 area businesses support the event financially and more than 300 volunteers participate in serving the meal.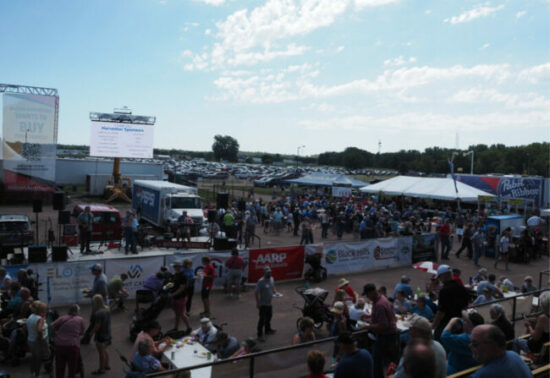 In addition to the meal, there will be live entertainment from Mogen's Heroes, plus special guest appearances by Mayor Paul TenHaken, South Dakota Department of Agriculture & Natural Resources Secretary Hunter Roberts, and other dignitaries.
Free gate admission until 1 p.m. on Wednesday, August 9 is made possible by Touchstone Energy Cooperatives.