Member Voices
Message from the chair
Paul Hanson, Sanford Health
July 3, 2023
3 min read
You may have heard the phrase 'the past informs the present.' It captures the idea that our history is part of who we are and influences our perspective and actions. The concept is as true for whole communities as it is for individuals.
What can we do today that will positively impact those who come after us?
Those of you who attended the Chamber's Annual Meeting last fall heard me talk about the vision and dedication of past leaders in our community. Where our city is today has everything to do with the decisions, actions and investments of those who came before us. Our predecessors modeled a spirit of collaboration, innovation and resourcefulness – an approach that remains a defining trait of our community.
The story of how EROS came to Sioux Falls is a great example of the visionary leadership modeled by past business leaders. In the early 1970's, they saw an opportunity and pulled together to make it a reality. Today, our region is home to an image archive that serves scientists and land managers around the world – not to mention EROS employs hundreds of people and has a significant impact on our local economy.
I'm grateful for the investment made 50 years ago that resulted in EROS making its home here. Stories like this one serve as a challenge for us today. What can we do today that will positively impact those who come after us? How can we instill in the next generation the spirit of collaboration and vision that we've inherited?
In your business, I'm sure you spend time thinking about ways you can improve. You look for growth opportunities and consider how to leverage your resources for the best outcomes. Developing and training your employees is one approach that is sure to pay off. In August, the Chamber's Young Professionals Network will host its biennial Crossroads Summit. I encourage you to send your employees, or perhaps attend yourself. This one-day conference will educate and inspire attendees, and it includes sessions on community leadership!
Let's keep working together to create a better Sioux Falls.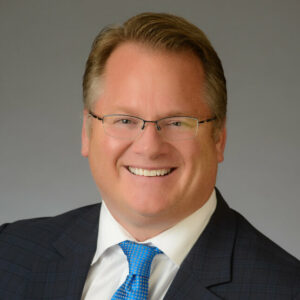 2022-23 Chair of the Board
Paul Hanson
President, Sanford Health