Feature Stories
Committed to community
Jennie Doyen
October 10, 2022
5 min read
Paul Hanson ready to lead as Chair of the board
Paul Hanson's career has taken him to multiple cities and states. When he and his wife, Paige, arrived in Sioux Falls, though, they knew this is where they wanted to stay.
"We love our community. We love everything about it," Hanson said. "We have chosen to stay here, even when other opportunities have presented themselves."
Hanson is the Sanford Health Sioux Falls market president. On October 1, he became the volunteer Chair of the Board of Directors for the Greater Sioux Falls Chamber of Commerce. Hanson stepped into the role cognizant of the contributions of the many leaders who have come before him.
"I am standing on the shoulders of so many incredible people…I can't begin to name them all, but I know they shaped the community we have today," Hanson said. He believes that carrying forward with the work of community development is one way to honor the efforts of those who preceded us.
The keys to success
Hanson was raised in Galesville, Wisconsin, a small town not far from La Crosse. Two experiences in his youth set him on the path toward a career in health care. First, his mother suffered an aneurysm at a relatively young age. Hanson was just nine years old at the time, and he spent a lot of time with her during her three-month hospitalization. He recalls the medical staff being friendly toward him and that he felt very comfortable in the hospital environment. This led him to take a part-time job as a nurse aide during his teenage years.
Then, Hanson had a conversation with a neighbor who worked as an executive for a La Crosse based health system. The man recommended that Hanson channel his interest in business toward a career in health care administration.
Hanson set his sights on earning degrees in both hospital administration and long-term care administration, choosing the combination because it would make him more marketable in the rural system where many hospitals had long-term care facilities attached. "I wanted to be able to open doors for myself, and I knew that the way to do that was through the rural health system," he said.
Over 35 years working in health care administration has taken Hanson to Montana, Minnesota and South Dakota. He now oversees nearly 6,500 full-time employees at Sanford facilities in South Dakota, western Minnesota, and northwest Iowa. This represents a $2 billion responsibility within the Sanford Health System.
"My job is to make sure that I balance the needs we have clinically, operationally, and financially to make sure we coordinate all efforts toward taking care of the patient or residents," Hanson stated. "There is a lot of detail behind each component and having great people in each of those areas of expertise has been key to success."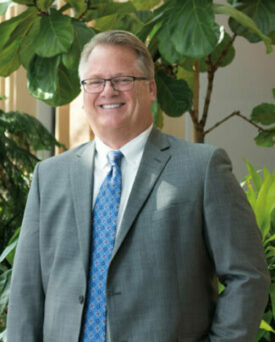 Developing others is a large part of what motivates Hanson. "I love seeing people excel and I love how that translates into the organization excelling."
He noted that given the length of his tenure in health care, there isn't much that surprises him anymore. "But that doesn't make it any less impactful," he said. "There is a challenge every day. And the interactions that happen between people, is what matters. I would like to think that I've followed the advice of a very wise executive who said to me, 'Listen with the intent of being influenced.'"
The power of connection
Sanford Health is a founding member of the Greater Sioux Falls Chamber of Commerce. They joined when the Chamber was created in 1907; the hospital has been in existence since 1894. When Hanson first took the job in Sioux Falls with Sanford a decade ago, there was an organizational expectation that community volunteerism was part of his executive job description. Hanson welcomed that push because he had seen firsthand the value of having business leaders engaged in the community at a variety of levels.
I love seeing people excel and I love how that translates into the organization excelling.
Hanson shared, "I found myself on numerous boards early on. The time commitment was significant, but it was time well spent because I had the opportunity to get to know people, understand their desires for growth and development of Sioux Falls, and learn what they perceived as obstacles to success."
These connections are at the core of what Hanson believes to be the most valuable aspect of membership in the Greater Sioux Falls Chamber of Commerce. He asked, "What better collection of resources than a group of nearly 2,000 businesses who are willing to help tackle opportunities?"
Hanson encourages other businesses to view their chamber membership as an avenue to strengthening their business and their community at the same time. If you have an issue…ask for help. There is likely someone else that has had a similar experience. At the same time, be listening. You might hear about an issue or opportunity your business can influence.
"In Sioux Falls that is what we do – we roll up our sleeves and get to work," Hanson stated. "I know that, I feel that, and I've seen it in action. We know how to finish."
Opportunities and challenges
The Greater Sioux Falls Chamber of Commerce is known in the chamber industry for its highly engaged membership. Having so many voices and perspectives participating in the work of community development has been key to the growth of Sioux Falls. Hanson believes there is always room to include more people in the conversation.
"If you have ideas, concerns, even just general observations, talk to us! We aren't mind readers, but we are open to the conversations," he said. Strengthening participation is the way to enhance trust and create additional value within the Chamber.
As he begins his year of service as Chair of the Board, Hanson acknowledges that there are big challenges to be tackled and accomplishments to be celebrated.
Housing and workforce are two big issues that Sioux Falls has been wrestling with for a while. The population of Sioux Falls grows by thousands every year, creating a strain on accessible housing options. A changing business landscape means employers are trying to create new opportunities for workers while balancing the practical needs of the business.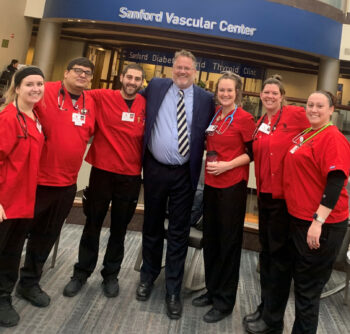 Hanson also believes we need to get more aggressive in addressing mental health issues in our community. The Link, community triage center, has been open for just over a year now. It is a great example of how innovation can happen when various entities collaborate.
Despite the challenges, Hanson is optimistic about where Sioux Falls is going. He has a vision of the city two or three years from now being in a much stronger position.
He points to the significant investments being made in infrastructure and the investment and initiatives happening in the education arena. "Our investments will help us weather the challenges that will come," Hanson said.
The year ahead will be a busy one for Hanson, but that suits him. "I like being in the middle of what's happening," he said. "And if there is something I can do to assist our community in growing – then I'm all in!"
Paul Hanson will be formally introduced as Chair of the Board of Directors at the Chamber's 116th Annual Meeting on Tuesday, October 18. This year's event is being structured as a celebration of the people that make Sioux Falls. It will recognize the vision of those who came before, the effort and sacrifice of today's workers, and the character of who we are as a community.
President, Sanford Health Sioux Falls Market
Family: Wife, Paige; four adult children: Cassie and husband Blake, Kari, Matthew and fiancée Emily, and Michael; and two grandchildren: Isaac and Samuel.
Hometown: Galesville, Wisconsin
Education: Bachelor of Business Administration with emphasis in Hospital Administration and Bachelor of Social Work with emphasis in Long Term Care Administration from Concordia College in Moorhead, Minnesota. Master of Healthcare Administration from the University of Colorado.
Professional honors or recognitions:
The American College of Healthcare Executive Regent's Award for Outstanding Healthcare Executive in the State of Minnesota and the State of South Dakota
Fellow in the American College of Healthcare Executives
Recent Nominee for Concordia College Alumni Achievement Award
Bemidji State University Hall of Fame member