Feature Stories
Community Appeal campaign launches for Skate Plaza
Mike Lynch
November 2, 2021
4 min read
Quality of life enhancements are among the leading reasons that residents and visitors alike view Sioux Falls as one of the best cities in the country. Soon, a new skatepark will be constructed to entertain both children and adults and further enhance a growing economy.
Completion of a state-of-the-art, concrete skate plaza is scheduled for fall 2023 at Drake Springs Park near the intersection of 10th Street and Cliff Avenue. The Sioux Falls Skate Park Association and the City of Sioux Falls have been partners throughout the planning phase and will continue through its development. Ultimately, the Association will gift the skatepark to the City and it will be operated by the Parks and Recreation Department.
The Sioux Falls Skatepark Association is a 501c3, volunteer-operated, non-profit organization. It is set to launch its Greater Sioux Falls Chamber of Commerce Community Appeals capital campaign Nov. 1, 2021 with a goal of $1.35 million; the campaign ends March 31, 2022.
The Community Appeals Committee has endorsed the project and encourages Chamber members to consider a contribution. Funds raised through the Community Appeals campaign will be the primary funding mechanism for the project. Additionally, the City of Sioux Falls will match the first $800,000.
Walter Portz, the association's president, says that skateboarding has one of the lowest cost barriers of any sport, which is important because a majority of youth who skateboard are impoverished. "The facility will provide an opportunity for kids to escape hardship, find community and perform physical activity."
Volunteers believe a new skatepark will benefit the Sioux Falls economy by adding to the many other attractions our city has to offer, an important factor when individuals and families consider a move to a new community. Additionally, skaters are known to travel hundreds of miles to experience skateparks so these visitors will increase spending at area businesses, while adding to the tax base.
Campaign fundraiser Catherine Dekkenga says that the new skatepark will be a fantastic asset for Sioux Falls, one that offers a safe gathering space for all ages—especially the youth—and a promotion of activity. "What is also going to be fun to watch is the impact the new park will have on the surrounding neighborhood and businesses. We have seen similar activity in other areas of Sioux Falls with extremely successful results," said Dekkenga.
Interest in skateboarding has grown over the years. The Sioux Falls Skatepark Association has been hosting lessons for the past 18 months, teaching over 200 participants—with 85 percent female. There is no minimum or maximum age requirement, but most participants range from five to fifteen years old.
Though the association's primary intention is to build the skatepark, volunteers define themselves as a group of fun, motivated individuals who see their community progressing in many ways. This has lead to involvement with other community projects such as the Big Sioux River clean-up as well as gathering and distributing donations of food.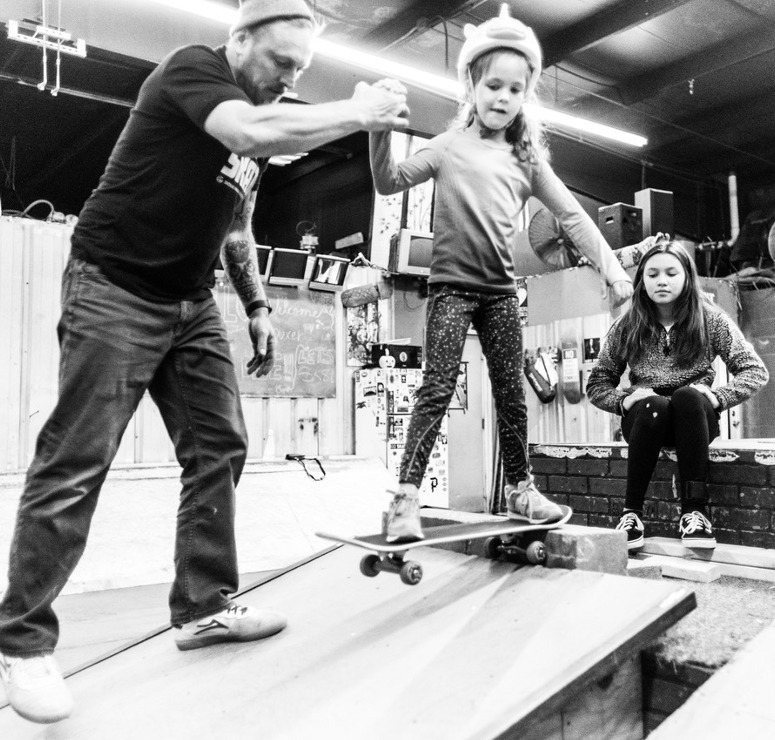 Campaign co-chair Aaron Severson says that as a lifelong resident, he's watched Sioux Falls grow into an amazing place to work, play and raise a family. "Much like our city, skateboarding has progressed for over 30 years and today is an Olympic sport," he said. "Skateboarding at any level takes a ton of determination and confidence and many of the kids who will be utilizing this facility need skateboarding to gain those much-needed qualities for later in life. I'm honored to be a part of this project and can't wait to see it come to fruition."
Though there are currently two skateparks in the city, both are aging and require a great deal of maintenance, so with the new skatepark being constructed of concrete, it will be much more sustainable.
For more information on the Skatepark Association and the plaza project, visit www.lets-skate.com.