Feature Stories
Transformation in progress
By Dirk Lammers
November 3, 2021
15 min read
Downtown sees continued investment and growth
Nearly a half-billion dollars of investment over the next few years will transform downtown Sioux Falls' expanding footprint through mixed-use complexes featuring office space, retail stores, high-end condos and apartments.
The massive expansion of Cherapa Place and the redevelopment of the Sioux Steel property will add another thousand residents to downtown Sioux Falls' population of about 3,000, supporting new bars, restaurants and shops serving the greater Sioux Falls community, said Joe Batcheller, president of Downtown Sioux Falls, Inc.
"When you have people living above a retail location, those people are going to support that business," Batcheller said. "You didn't have that 30 years ago, not to the scale that you have today."
People want to be downtown. They see what's happening. They see the investment that everybody's making. They see the success of it.
Pendar Properties' $225 million Cherapa Place expansion will construct three additional buildings and a parking ramp around the original Cherapa Place tower, which opened in 2007 on the Big Sioux River's East Bank off 6th Street. Lloyd Companies' $218 million redevelopment of the longtime home of Sioux Steel Company will turn prime property just south of Falls Park into a sprawling complex with a nine-story office tower, apartments, condos, retail stores and hotel and convention space.
These centerpiece projects, along with continued private-public investment in common spaces and smaller redevelopment projects, are transforming the look and feel of downtown Sioux Falls, said Jeff Eckhoff, Sioux Falls' director of planning and development services.
"People want to be downtown," Eckhoff said. "They see what's happening. They see the investment that everybody's making. They see the success of it."
East Bank rebirth
Cherapa Place, the first major investment in downtown's East Bank, emerged from Jeff Scherschligt's search for developable downtown land to construct office space for his insurance firm, said Anne Haber, a partner with Pendar Properties. Scherschligt settled on the site of the former Zip Feed Mill and built a six-story, 144,000-square-foot office tower that has been full since opening in 2007, said Haber, who is Scherschligt's daughter.
"He wasn't a developer, but he took a chance on that site, and it turned out to be great," she said.
Pendar Properties always planned to further develop the property, and when the railyard redevelopment project made available a parcel of adjacent land, the company decided to move forward, Haber said. "There's a lot of flat parking space and prairie, so it's pretty obvious that the next step would be to build on that," Haber said. "The timing we weren't ever sure of, and we were definitely not in a hurry."
The project broke ground last month. It will add a 10-story office tower providing office space for The Bancorp, Eide Bailly LLP, MarketBeat, ISG and other commercial tenants by September 2023. Condos will take up the top two floors, and Cherapa II will connect to the original office tower through a third-floor bridge offering 5,000 square feet of meeting space and a 5,000-square-foot roof deck.
"People just think it's an interconnect, but it's actually a space that can be programmed and utilized," Haber said. "That's going to be pretty cool, providing a great view over the river as well as over the courtyard, looking east."
Buildings III and IV, which are expected to be completed by early 2024, will feature apartments with retail shops on the ground floor. A 600-stall parking garage that parallels the rail line should open by early 2023, Haber said.
Making the connection
The Sioux Steel project, just north of the Cherapa site, will be "that capstone piece to kind of really seal what Uptown was painted to be when it was first imagined 20 years ago," said Jake Quasney, Lloyd Companies' executive vice president of development.
A 175,000 square-foot office building will offer 10,000 square feet of retail space on the ground floor, and a seven-story Canopy by Hilton hotel will provide 217 guest rooms and 60,000 square feet of meeting and convention space. A 900-space parking ramp will connect to an L-shaped building offering 100 apartments and 30,000 square foot of retail shops. The office building, parking ramp and hotel and convention center will connect through a skywalk, and a restaurant will overlook the upper Falls.
Quasney said Lloyd Companies recognizes the significance of the site and sought to create a timeless aesthetic that will shine for decades.
"When the Rysdon family gave us the opportunity to take 7½ acres in an urban setting, and it sits right at the top of our city's namesake at the Falls, you've got to get that right," Quasney said. "You only get one shot at that, so we took that seriously."
Construction on the Sioux Steel District began in August with site work, building teardowns and the installation of specialized foundations to solidify the ground. Lloyd Companies expects to turn over the office building to tenants by late 2022 and have the hotel and convention center completed by early 2024. The project's completion will help connect the East Bank and Uptown areas with downtown's core, Quasney said.
"The cool thing is what you're seeing happen is they're kind of starting to grow closer to one another and just create this really cool loop that takes you throughout our downtown," he said.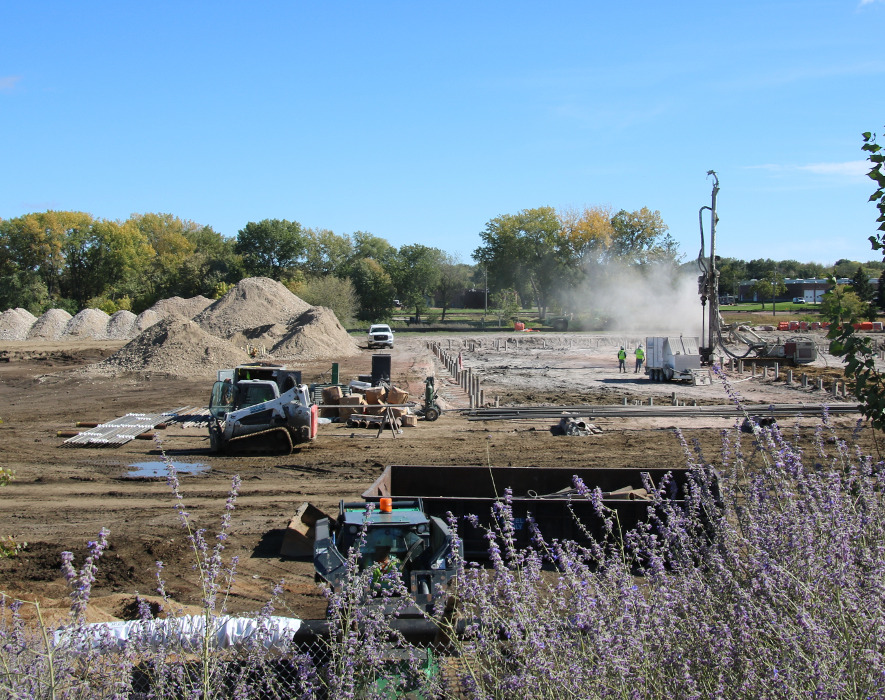 "It sits right at the top of our city's namesake at the Falls…You only get one shot at that, so we took that seriously."
Mixed-use development
Eckhoff said the Cherapa and Sioux Steel projects continue the city's push toward mixed-use development, and combining residential and commercial space is required of any downtown project that seeks tax increment financing (TIF) funding for infrastructure improvements.
TIFs fund projects through the difference in property tax revenue generated before a TIF district is created and afterward. Downtown TIFs generate a tenfold return based on the private investment that follows, Eckhoff said, and mixed-use projects are a key part of the success of the city's core. TIFs drive downtown's density and connectivity and provide space for residents to live, work and play.
"The thing that we want is an active downtown, not just during the day but evenings, weekends, all the time," Eckhoff said. "So that means you need people that live downtown."
Plenty of new housing developments that include space for retail have been popping up downtown, including the Cascade at Falls Park, Phillips Avenue Lofts and the new Railyard Flats development on 8th Street, which features 41 mass-timber-constructed lofts ranging in size from studios to three-bedroom apartments.
"The whole East Bank has always been just ripe for development," Haber said. "The buildings are just stunning."
Stretching borders
Click Rain, a digital marketing and web agency housed in the Rock Island Building on South Phillips Avenue, decided to look for a new home as the company wanted to move into a building ownership position, said CEO Natalie Eisenberg.
A lot of signals pointed us to this area becoming an up-and-coming neighborhood as part of downtown.
"In shopping around for buildings, not a lot is available in our range in what's considered today to be the center of downtown," Eisenberg said. "And so we really started getting creative and looking around at what else is available."
The company settled on the old Symms-Brownell Spark Plug Factory, built in 1919 along the railroad tracks at 7th Street and Nesmith Avenue. Eisenberg describes the property as a "hidden gem" with a sawtooth roof that draws ample natural light. The renovation project will allow Click Rain and Lemonly, an infographic design company acquired by Click Rain in January, to come together under one roof. The new office is set to debut in July 2022.
Click Rain's stretching of downtown across the tracks into the Whittier District neighborhood follows Stone Group Architects' renovation and repurposing of the historic East Side Fire Station at 600 E. Seventh Street into a new home for the architectural firm. The Whittier District features many beautiful homes and Heritage Park, Eisenberg said, and she looks forward to joining forces with other area businesses to grow that sense of community. Future development is likely to push north along Weber Avenue to the Falls.
"A lot of signals pointed us to this area becoming an up-and-coming neighborhood as part of downtown," she said.
Batcheller said he views walkability, public spaces and public art as the pillars that unite with mixed-use development to drive downtown Sioux Falls' success.
Projects such as the widening of Phillips Avenue sidewalks to support outdoor dining, the Main Avenue Road Diet, reconstruction of the 8th Street Bridge and bump-outs at 8th & Railroad have made downtown easier and safer to navigate on foot, and that encourages residents and visitors to gather and shop.
"You need a walkable environment to do that," Batcheller said.
The city will spend about $30 million on additional improvements over the next couple of years, Eckhoff said, replacing the 6th Street bridge, redesigning the 7th Street cul-de-sac into a grand entrance for the Arc of Dreams and reimagining the wide sidewalk space in front of the First National Bank building at 9th Street and Phillips Avenue.
Sioux Falls' commitment to public art through programs such as SculptureWalk and the creation of the Arc of Dreams, murals and other art ventures help attract visitors to downtown. And the city's investment in public spaces such as Levitt at the Falls, the ever-growing River Greenway and the planned Jacobson Plaza at Falls Park continue to draw crowds.
Jacobson Plaza, which is being funded with a $2 million donation from the Garry and Dianne Jacobson family through the Sioux Falls Area Community Foundation and $2 million in city funds, will feature an ice-skating ribbon and an inclusive playground accessible by people of all abilities.
"Those public spaces are really important in providing people with a place to connect with their fellow citizens," Batcheller said. "It just helps build a stronger sense of community, and when you combine it with public art, it creates kind of a multiplier effect in a lot of ways."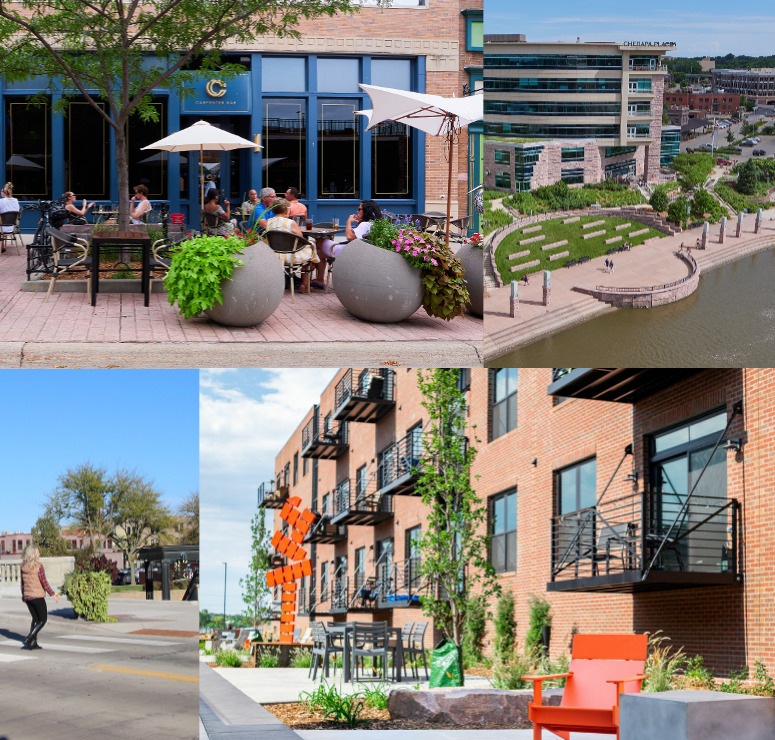 Smaller projects
It's not just the big developments that move the needle, as small projects help draw additional pedestrian traffic. One such project brought Glacial Lakes Distillery to town from 100 miles to the north. The Watertown-based business, which crafts award-winning vodka, gin, light and dark rum, brandy and bourbon, wanted to introduce its potent potables to a larger audience, said co-owner Quentin Robertson.
"We knew that being in Sioux Falls, the most populated city, was kind of what we needed to do to grow our business and take it in the direction we were hoping to go," Robertson said.
The company renovated the former Earsay building at 10th Street and Main Avenue into the Glacial Lakes Distillery & Brewhouse, an open, modern-industrial-style spot offering a large corner patio for enjoying a drink before dinner or a pre-show beverage en route to the Washington Pavilion.
Eckhoff said such projects are key to complementing the larger developments transforming downtown Sioux Falls. "It's a small building, but it was a major upgrade for that small building," Eckhoff said.
Batcheller sees lots of development potential in the many surface parking lots across downtown, and he anticipates that pavement will soon birth new businesses further improving downtown's walkability.
"There's going to be more effort put into filling in some of those gaps between buildings and creating more density, more activity, more vibrancy," he said.
Downtown's continued expansion is helping to drive record growth across the city. Sioux Falls' building permits for 2021 are expected to top $1 billion for the first time in history, Eckhoff said. He credits the leadership of current and past city administrations and councils for envisioning what downtown Sioux Falls could be and bringing it to reality.
"None of this gets done alone," Eckhoff said. "It's really that private-public partnership collaborative adventure we're taking together that really makes this work," he said.