Advocacy
Engaged members are key to success
By Debra Owen
November 12, 2021
3 min read
Through strong engagement of active members, the advocacy efforts of the Greater Sioux Falls Chamber of Commerce are successful. Each year, the Chamber crafts a legislative agenda based on issues anticipated for the coming session. The agenda is decided by the Chamber's Board of Directors with substantial input and recommendations from the Issues Management Council (IMC).
Every fall our leadership is actively focused two key documents: the Policy Statements and the Legislative Platform. Together, these documents drive our advocacy efforts at the federal, state and local level. IMC dedicates two months to fully review and vet the documents prior to submitting them to the Board for their consideration. Through IMC's discussions and survey feedback from business members, we know the Chamber advocacy efforts are on the pulse of our regional business interests. Copies of the most current Policy Statements and the Legislative Platform can be found at siouxfallschamber.com.
During the nine weeks of South Dakota legislative session, the Legislative Issues Council (LIC) meets each Friday. This small group of highly engaged volunteers reviews issues that arise during week in Pierre. They consider the issues in light of the Legislative Platform and Policy Statements, and provide additional input and direction for the Chamber's advocacy efforts. LIC is comprised of the members of the Chamber's Executive Board and the Chair and Vice Chair of IMC.
the Chamber's policy positions are on point for our business community.
Thanks to the leadership and engagement of the Board, IMC and LIC the Chamber's policy positions are on point for our business community.
For those who may not be familiar with IMC, it is comprised of nearly 50 members who represent a wide variety of businesses and industries. IMC is focused on public policy year round. Fall is its busy season each year, as the Policy Statements and Legislative Platform are set. And during election years, IMC will also engage in making recommendations to the Board for official positions taken on ballot measures. As part of that work, the chamber writes issues briefs for each ballot measure; those can also be found siouxfallschamber.com.
We appreciate the work of our Board of Directors and members of IMC for their dedication to ensuring our region is driven by solid, business-friendly policy that moves our economy forward. We also appreciate their taking time to testify in legislative hearings and to reach out to individual lawmakers through our call-to-action efforts. Frankly, the passage of the Spanish Driver's license bill last year is an example of a pro-business workforce effort that found success because of our member engagement in Pierre. Let's keep a good thing going Sioux Falls – together we can continue to move our economy forward.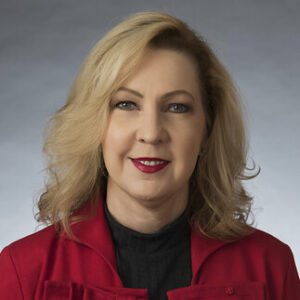 Vice President of Government Relations
Debra Owen
Greater Sioux Falls Chamber of Commerce