Member Voices
Meet a member: Darin Kaihoi
Jennie Doyen
November 13, 2021
3 min read
Darin Kaihoi is the CEO and co-owner of Coffea Roasterie. He oversees Coffea's four retail locations in Sioux Falls, including their roasting lab in the Louise Avenue store. Darin is passionate about bringing great coffee to all. He and his wife, Anna, live in Sioux Falls.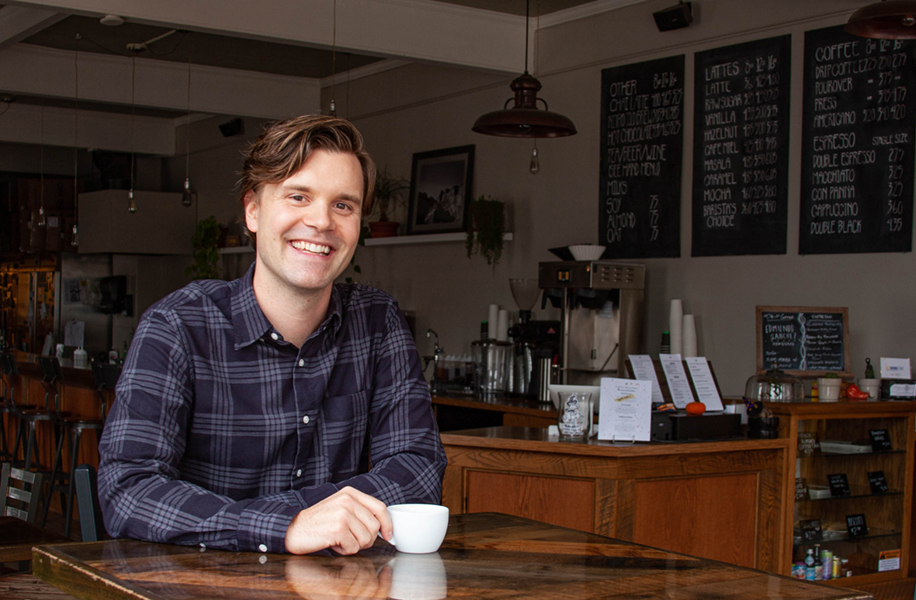 How much coffee do you drink on a typical day? And how do you take it?
A lot of my coffee consumption comes in the form of cupping, which is a method we use (and is widely used in specialty coffee) to evaluate coffees. Cupping is a little bit like wine tasting. The thing that's different about drinking coffee this way: it's slurped from a spoon. Aside from that, it fluctuates a bit, but it's pretty much always either espresso, black coffee or cappuccino, usually in small doses, although when a barista offers me something they've made, I'm pretty much always game to taste along.
If you could witness any event of the past, present or future, what would it be and why?
I'm going to have some fun here and say seeing Bob Dylan go electric at the 1965 Newport Folk Festival. (If you know, you know!)
What is one community or non-profit organization that you support?
For several years now, Coffea has partnered with the Presentation Sisters of Sioux Falls for a winter clothing drive centered around outfitting immigrants who are newly settled here. I love that we're able to partner with a caring non-profit and our community to help meet a very practical but important need, while also helping to make our newest community members feel welcomed here.
What is something you are proud of?
I've written and recorded a few musical albums, and hope to make more. I think I'll always be happy with the choice to pursue creative projects like that.
What do you think is one challenge facing our community today? And how should we tackle it?
I think that as Sioux Falls continues to grow, we need to be very intentional about supporting both the arts and small businesses. Those two things are the pillars of culture and community, and they can easily be lost to gentrification and "bigger" interests. I think we have a great opportunity to support what we have and foster much more, but it takes involvement at every level.
Why does your company choose to be a Chamber member?
We believe that it's important to be a part of the Sioux Falls business community. The Chamber provides valuable resources as well as opportunities to connect with other Sioux Falls businesses.
What would a perfect day in Sioux Falls look like for you?
I would start off with an espresso at Coffea, followed by a stroll around the Riverwalk (and the Falls Park Farmers Market if it's a Saturday). Then, lunch downtown at one of my favorite places. Throw in some more coffee and a little vinyl shopping, then a hike at Good Earth State Park. To cap it off, dinner, drinks, and live jazz downtown. I'm happy to say that I've lived this day a time or two!
What is a skill that you'd like to learn and why?
My wife and I love to travel, and, to my embarrassment and frustration, I'm not fluent in any other languages. I would like to take the small amount of Spanish and/or Italian that I know and build my competency.
What is the best piece of advice you have received?
I was taught early on the value of showing kindness to others. That simple lesson has been a huge gift in my life.
Describe a tool you could not live without.
I'm going to go total coffee nerd here and say that my electric gooseneck kettle from Fellow has made brewing coffee and tea at home so easy. When you're lazy at home, like me, you'll find any excuse to take shortcuts. This kettle leaves me no excuse!