Member Voices
Everyone wins when CSPs are fully funded
Nathan Stallinga, DakotAbilities
May 15, 2023
4 min read
We all know Sioux Falls is growing. There are signs of it all around us – new apartment complexes going up, roads being widened, schools pushing capacity as more students enroll each year. In 2022, Sioux Falls added an estimated 6,200 people to our population. Our average growth rate of 3% per year means that in the next decade, we expect to add roughly the equivalent of Rapid City's population to Sioux Falls.
Growth means more people shopping and dining out, buying and renting houses, seeking health care, and more. It also means more needs to be met by the community.
At DakotAbilities, we work to meet the needs of the Sioux Falls community by creating opportunities for people with disabilities. Everyone deserves a meaningful day and the opportunity to live their best life. We are proud to champion inclusive communities that actively include people of all abilities through advocacy and education.
But we can't meet these needs without funding. DakotAbilities is 1 of 20 agencies in South Dakota known as a Community Service Provider (CSP). CSPs are heavily reliant on Medicaid and other public funds to operate. The 2023 legislative session saw the passage of a historic increase in reimbursements for CSPs. It was the result of many people working together, and a willingness on the part of lawmakers to listen, learn and understand the needs of our communities and the value of inclusion for all people.
The 2023 legislative session saw the passage of a historic increase in reimbursements for CSPs.
Under federal law, the state is obligated to provide services for people with intellectual and developmental disabilities. South Dakota contracts with CSPs to provide quality care to individuals, professional development and training for workers, and accreditation, licensure and quality assurance. The state legislature is responsible for approving and providing funding at a level that allows CSPs to meet these mandates.
There was a time when the State provided these services directly – and it was much more expensive. South Dakota sees significant cost savings by contracting with CSPs. In other words, while it is true that CSPs rely on public funding, we save taxpayer money by providing necessary services more efficiently than the state could.
Last year, a workgroup was convened to study the methodology that was being used to set the rate of reimbursements to CSPs. The last time this was evaluated was 2001. The group consisted of representatives of the State's Department of Developmental Disabilities, CSPs, legislators and an outside consultant. The study determined that the CSPs were being reimbursed at a rate that was 78.9% of the cost of providing the services.
Governor Noem included in her December budget address a plan to increase the rate to 90%, which CSPs found encouraging, but we remained committed to reaching the 100% threshold. Moving that last 10% required an objective, bipartisan approach. As with any healthy, public-private partnership we needed committee leadership from both chambers and the Governor's office to be successful.
Collaboration brings maximum impact
DakotAbilities enjoys a cooperative relationship with the other CSPs in the state who provide services for more than 4,000 people with intellectual and developmental disabilities. Leaders from these agencies meet regularly to share best practices and tackle challenges in the industry.
Many people joined forces prior to and during session to inform and educate legislators about the work and needs of CSPs. I was proud to work alongside Steve Watkins of LifeScape, our counterparts from Mitchell, Aberdeen and Rapid City, and Dan Cross of the CSP Association. Representative Brian Mulder, who is employed by Volunteers of America, helped to educate his fellow lawmakers. Rep. Chris Karr was instrumental in moving the discussion forward. There were countless conversations in the halls of the Capitol, testimony in committee, and weekend coffee meetings. To their credit, legislators sought to fully understand the issue. Several brought forth bills in support of adjusting the funding model for providers.
Many people worked together to meet the needs of our communities by fully funding CSP reimbursements. The Joint Appropriations Committee put forth a budget that includes funding providers at 100% of methodology. It was approved by the Legislature and signed by Governor Noem.
The difference and impact of this historic increase will be felt in the lives of people for years to come. The new funding model covers our cost of providing the service, but it does more than that. It helps us create opportunities for individuals with disabilities to live their best lives. It makes room for appropriate and overdue pay increases for staff, which boosts our ability to attract and retain qualified workers. All of this supports the high quality of life and strong economy that the Chamber champions.
In DakotAbilities' mission statement, the word "we" is meant to be inclusive for all who come together to impact the lives of people with intellectual and developmental disabilities. This past year has been a powerful example of what can be achieved when we come together for a common goal.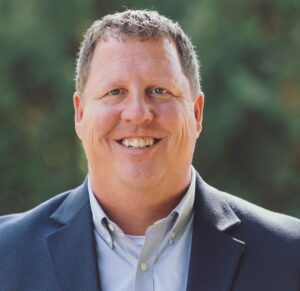 Meet the author
Nathan Stallinga
Nathan Stallinga, CFRE is the Executive Director of DakotAbilities, a nonprofit organization in Sioux Falls focused on supporting and uplifting persons with a range of disabilities.