Feature Stories
Founding Member: George Boom Funeral Home
Amy Smolik
March 8, 2022
5 min read
Change is constant in business. Throw in a global pandemic, technological advances and an evolving economy, and the Sioux Falls of 2022 looks vastly different than the Sioux Falls of 1922 or 1907, or even earlier.
Several long-established businesses in the area hold the designation as "founding members" of the Greater Sioux Falls Chamber of Commerce. This means they were early investors in the city's premier business organization and have maintained their Chamber membership for 100 years or more; through changes in name, location or even ownership. The constant has been their belief in investing in Sioux Falls.
George Boom Funeral Home & On-site Crematory
"Our founding member rock sits in our foyer for everyone to see. I'm proud of it," said Phil Schmitz, manager and funeral director. "This community helps us, and we help the community. The Chamber is a big part of it."
Schmitz is one of the owners at George Boom Funeral Home & On-Site Crematory, the third group to own it since 1919. The ownership group purchased the funeral home from its namesake, George Boom, in the 1990s. They never changed the name, he said, because Boom's legacy in the community was strongly established. George Boom is 96 years old and is still living in Sioux Falls. In 1954 Boom purchased the business, then known as Bantam Funeral Home, from Doc Bantam, a dentist. It was located at 11th Street and Minnesota Avenue. In 1964, Boom moved it to its current location on E. 10th Street near Bahnson Street — what was then the edge of town.
Schmitz started working at George Boom in 1985. At that time, most funerals were held in churches and 3% of the population chose cremation. As the city grew, E. 10th Street widened from a two-lane road to a main thoroughfare. Parking became a challenge, as did the sounds from the busy road.
A new building opened on the existing eight-acre site in February 2018. At close to 27,000 square feet, it allowed for flexibility on how to serve people's needs and plenty of parking to accommodate multiple visitations on the same day.
"We don't want people to feel rushed, we want them to have enough time," Schmitz said. "This is one time you don't want to be in a hurry."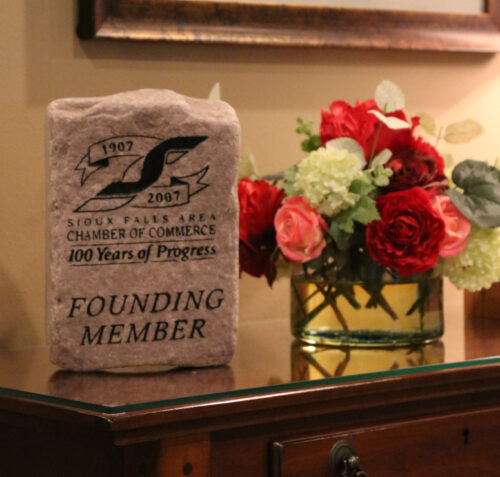 Another change over the years is the increase in evening and weekend services, including Sundays. And now 60% of services held are at the funeral home rather than offsite. People are very spiritual, Schmitz said, but not as many are card-carrying members of churches. "But they still want a ceremony and still want to reflect on a life well-lived."
The number of people choosing cremation has also increased, up to 55% — another reason the team chose to invest in a larger building as well as adding onsite cremation services. Shortly after opening their new building, George Boom hosted a Chamber membership mixer, which was a great way to show people what happens "behind the curtain," Schmitz said.
When the dues come in, I don't even think twice.
"The Chamber gives us so many tools to invest in our people, to tell our story to newcomers. And they are supportive," he said. "When the dues come in, I don't even think twice. I enjoy seeing new members and businesses that come in. That's what keeps our community vital.
Schmitz said he never imagined the role that technology would play in the funeral industry. Helping loved ones tell the story about the essence of the person is a foundation of a funeral director's job. It's not just the birthdate and the death date, he said — there's so much in between. Today that also includes photos and videos. Pre-Covid, recording and livestreaming services were important; when the pandemic hit, they became a way to connect people when being together physically in large groups wasn't an option.
"I'm the old guy now," Schmitz said. "Things change. The core values are the same."
Click below to read about another founding member.