Member Resources
How to add coupons to your directory listing
Jami Gates, Greater Sioux Falls Chamber of Commerce
April 28, 2021
3 min read
Your Chamber membership offers many benefits to help you run your business and stay connected to our community. We always encourage members to choose other chamber members for their vendor needs. The Membership Directory now has another way to encourage these relationships.
Primary and Associate members can add coupons to their listing in the Membership Directory found on the Chamber's website. You can offer up to five different discounts for your products and services.
You can create and manage your coupons by logging in to the Members Only portal. Once you are in your business record, click on the "Add a Coupon" link on the left side of the screen, then click on the New Coupon button. This will launch the screen to enter the details of the discount you wish to offer.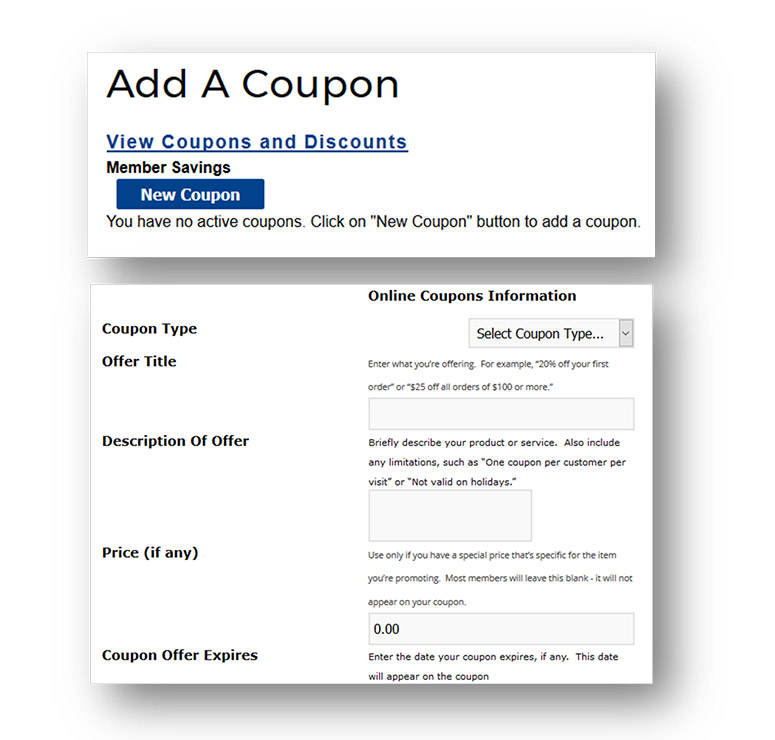 One of the fields contained within this page is the opportunity to make the coupon visible to the general public or only to other chamber members (which could only be viewed if members logged into their Members Only portal).
After you have completed entering your coupon information and clicked on the save button, a message will be sent to Chamber staff letting them know that a coupon is ready for review and approval. To qualify for the member coupon program, you must offer some type of financial discount for the viewer; it is not available for general promotional purposes. Staff will confirm that the coupon meets all required criteria and will approve the discount to appear on the Chamber's website.
FINDING COUPONS
If you would like to view coupons currently offered by chamber members, there are a few ways you can do so.
If you have a need in a specific industry, you can do a keyword search or use the dropdown menu to view a particular category.
If you would like to see all coupons available, click on the Coupons and Discounts link in the menu header.
Remember, shopping local does not have a season. The challenges of the COVID-19 pandemic have given us an even greater reason to support our local businesses throughout the year. Chamber member loyalty ensures we all thrive and succeed.
If you don't have your login credentials for the Member Only portal, contact the Chamber at 336-1620 or bgriebel@siouxfalls.com.