Member Voices
Inspiring philanthropy for public parks
Kim Patrick
June 21, 2022
4 min read
As a long-time resident of Sioux Falls, one of the things I love most about our community is our dynamic parks system. With more than 80 beautiful parks and an outstanding 29-mile paved bike trail that wraps around the city, our parks system has enhanced my family's quality of life in countless ways — offering opportunities to enjoy the beauty of nature, improve physical and mental well-being, create meaningful connections with others, and build lasting memories.
My passion for the outdoors and my love for our parks system is what inspired me to join the advisory board for the Sioux Falls Parks Foundation, an affiliate of the Sioux Falls Area Community Foundation that is working to inspire philanthropy to help sustain and enhance our city's world-class parks and recreation programming and system.
For me, it's an opportunity to give back to a city and a parks system that have been central to my life for nearly three decades.
As a young family, my wife, Susie, and I cherished time on the bike trail with our children. As our kids have grown, we've continued to enjoy time together outdoors, and today Susie and I routinely run and bike together on the trail.
As a triathlete, I've met and built wonderful friendships with individuals and families throughout our community thanks to our bike trail, our city parks and our aquatic facilities.
During my professional life, I saw how our parks and recreation system plays a key role in powering the economic engine of our city. Throughout my career, I witnessed first-hand the extraordinary talent we were able to recruit to Sioux Falls because of our fantastic parks, our well-conceived bike trail and our top-level sporting and recreation facilities.
Parks can also help us improve and enhance our physical and mental well-being — something that's especially significant given all we've been through during the last two years. Scientific research continues to show that even spending as few as 10 minutes amid nature can make us feel happier and lessen the effects of physical and mental stress.
All of these are reasons why I feel so strongly about the importance of sustaining and enhancing our city's parks system and why I'm honored to serve on the advisory board for the Sioux Falls Parks Foundation.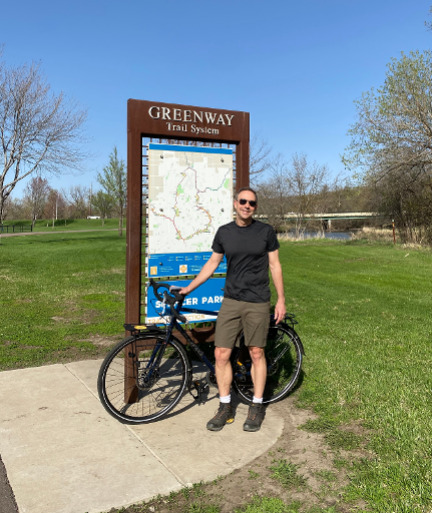 our parks and recreation system plays a key role in powering the economic engine of our city
At the Parks Foundation, we believe parks, the bike trail, pools and other recreational facilities play a central role in creating a thriving community. They help open our eyes to the beauty of the natural world, offer us opportunities to better ourselves, help build connections among neighbors and foster brighter outcomes for our kids by offering spaces to play, imagine and explore.
Our work at the Parks Foundation is shaped through meaningful connections with the community and collaboration with the City of Sioux Falls and its Parks and Recreation Department. Together, we are inspiring philanthropy to bring ideas to life that align with our community's needs today, and with its goals for tomorrow. Recent examples of philanthropic investments in parks include the Kirby Dog Park at Fort Sod, and Jacobson Plaza, a project that, when it opens in 2023, will further transform downtown with the addition of an ice ribbon, warming house, all-inclusive playground, food hall and more.
Our parks have always been what we need them to be at the time — a place to enjoy nature, to gather with family and friends, to make new connections, to train, to find peace and so much more. The Sioux Falls Parks Foundation is here to help sustain these great spaces that bring so much to our lives, and to help make dreams for new and enhanced parks a reality by working with donors, the City and the Parks and Recreation Department.
If you're interested in learning more about the Parks Foundation, or if you've been dreaming about how philanthropy could enhance our parks system, I invite you to contact me or another member of the Sioux Falls Parks Foundation advisory board.
Kim Patrick and his family moved to Sioux Falls in 1996. He recently retired from Sanford Health after a lengthy career as Chief Legal Officer. Kim and his wife, Susie, have two children. Ryan and his wife, Becca, live in Rochester, New York. Katie and her husband, Ryan, live in Fairbanks, Alaska. Kim and Susie hope the parks and rec system and other great attributes of Sioux Falls lure them all back.