Business Sense
Is safety an expense or an investment?
Tim Peterson, OECS
April 18, 2022
4 min read
Do you think of safety as an expense or do you feel you are investing in your workforce? Tough question…or is it?
I challenge you to consider that your investment in safety is a profit center. If you invest in safety, you invest in your company's future. A safety investment commitment and creating a strong safety culture that leads to a safe work environment will provide a huge return on your investment! What is the cost of shutting down your business for a period of time or finding and training a replacement employee? This is true whether you are a big manufacturing operation or a small business.
How do you invest in safety? Start with why. Why even have a safety program? Is it simply a necessity; something you must do to comply with OSHA requirements? Is it followed only when convenient? The goal of your safety program should be to provide a safe environment for your workers so that they can return home to their families every day, uninjured.
Take a good look at your company's safety culture or lack thereof. It is often the key element in discovering where things could go wrong. Does your company have a commitment or a belief as to how safety will benefit everyone? If not, that is your starting point. Is someone assigned the responsibility of overseeing safety or is it simply added on to a job description? Remember: your culture drives your actions! So, you need to ensure that everyone believes in and is working towards the same goal.
The involvement of leadership is critical. You cannot just hand it off. Everyone needs to be involved, from the top leadership to the factory floor or jobsite, everyone plays a role in a company's safety culture.
Serious consideration should be given to setting your safety policy, designing an onboarding procedure for all employees, implementing a training program and instilling a safety culture. Employees need to be empowered to recognize safety concerns and to report them. The safety procedures need to be enforced and reinforced until they are part of a daily routine.
…consider that your investment in safety is a profit center
Review your OSHA 300 log for the last year or two. Where have injuries occurred and what was the "root cause" of those accidents? Was it the lack of training? Education through safety training, toolbox talks and safety audits (with coaching), is an investment in your employee. This includes areas of how to use equipment correctly and safely, insuring operators are trained and understand hazards that they might incur and prevent them from creating an accident. Educating all workers so they have a safety culture attitude will drive their actions to perform tasks safely and as trained.
Another step in educating employees is making sure everyone considers safety as part of their job, looking for unsafe conditions and unsafe acts. When you are continuously working towards safety goals, you will see unsafe conditions and unsafe acts disappear, as well as accidents. If there is less downtime and time away from work due to injury, you can focus on making your business more profitable.
Your investment in safety can have a huge return.
1. Sending your workers home every day unhurt.
2. Providing a safe worksite.
3. Reducing your work comp costs.
4. Not having to pay penalties for non-compliance.
5. Being recognized as a safe company.
6. Not having to tell a family that their "loved one" was injured or worse.
Investment or Expense? Really an easy choice!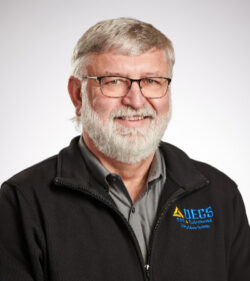 Meet the author
Tim Peterson
Tim Peterson, CHST, is vice president of sales/operations for OECS. He has performed thousands of employee trainings and audits during his 25-year tenure with the company. Peterson manages field operations throughout the Midwest, helping clients manage their regulatory issues with his extensive experience.