Member Voices
Meet a member: Dr. Joe Moen
Kyle Davis
April 15, 2022
4 min read
Dr. Joe Moen is a chiropractor and the owner of Origin Health Chiropractic & Wellness. He earned his undergraduate degree from University of Sioux Falls and a doctorate in chiropractic from Northwestern Health Science University. Joe met his wife, Kelsey, while attending USF. They have two children, Olivia and Timothy.
Why does Origin Health choose to invest in a Chamber membership?
We believe we have a responsibility to support the health and wellness of our surrounding community, and the local business community is a vital partner in creating a city full of people who are thriving. Without the stability and support of local businesses, a population quickly falls apart. We recognize that we can impact more people to the second and third degree by supporting our local businesses.
How did you choose your profession?
I found myself headed to chiropractic school after learning first-hand about the power that a healthy diet and lifestyle can have not only on physical pain and symptoms, but also emotionally, mentally and relationally as well. I was sick for many years through high school and college, and it was through eating real food, movement and prioritizing stress reduction that I began to finally understand what it felt like to "feel good." Chiropractic offered me a great avenue to share that experience and those strategies with patients who might be looking for alternative ways to take their healthcare into their own hands. I haven't looked back!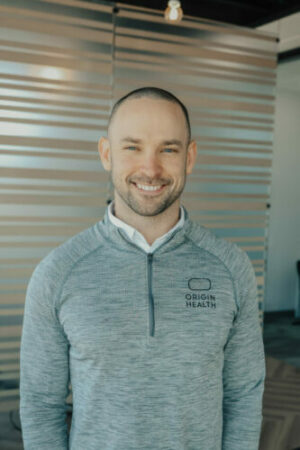 What is the best piece of advice you have received?
My father-in-law once told me: "Just do something, even if it's wrong." He was trying to say that action, moving forward, and doing is always better than getting stuck in the mud going back and forth on a decision. That precious time spent being indecisive would be better served working towards a goal and learning the lessons along the way. You can always pivot if needed, but nothing gets accomplished sitting in one place.
What might someone be surprised to learn about you?
All the clients, friends and family who give me such a hard time for trying to eat healthy most of the time might be surprised to learn that I have an insatiable sweet tooth. A box of cookies doesn't last long in the Moen household, and I would be lying if I said it was because of my kids!
What is a skill that you'd like to learn and why?
I would love to learn how to cook – and I mean really learn how to cook. I would love to learn knife skills, how to combine ingredients to make something out of nothing, and of course, how to flame a pan so I look like I know what I am doing, too.
If you could witness any event of the past, present or future, what would it be and why?
I would like to go back in time and witness the construction of the great pyramids in Egypt.
Name a tool could you not live without. Why?
I have to go with my coffee mug. I understand how much of an addict I sound like, but when the days get long, or when our kids decide that sleep isn't necessary, that cup of hot coffee becomes irreplaceable!
What is your favorite thing about Sioux Falls?
The people. You are never too far from a friendly conversation, a stranger offering to help in a time of need, or a whole network of professionals or business owners willing to help you fulfill your dreams.
Share a lesson that you've learned as an entrepreneur.
The single greatest lesson I have learned as an entrepreneur is to put pride aside and ask for help. You cannot know everything, have every answer, or balance all the hats that are required when running your own business. I think the tendency is for entrepreneurs to try to shoulder the entire load by themselves, and they inevitably burn out in the end. I am so blessed to have a team of mentors, fellow business owners and other professionals that have always been more than willing to share some advice when I needed it. Fostering those relationships is invaluable.
What are you currently reading (or what is the last book you read)?
"Why We Get Sick" by Dr. Benjamin Bikman. It is a book on insulin resistance, insulin's effects on cellular metabolism, and why it matters to your health in the short and long term. Bikman does a wonderful job taking complex physiology, putting it in terms anyone can understand, and clearly lays out how controlling this master hormone can help improve numerous chronic conditions and diseases. We utilize several of the principles he outlines in this book when creating nutrition plans for our clients to take advantage of the power of insulin and how it relates to the human metabolism.