Member Voices
Meet a member: Abby Bischoff
Kyle Davis
January 18, 2022
5 min read
Abby Bischoff is the Executive Director of Stockyards Ag Experience. A farm kid who grew up showing livestock, she attended South Dakota State University and earned a bachelors degree in Journalism. In addition to agriculture, Abby loves photography and is the artist behind the Abandoned: South Dakota project. Abby and her fiancé Chuck reside in the All Saints Neighborhood of Sioux Falls with their cats Nancy and Nora.
Why do you choose to volunteer your time with the Chamber's Agribusiness Division?
Our organization benefits greatly from the Greater Sioux Falls Chamber of Commerce. Whether that's support on our capital campaign or volunteers for our other events, chamber members show up to support us. Volunteering my time with a group of people who love ag and love Sioux Falls is the icing on top!
What is the best piece of advice you have received?
The best advice I ever got was from a college professor of mine that told me I'll probably never be the best at ONE thing, but I might be the best at a unique combination of things. As someone who's always been a jack-of-all-trades/master of none, this advice resonated with me greatly. It taught me that developing more than one of your strengths is what makes you a valuable team member.
If you could try out any job for a day, what would it be?
I would love to be a writer for a TV show. Someday, I'll write that midwestern farm comedy that everyone is clamoring for.
If you could witness any event of the past, present, or future, what would it be?
This is a tough one! Maybe the inauguration of the first woman president of the United States of America.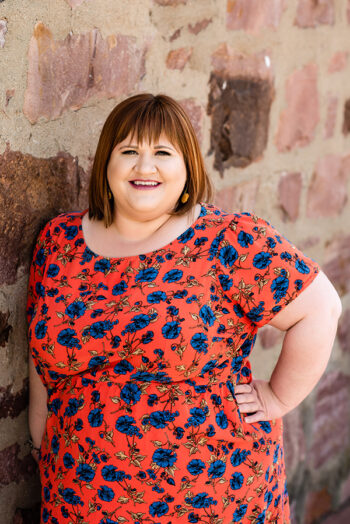 What is one opportunity or challenge you see in the ag industry today?
The biggest challenge facing the ag industry is consumer education. We live in a time when fewer people have an ag background and so the disconnect between ag producers and consumers is real. We are incredibly fortunate to do that work at the Stockyards Ag Experience, but we have lots more work to do and many ag stories to share!
What is your favorite thing about the Sioux Empire Livestock Show?
As a farm kid who grew up showing cattle and sheep, it's hard to explain how magical a livestock show can be. The best analogy I've come up with is that it's like a big sports tournament. You've practiced all year and worked hard with your animal and now it's your time to shine. That sense of joy and pride of youth exhibitors is what keeps me coming back.
Name a tool you could not live without.
I couldn't live without a camera! I always say the best camera is the one you have on you (even if it's a cell phone!) because moments are fleeting.
What is a skill that you'd like to learn and why?
I'd love to play the guitar or piano. But my impatience and short fingers have never made that skill very tangible for me.
What is your favorite way to spend a day in Sioux Falls?
Wake up in my All Saints Neighborhood home and catch up on the latest news in the Argus Leader, grab a coffee and a quiche at Queen City Bakery. Keep the downtown love going by visiting some of my favorite downtown retail stores like Zandbroz, Terra Shepherd Boutique, Total Drag Records, Rehfeld's and Plum's Cooking Company. Grabbing a quick lunch at Josiah's or M.B. Haskett and then an afternoon spent visiting some of our local attractions like Falls Park (including a visit to the Stockyards Ag Experience museum) or checking out the latest exhibit at The Washington Pavilion. Finish the day with some farm-to-table goodness at Bread & Circus, before catching some live music at one of our city's great venues. I love our city so much and love that I get to experience some of my favorite bits of it on a regular basis.
What might someone be surprised to learn about you?
It's less of a surprise now that I work in agriculture, but for a long time, folks would be surprised when they learned I was once the South Dakota Hereford Queen. If you don't know what that is, ask me about it when you see me out and about and I'll tell you all about it.