Member Voices
Meet a member: Cindi Johnson
Jennie Doyen
December 16, 2022
4 min read
Cindi Johnson grew up in the hotel/restaurant business – her family owned a facility with seven hotel rooms, a banquet room and restaurant. After decades working in sales and owning a business, she says her career has come full circle as she is now the group sales manager for Grand Falls Casino & Golf Resort. Cindi J (as she is called by friends) her husband, Kent, have two daughters, one son-in-law and two grandchildren. They will celebrate 50 years of marriage in December 2022 – and will proudly tell you the story of how they rode snowmobiles through a blizzard to their own wedding.
1. Why do you choose to volunteer your time for the Chamber?
The chamber gives us all the opportunity to use our relationships to grow and connect. I love people and connecting with them all ages and stages of their careers. I have been able to learn and grow, both personally and professionally, through my involvement with the Chamber.
2. What is your favorite way to spend a winter day in Sioux Falls?
Sioux Falls offers some of the most gorgeous views of winter! From the lights at Falls Park, to the many wonderful shows at the Pavilion, and of course, at Grad Falls Casino & Golf Resort! However, nothing fills my heart more than being at home with a good book, chocolate chip cookies in the oven and Chicken Noodle Soup in the Crock Pot with my family surrounding me and a good glass of wine to end my day.
3. If you could only keep five material possessions, what would they be?
My house – it gives me a space to gather my family and friends.
My car – it gives me freedom to go anywhere, just watch out for my crazy parking!
My books – they give me a calm place to escape to when I need a break.
My Grand Falls Player Access Card – you didn't think I'd miss an opportunity to put a plug in, did you?
My favorite pen – I'm always ready to sign up a new Chamber member, let's talk about how the Chamber is right for you!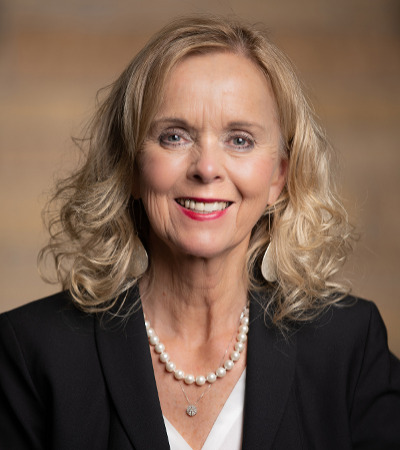 4. If you could witness any event of the past, present, or future, what would it be?
I would like to see what our beautiful city will look like 50 years from now. I love our city and love that it continues to grow. The ripple effect all the new businesses have had to grow the town into a city amazes me every day!
5. We like to Keep the Cheer Here by shopping locally…What are a couple of your favorite local retailers?
Two of my favorite local boutiques are Lauriebelle's and Veza (formerly TH Grey).
6. What might someone be surprised to learn about you?
I was supposed to go to nursing school. Instead, I decided to go into sales and marketing. I am still a caretaker in a different way and am thrilled with the choice I made.
7. What is a skill that you'd like to learn and why?
Sign Language. It just amazes me to watch people who have this skill. I love to communicate with everyone and why not open up a new opportunity?
8. What do you think is one of the biggest challenges facing our community today? And how should we tackle it?
Housing and childcare. I feel strongly that our Mayor and our City are working on these issues. I have 100% faith in their leadership. We all need to work together; I know as a strong community we can help make great things happen! #OneSiouxFalls
9. What is the best piece of advice you have received?
I had such great respect for my mom. She said: "Don't be a perfectionist, just be you." I always thought I had to be perfect all the time, she would say just give it your best and just be you. Afterall, we all know moms are the best!
10. What is one community or non-profit organization that you support? Tell us about it and why it is important to you.
Lost & Found is one organization that I think is doing important work. So many people are touched by mental health and suicide. We need more people out there to understand the why and know that everyone fights battles others may not know. I also support research for Alzheimer's and Multiple Sclerosis – diseases that have touched people close to me. Fighting these diseases has taught me that you can't take life for granted, be thankful for each day you have and thank God for each day.