Member Voices
Message from the chair
Paul Hanson, Sanford Health
January 5, 2023
3 min read
I was a town-kid growing up. But my town was in a rural area, so I had plenty of opportunities to work on dairy farms, seed corn operations and apple orchards. Working as a hired hand gives you a strong sense of appreciation for the hard work and dedication it takes to be a farmer. It is a commitment that is 24 hours a day, 7days a week, 365 days a year.
all of us are impacted by ag in some way
I learned many life lessons on the farm. For example, if you don't know what you are doing, ask for help. I learned that one the hard way the first time I was tasked with preparing the cows for milking. Working in the elements can be physically and mentally challenging, but that prepares you for those days when you don't think you can push yourself any harder. You can. Farmers demonstrate respect by how they treat their land and animals, community by how they support their neighbors, and time management by how they balance work, family and community.
I wish everyone could have the experience of working on a ranch or farm. Living in Sioux Falls, it can be easy to overlook how closely agriculture is tied to our local economy. That is why agribusiness is one of the Chamber's pillars of focus…because all of us are impacted by ag in some way.
Each January, the Chamber hosts the Sioux Empire Livestock Show. This five-day event draws people from all over the country to show, buy and sell their livestock and to learn about new equipment, technologies and trends in the industry. All are welcome at the Livestock Show – whether you have strong ties to ag or you want to learn about an industry unfamiliar to you.
The week concludes with the Mayor's Round-Up & Sale of Champions on Friday night. It features the best market livestock from the week and is a fun way for our business community to show its appreciation for agriculture and support for youth exhibitors.
As we begin 2023, I am looking forward to another great year for Sioux Falls. Thank you for your continued investment in the economic health and quality of life in our region!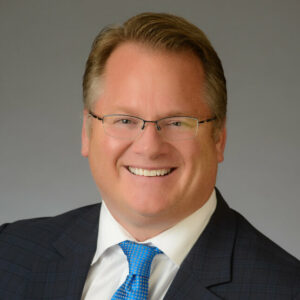 2022-23 Chair of the Board
Paul Hanson
President, Sanford Health