Member Voices
Meet a member: Jeffry Umberger
Kyle Davis
September 15, 2022
2 min read
Jeffry Umberger is general manager of the new Caribou Coffee located on W. 12th Street in Sioux Falls. He holds a bachelors degree in restaurant and hotel management, and has nearly two decades of experience managing restaurants and developing his employees. Jeffry loves to experience new things. In his free time, you can usually find him exploring Sioux Falls with his three kids, Zeke (10), Ellie (8), and Xavier (6).
1. Why does your company choose to be a Chamber member?
We believe in our community and making a difference no matter how big or small.
2. How did you choose your career?
I have a passion for people. Caribou offers the availability and resources for me to develop my team. I believe in developing each person to be the best version of themselves as possible. I do that by starting with accepting them for who they are.
3. What is your favorite coffee drink? And how much do you have in day?
The XL Iced Marshmallow Crafted Press is my favorite. I drink two or three a day. One of the few downfalls of working with coffee!
4. What might someone be surprised to learn about you?
I have traveled to 23 countries, training and developing leadership for non-profit drug and alcohol rehabs.
5. What do you think is one challenge facing our community today? And how should we tackle it?
Recruiting and retention of our employees. We need to change our mindset from waiting for people to apply to being more proactive and telling people how awesome they are doing at their jobs and if they are looking for something different or something new, to reach out. I don't believe in stealing people, but I do believe in saving them.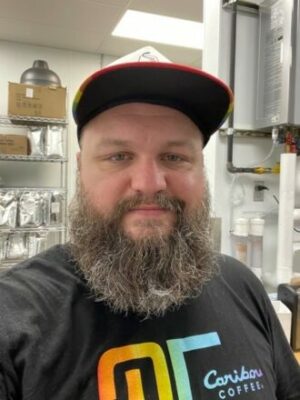 6. What is your favorite way to spend a day off work in Sioux Falls?
On most of my days off I am with my 3 kiddos, taking them throughout town. Sometimes shopping, downtown, the zoo or even the butterfly house.
7. What is one community or non-profit organization that you support? Why is it important to you?
Family Connection. I love how they focus on children that have parents who are in jail or prison, and they help educate them and work with them on how to make different life choices.
8. If you could witness any event of the past, present or future, what would it be and why?
We are in a very interesting time with accepting others for who they are. We are in a time where we are defining ourselves in ways that is hard for some to understand and accept. I love the opportunities that I get daily to have those conversations and help others. I am not here to tell people what to do or how to think. I am also not here to tell someone if they agree or not, that they are right or wrong. But I have taken on the advocate role in helping to accept people for being people and not caught up in everything else.
9. What is the best piece of advice you have received?
Failure only takes place when you stop trying. Everything else is learning.
10. What is a skill that you'd like to learn and why?
I want to learn as many languages as I can, so I can communicate with more people.