News
SEHP marks 26 years at annual breakfast
Jennie Doyen
September 14, 2022
1 min read
The theme of the 2022 annual breakfast is "Expanding the Vision." The breakfast program will feature speakers Lynn Keller Forbes, Executive Director of the Southeastern Council of Governments (SECOG), and Jeff Griffin, President/CEO of the Greater Sioux Falls Chamber of Commerce. A summary of activity and successes from the past year will be shared and awards will be presented to individuals who have had a significant impact on affordable housing.
Launched in 1997 as an initiative of Forward Sioux Falls, SEHP works to preserve, improve and increase affordable housing options for low- to moderate-income families. They provide HUD-certified housing education, which includes first-time homebuyer education, rental education and credit review. Their adult and youth financial literacy programs are offered at no cost to clients.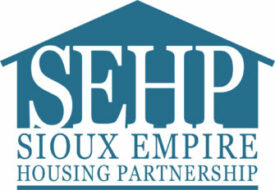 The annual breakfast begins at 7:30 a.m. and the program will conclude by 9 a.m. Tickets are $40 per person or $240 for a table of six. Tickets can be purchased here. For more information contact the Sioux Empire Housing Partnership at (605) 339-0942 or email SEHP.