Member Voices
Meet a member: Logan Doyle
Jennie Doyen
January 19, 2023
3 min read
Logan Doyle is an agricultural banker for Dacotah Bank and is serving as the volunteer chair of the 2023 Sioux Empire Livestock Show. Logan Doyle earned his degree in finance and ag business from Northern State University, where he was a member of the winningest basketball team in South Dakota history. In addition to volunteering with the Chamber's Agribusiness Division, Logan enjoys serving as a mentor with TeamMates and spending time hunting and fishing. Logan and his wife Kacey have a fur baby – a black lab named Koda.
1. How did you first become involved with the Chamber's Agribusiness Division?
A coworker invited me to monthly meetings. After attending a few, I quickly realized it was something I wanted to be more involved with. I enjoy seeing how people from different backgrounds and industries come together to help agriculture in the Sioux Falls area.
2. How did you choose your profession?
Growing up in west central Minnesota, agriculture was a big part of our community and something I wanted to be part of. I was originally an agronomist major at SDSU, but with terrible seasonal allergies I decided being in the field wasn't the best career path for me. I switched to the financial side of agriculture and found that ag banking was a great fit.
3. How do you describe Sioux Falls to people who don't live here?
A big town where everyone knows someone you know.
4. What is a skill that you'd like to learn and why?
I've fly fished the last 12 years out in Montana. I would love to learn how to tie the flies I'm fishing with instead of buying them at the store. I think I'd find that relaxing and rewarding.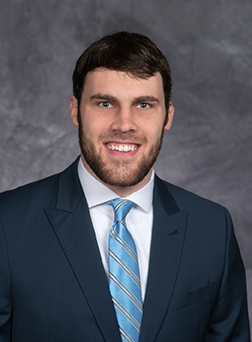 5. What is something you are optimistic about?
The future of agriculture in the Sioux Falls area. With the great leadership at the Chamber and all the people and businesses who volunteer and support agriculture around Sioux Falls, I think we're set up to show why agriculture is the number one industry in South Dakota.
6. What is your favorite thing about the Sioux Empire Livestock Show?
The camaraderie. I love how so many Sioux Falls businesses come together to volunteer and support such a great show.
7. What is an opportunity for today's ag industry?
I think an opportunity is the evolution of technology in agriculture. The more agriculture and technology intertwine I think it will create more opportunities and jobs for people in the ag sector in ways that weren't available 20 years ago.
8. What is the best piece of advice you have received?
Make connections and network. Give people your time and you will be repaid exponentially in the future.
9. What might someone be surprised to learn about you?
I was on the winningest basketball team in South Dakota history. (36 wins in 2017-2018 at Northern State).
10. If you could witness any event of the past, present or future, what would it be?
The Vikings finally winning the Super Bowl. However long into the future that might be!