Member Voices
Meet a member: Mari Ossenfort
Kyle Davis
March 14, 2022
5 min read
Mari Ossenfort is Vice President and General Manager of KELOLAND Media Group. She was raised in South Dakota, has lived and worked in other parts of the country and chose to return to her home state. Mari holds a degree in business management from the University of South Dakota. She is a volunteer with Kids' Chance of South Dakota and Junior Achievement and is a member of the Chamber's Business Leadership Council. Mari, her husband, Mark, and their two sons, Matthew and Whitey, enjoy watching sports and spending time at Lake Madison.
How did you choose your profession?
Coming from a family of business owners, I always thought I would be a business owner myself. But that was not a realistic next step right out of college, so my first professional job was managing a retail store. The power of advertising amazed me. I was impressed by how it influenced customers and increased sales. Every time we invested in an advertising campaign, the sales increased. It was easy for me to see the return on the advertising investment. After living in Houston and Denver, I decided I wanted to move home to South Dakota. So, I reached out to a few radio and TV stations to pursue a career in advertising sales and one of them took a chance on me. After a few successful years as a salesperson, I was promoted to sales manager and, eventually, I became general manager.
Why does KELO choose to invest in Chamber membership?
That's an easy question to answer. The Greater Sioux Falls Chamber of Commerce helps all sizes of businesses with many different programs. We want to support organizations that support other businesses and align with our values. The Chamber is a great organization for numerous resources needed in our community by business owners.
What makes a great leader?
A great leader is a person who leads by example. Leaders need to walk the walk they talk.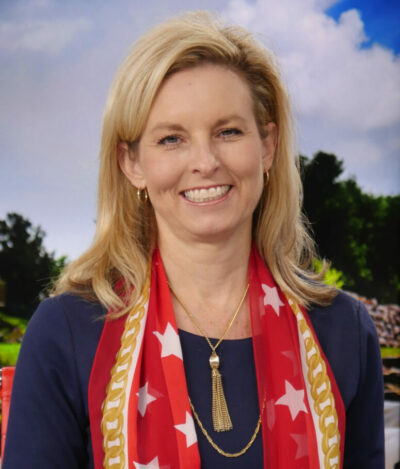 What is the best piece of advice you have received?
I've received a lot of great advice from a lot of good people. And there is one quote that has set me up for success in life: "Show me your friends and I'll show you your future." I have been so blessed to have great friends over the years from my high school friends in Yankton, to my college friends at USD, and all the other people I have met along the way. No matter where I go or what I do, when I'm with my friends, I'm always in a room with super smart, positive, energetic people.
If you could witness any event of the past, present or future, what would it be?
I'd like to experience a day in Sioux Falls in 50 years. Hopefully, by then we have solved some of our challenges. I could help make tomorrow a better place if I knew exactly what it looks like.
What is your favorite television program?
Without a doubt, KELOLAND News. KELOLAND Living comes in a close second.
What is one community or non-profit organization that you support? Tell us about it and why it is important to you.
I am passionate about the work being done at Kids' Chance, where I serve on the board of directors. Kids' Chance helps students achieve their educational goals after a parent has been seriously or fatally injured on the job. My father passed away when I was 7 years old, due to a work-related accident. So, I can relate to the financial and emotional uncertainties the children are feeling. The scholarships we provide can hopefully take some of the stress from these kids and provide them with hope. To date, we have helped 22 students with more than $100,000 in scholarships.
You've lived in other cities, what is your favorite thing about Sioux Falls?
It is hard to list just one favorite thing about Sioux Falls, as there are so many. But I especially appreciate the culture, the amenities, the people, and my family lives here.
What do you think is one of the biggest challenges facing our community today? And how should we tackle it?
Illegal drug activity and human trafficking are two of our community's biggest challenges. Unfortunately, there aren't any easy solutions, but I think Sioux Falls is headed in the right direction and I have a true appreciation for all the people and organizations working on those issues.
What is a skill that you'd like to learn and why?
Woodworking, I'll probably never learn it, but I'm so fascinated by the craftsmanship that goes into a piece.