Member Voices
Meet a member: Nick Kolterman
Kyle Davis
July 14, 2022
3 min read
Nick Kolterman is an orthotic practitioner turned entrepreneur. He owns and operates Fit My Feet Orthotics & Shoes. In his free time, Nick enjoys outdoor activities like camping, hiking, and fishing. He is a father to Caden (14) and Kyleigh (11) and can regularly be found cheering them on at one of their many sporting events.
1. Why does your company choose to be a Chamber member?
When I first got involved in the Chamber, I realized that most members are local business owners just like me. Going to a ribbon cutting, learning about their business and then supporting them in the community became a recurring thing for me. The Chamber has allowed me to grow my business by getting to know many other owners. Networking is one of my favorite things to do. The Chamber allows us to connect throughout the year to support one another and learn about each other's businesses. Supporting local small business is important and the chamber embraces small business success.
2. How did you choose your career?
I went to school for orthotics and prosthetics. I opened my own practice in 2006 focusing on lower extremity diagnosis. I saw patients for sports medicine, arthritis and diabetes, and I quickly developed relationships with many local doctors. In 2012, I started the first Fit My Feet Store right here in Sioux Falls. I wanted a place for my patients and all the local doctors to send people needing the correct shoes. We quickly grew to eight locations and I found myself shifting gears from a practitioner to an entrepreneur. Now I focus on my entrepreneurial mindset and the four businesses that I own and operate in South Dakota.
3. Share a lesson that you've learned as an entrepreneur.
The biggest lesson I have learned is people don't care how much you know until they know how much you care! Show your local community and the people you help in your career that you truly care about them and want to be there to help them.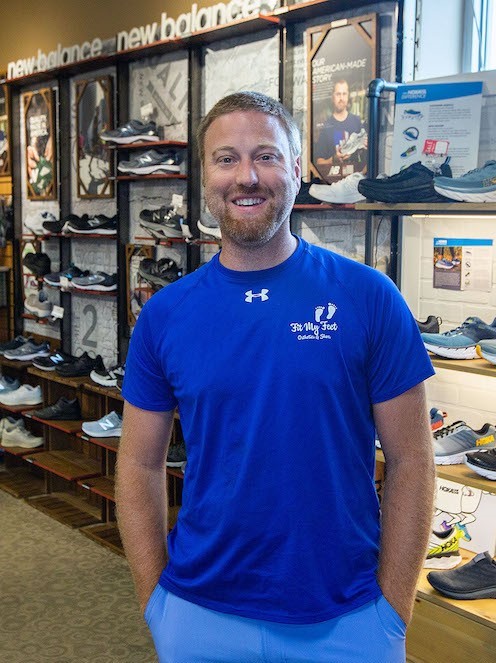 4. What is one community or non-profit organization that you support? Tell us about it and why it is important to you.
The local veterans' associations, especially the Disabled American Veterans (DAV), have a place in my heart. Since becoming involved with helping veterans, I have pushed to raise local awareness within the administrations. We do a couple of drives every year with all the Fit My Feet stores to help the local Vets. I had a grandfather, uncle and other family members that were veterans, so there is something about helping the men and women of the armed forces and always thanking them for our freedoms.
5. What is your favorite way to spend a day in Sioux Falls?
I love to visit the Falls and eat at a local restaurant. Then, biking on the trails or taking my kids to the park to run and play with our dogs. Parks and Recreation has done a great job of maintaining so many outdoor activities for us to enjoy.
6. What is a skill that you'd like to learn and why?
I bought a guitar many years ago and it has been collecting dust. I've wanted to learn how to play the guitar since listening to my father play and sing with us as kids. It's a skill that, in my eyes, would be hard to learn. Recently, I started playing and taking lessons. I want to be able to sit around the fire at my lodge and jam out to some of my favorite songs in the near future.
7. What do you think is one challenge facing our community today? And how should we tackle it?
I feel our future revolves around youth learning about business and being involved in the local community. I would like to see more interaction with our youth and teaching them work ethic, social skills and how to get involved in helping their communities. This should start to take place at a young age. Many of these kids are losing social skills because of technology in today's society. Our children are the future of our community. We must as parents and leaders help develop them and teach them social skills, community involvement and leadership so that it sets in by the time they are young adults.
8. If you could witness any event of the past, present or future, what would it be and why?
I would say one of the greatest events that ever took place was Jesus rising from the dead so that you and I could be here on this earth to experience life. I would have liked to have been standing next to the tomb when the greatest event in history took place so that I may live.
9. What is the best piece of advice you have received?
My father told me early on when I started my first business that the key to success is building relationships. Get to know the people you help, get to know the people in your community and support them. Many business people never build relationships with others by asking the right questions. You never know when you will need to lean on those relationships for advice, help or to do business.
10. Name a tool could you not live without. Why?
I would say my phone or my iPad. Most of my daily business is done on them. I don't know anyone in current times that would function well without a cell phone. It's probably one of those tools that helps the entrepreneur get the majority of tasks done in day-to-day operations. Taking phone calls, answering emails, scheduling meetings and many other things can now all be done on these devices.