Feature Stories
Meet the creators: Norberg Paints
Amy Smolik, for the Greater Sioux Falls Chamber of Commerce
September 6, 2022
4 min read
A running joke in the Norberg family is that each baby born into the family is "brought down to the store usually a week after being born," said Stuart Norberg.
"The store" is Norberg Paints, one of South Dakota's longest-held family-owned businesses. Stuart recalls spending time at the paint store as a kid, as did his son, Sam, and both his son and son-in-law bring their children down, too. "They want to be a part of it — which is exciting," Norberg said.
The family trade started in 1882 as a painting business by two of the four Norberg brothers. Upon arriving in the States from Sweden, brothers Sven Albert and Peter operated under the name Norberg Bros. In 1885 the first storefront opened as Norberg Paints. They made paint, supplied paint, carried wallpaper and had painters on the team.
In 1960, the business switched to solely being a retail supplier of premium paint brands, stain and supplies and equipment. In addition, they offer window blinds and industrial paint and coatings. After operating from several storefronts downtown, Norberg Paints moved to E. 14th Street in 1986 and in 2008 added the South store at E. 37th Street.
As a small store competing against bigger box companies, it can be challenging. "We're not always going to be the cheapest, but we will be competitive," Norberg said. And we can out-service and provide as good, if not better, products."
Over the years, descendants of Sven and Peter have continued to manage the business. Norberg joined the team in the 1980s, following his father Stanley, grandfather Paul and great-grandfather Sven, and was joined by his uncles and cousins from Peter's lineage. Norberg is proud to be part of a family business that has watched Sioux Falls grow and withstood wars, depressions, recessions and more recently, a pandemic.
Looking back, Norberg wishes he could sit down with previous generations and learn more about how they survived during the tough times or even why they chose Sioux Falls after leaving Sweden due to the potato famine. As a result, he's trying to include more context in the year-end reports for future generations to better understand what was happening and how the team at Norberg excelled in the good times and persevered in tougher times.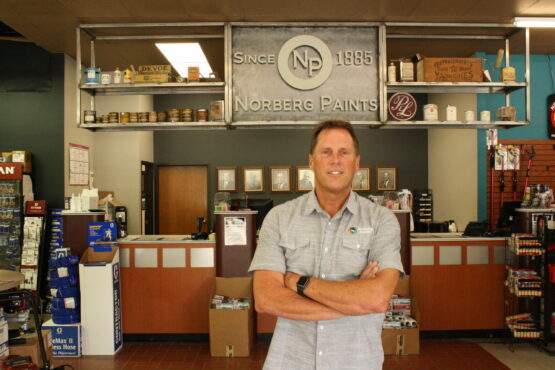 we build into them, they build along with us.
"My position right now is to help mentor and transition our fourth and fifth generations to sustain and continue our business with the same values and culture," he said. "I've been entrusted to do that handoff and to make sure it's a good one."
Creating a solid team of people from multiple generations isn't always easy. Norberg said having the right people has been key to their success, which allows the team to dream and create more business opportunities. Supporting employees by creating a great work environment that utilizes their talents is also important, he said — "we build into them, they build along with us."
As to why Norberg Paints stays in Sioux Falls, Norberg says that answer is easy — "we like this place." And Norberg credits the role of the Greater Sioux Falls Chamber of Commerce in creating a dynamic business community to help businesses of all sizes thrive. The Chamber is a communication hub for bringing people in and supporting local businesses.
"If the city does well, we're doing well," he said.