Feature Stories
Meet the creators: Hollywood Style
Amy Smolik, for the Greater Sioux Falls Chamber of Commerce
September 6, 2022
4 min read
Trish Bates never set out to own a business in Sioux Falls. A Mitchell native, she was excited to help grow her salon within her local business community and support her hometown.
But an opportunity to purchase an established salon operating similarly to her Mitchell salon made sense. Expanding into Sioux Falls would also allow Bates to market directly to cosmetology graduates in Sioux Falls, which could help grow her Hollywood Style Mitchell salon.
After all, as she told her husband, "It'll be easy. I'll just keep doing everything I'm doing now, times two." For the past six years Bates said she has proven herself wrong day in and day out, but that adding Hollywood Style in Sioux Falls has been a great addition.
Bates has owned her Mitchell salon for 14 years and said she's used to her "small-town" community. Sioux Falls is a completely different culture, from the business community to the styles of hair to the requests they get from clients, she said. But the thing that is constant is the need for one hub to bring everyone together — and the Greater Sioux Falls Chamber of Commerce provides that, she said.
"(Joining the Chamber was) the first thing I thought of," she said. "When we join together, we make each other great."
While Bates doesn't routinely engage in Chamber activities in Sioux Falls, she does feel a sense of community because she is a Chamber member. And she's grateful to be able to operate a business in a thriving, growing community.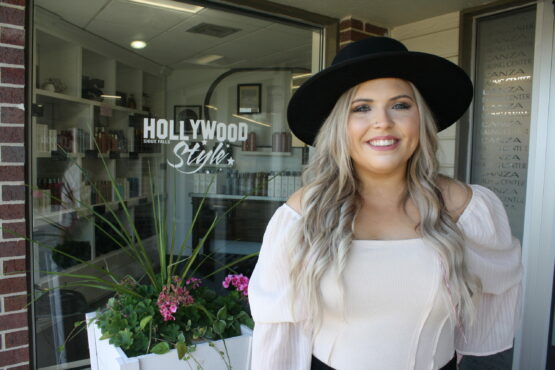 Hollywood Style is a full-service salon — they do lashes, nails, all hair services, waxing, brows. Bates is a cosmetologist, but no longer practices her trade. She is fueled by mentoring and training new stylists and helping them grow, she said. She appreciates the training opportunities and school that supports stylists and salons in Sioux Falls
"I love training new stylists, growing their business," she said. "We really cater to training and growing new stylists into seasoned stylists. Our salon has a good mix of new and senior stylists."
She sees her role as a business owner as creating the optimal space for her cosmetologists to work. "For them, they create 100% of the time — and they're all amazing artists," she said. "I want to provide the best community I can give them. I want them to come to work and be creative and then just go home. I'll do all the behind-the-scenes stuff."
When we join together, we make each other great.
The Sioux Falls salon is managed by Shelby Simpson. She appreciates that Bates invests in her people, through team-building and educational opportunities. That also includes investing in the community to help Hollywood Style — and all businesses — continue to grow and succeed, knowing that membership in the Greater Sioux Falls Chamber of Commerce is a part of that success.
"I think it's integrating everyone together. (The Chamber is a) good opportunity to network and help each other," Simpson said. "Everyone has their own unique businesses and if you can bounce ideas and perspectives off others, it's nice."
"I love that we're in such an evolving industry. Our community is growing so fast," Simpson said. "I love getting to meet people coming through doors every day and building relationships with clients and stylists."