Member Voices
Message from the Chair
By Dan Doyle, Lloyd Companies
September 10, 2021
4 min read
"Time flies over us, but leaves its shadow behind." – Nathanial Hawthorne
A year ago, my opening statement to a large, but socially distanced annual meeting crowd was "We made it! What a year." COVID-19, particularly from its early days in the spring of 2020, will be a shadow that will loom through our lifetimes. But I firmly believe that the impact of the manner in which the Sioux Falls business community handled the pandemic and persevered through its hardships will be exceptionally significant as well.
The past year is full of examples that prove that Sioux Falls can rise to challenges. From a development standpoint, this was the year that Amazon came to town; Furniture Mart broke ground on a project to double the size of its headquarters; CJ Foods announced plans to build a world-class food production facility; Wholestone Farms announced plans for a $500 million pork processing facility; Jeff Scherschligt announced plans for Cherapa II on the East Bank; and Lloyd Companies broke ground on construction of the Steel District by Falls Park.
In terms of education, charitable and non-profit work, the Children's Inn broke ground on a new, larger facility; Call to Freedom held a groundbreaking and kicked off a fundraising campaign to construct Marissa's House; and both of Jefferson High School and Ben Reifel Middle School opened to the public.
It is quite clear that Sioux Falls is open for business! We need to celebrate all of these great wins! Additionally, we need to recognize the challenges they bring. People are moving to the greater Sioux Falls area at a record pace. In spite of this, thousands of job openings remain to be filled in all industries. This year multifamily housing projects were commenced at a record-breaking pace. Nonetheless, accessible housing was so scarce in South Dakota that the legislature commissioned an interim study commission to investigate workforce housing needs.
these are challenges we should be running toward.
These are not challenges we can run from. Rather, these are challenges we should be running toward. They are indicative of success, progress and growth. They signal that, generally speaking, the policies being implemented by our state, county, city, school board and local bodies are working and that as individual citizens and business organizations, we are doing the right things.
I truly believe that this success is due (in no small part) to decades of work by the staff and countless volunteers of the Greater Sioux Falls Chamber of Commerce. Our ambassadors welcome businesses into our community; our diplomats nurture those relationships, our agribusiness pillar supports the integral part agriculture plays in our success; our DE&I pillar recognizes the contributions of all people in our community; our YPN and Leadership Sioux Falls programs cultivate the next generation of community leaders; and our Issues Management Committee works to ensure that our policies continue to make us a welcoming community that is best situation to help your businesses succeed.
I am so proud to have worked arm in arm with the amazing folks involved with this organization and to know that the small part I played made a positive impact for our continued success. Thank you for allowing me to be the chair of the board of directors for the Greater Sioux Falls Chamber of Commerce these last 12 months.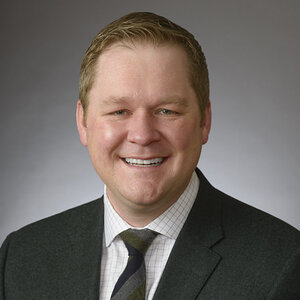 2020-21 Chair of the Board
Dan Doyle
Lloyd Companies