Member Resources
Get your 2021-22 Mixer Pass!
Teresa Schreier
September 14, 2021
2 min read
Chamber members have long recognized the value of attending Membership Mixers. Each month a large number of members attend these events and enjoy the opportunity to create new connections and strengthen existing relationships with other chamber members.
Standard admission at the door to a Membership Mixer is $5 per person. You can reduce the cost of attending by purchasing a Mixer Pass. A Mixer Pass gets you admission to all Mixers for the coming year. Now through Dec. 31, you can purchase a Mixer Pass at a discounted price of $40 – that's a $20 savings if you attend all 12 Membership Mixers in the next Chamber year.
Here are some of the advantages of purchasing a Mixer Pass:
You'll always be prepared for attendance at the mixer – even if you don't have cash on hand.
If you can't attend one of the monthly mixers, you can let a co-worker or friend use your pass for that month.
Order your pass now and the Chamber will invoice your business so you don't have to bother with expensing your admission cost each month.
Order several for your business and share them with your employees who will benefit from the networking environment of a mixer. You can also use them to treat customers to complimentary admission to a mixer(s).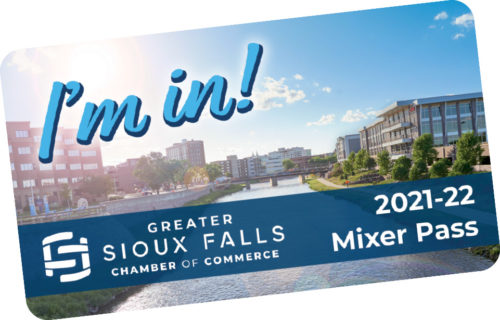 The Mixer Pass can be used for admittance to each monthly Mixer from October 2021-September 2022. The Pass must be presented at the registration at each event.
Mixer passes can be purchased at the registration area of an upcoming Mixer or online at any time.