Member Voices
Message from the Chair
By Dan Doyle, Lloyd Companies
July 7, 2021
One of the things that continually amazes me about our community is the visionary spirit that exists here. Throughout the history of our city, leaders have dreamed and imagined about what Sioux Falls could become and, regardless of whether it seemed practicable at the time, they pursued those dreams. So many individuals, past and present, have dedicated their time, talent and treasure to turning vision into reality.
A strong example of such initiative is Forward Sioux Falls. The concept from 30+ years ago that our business community should invest in long-term economic development programs has evolved over several iterations. Today, on the heels of a pandemic, our community will pull together to raise over $15 million that will be used to turn new visions into reality.
More examples can easily be found (some that had their roots in Forward Sioux Falls while others did not). Can you even imagine our downtown now without the restoration and renovation of the former Washington High School into the Washington Pavilion? Or how about the dream that became Good Earth State Park? It's not only a preservation of the incredible nature that exists around the Big Sioux River, but also honors an area that served as an important gathering place for numerous Native American tribes over the course of centuries.
the next generation of young leaders believe and know they can also do great things.
Personally, I am inspired by the story of how Craig Lloyd and Steve Metli dreamed about what Phillips Avenue north of 6th Street could become. Today, we have Phillips to the Falls, which includes new and revitalized buildings such as Jones 421, Falls Center (both from Jeff Hazard), Phillips Avenue Lofts, Tri-State Creamery, Uptown Exchange and the Cascade. It is incredible, but not complete. Soon, we will add Jacobson Plaza to the amazing Levitt Shell and all will be framed by over $200 million of development at The Steel District. Look to the southeast and you'll see the vision of Jeff Scherschligt in the form of Cherapa Place and the soon to be constructed $160 million additions there. It is incredible to see what these areas are now and will become, but its even more incredible to consider what they were before – a scrap yard, a manufacturing facility and an abandoned feed mill. These leaders imagined something that most thought was impossible and made them into a reality.
Following in the footsteps of these visionaries, the next generation of young leaders believe and know they can also do great things. Indeed, the theme for the next iteration of the Young Professionals Network Crossroads Summit is "Imagine the Impossible." The YPN itself was once a vision of a few, but with funding from Forward Sioux Falls and the dedication of both Chamber staff and numerous volunteers, today it includes nearly 1,000 individuals pursuing their careers in Sioux Falls.
Professionals of all ages are invited to attend the Crossroads Summit in August. It will be a day to learn and grow with two incredible keynotes speakers and a full lineup of local industry experts. The event is truly inspiring – much like the incredible stories of those individuals that came before us and imagined the impossible for our community.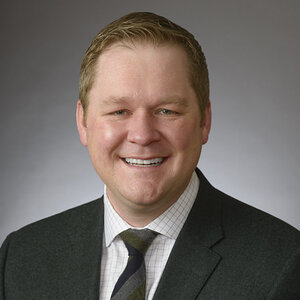 2020-21 Chair of the Board
Dan Doyle
Lloyd Companies