Feature Stories
Spur Success
Mike Lynch
October 31, 2022
3 min read
McCrossan launches Community Appeal campaign
For nearly seven decades, McCrossan Boys Ranch has been enriching the lives of individuals ages nine to twenty, helping youth that oftentimes are greatly challenged at home and school.
With the kickoff of the Greater Sioux Falls Chamber of Commerce Community Appeals Committee-endorsed campaign "Spur Success," educational opportunities will be expanded and lives will continue to be positively impacted well into the future.
Campaign proceeds will be used to add classroom space, as well as renovate existing areas including a science lab/CTE Hub, art room, special education room, staff lounge/office area, multi-purpose room, conference room. The campaign will also result in an expansion of the current social studies, language arts and math classrooms, and on-campus library.
McCrossan Boys Ranch is accredited through the South Dakota State Department of Education, coordinated by Teachwell Solutions and can issue high school diplomas. Approximately 250 students are served annually with 15-18 students graduating from the on-campus school each year.
"Education is the key to success and it is especially crucial with the vulnerable population of boys we work with at McCrossan. The school expansion will keep classrooms less cramped, which will help students who deal with ADHD, academic learning and behavioral problems," said Christy Menning Vastenhout, McCrossan's Director of Development. "On average, up to 60 percent of our youth need special education classes. In the current space, teachers across academic disciplines are sharing classroom space and other buildings on campus are being utilized for academic activities."
Menning Vastenhout noted that the new and expanded spaces will improve ways for staff to connect with the boys, many whom have experienced extremely challenging situations.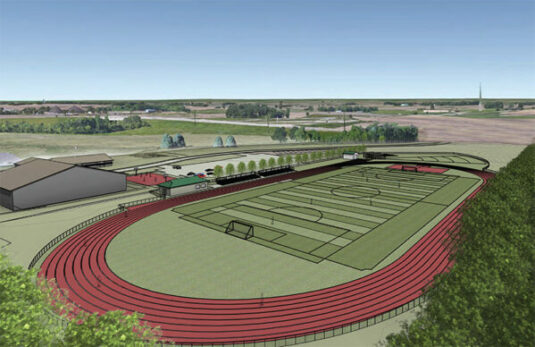 "We have kids who have grown up in meth labs, kids who have come from abusive homes filled with drugs and alcohol. We have kids who have experimented with drugs and alcohol themselves. Helping these kids that can't be helped anywhere else is a big job. Our kids learn in different environments and can be more overstimulated than other kids," she said.
McCrossan also plans to construct a South Dakota High School Activities Association (SDHAA) sanctioned track. The McCrossan "Wranglers" currently compete in track and field and cross country. The hope is to add other sports in the future. Currently, boys train on a dirt track. With the addition of a SDHAA sanctioned track, the McCrossan Wranglers will have a home track to train and the ability to host meets.
Education is the key to success and it is especially crucial with the vulnerable population of boys we work with at McCrossan.
Menning Vastenhout said the impact of the new track will extend beyond the fun of running fast or meeting kids from other schools. "Sports positively impact our mentally, physically and emotionally-troubled youth and show them they are capable of great things with hard work and discipline. This further enhances McCrossan's focus on being a fit and healthy campus."
Beyond on-campus education and sanctioned high school sports, McCrossan provides therapy and counseling, group sessions, equine therapy and livestock programming, an on-campus church with worship services, Bible studies and even employs a part-time chaplain. Residents augment workforce efforts with nearly half employed in Sioux Falls in industries including retail, food, manufacturing and construction.
"After what the young men that come to McCrossan Boys Ranch have been through prior to admission, there are few things more important than learning to adapt, grow and thrive in their new environment," said executive director Brian Roegiers. "It is equally important to receive a good education and to attain building blocks for long term physical fitness. The school addition and running track at the Ranch will help build strong minds and bodies that will be equipped to face the challenges of the future."
Campaign co-chair Pam Hanneman is excited that the project will give boys the education they deserve to be successful in life. "By giving them a track, it will help them continue to develop the skills a person learns by being part of a team as well as achieving individual goals for life. The achievements at McCrossan Boys Ranch speak for themselves," Hanneman said.
Co-chair Jim Wiederrich is impressed by McCrossan's approach in changing the lives of young boys and men. "They work at the ranch as well as throughout the community while finishing school. These individuals learn trades, learn how to support themselves as adults, and learn responsibility for their own futures. This is an organization that truly gives a hand up."
A $1.25 million Community Appeals goal has been established toward the overall goal of $3 million. The campaign runs November 1, 2022 through March 31, 2023 with a kick-off event being held at 4:30 p.m. on Nov. 2 at the McCrossan Visitor Center.