Feature Stories
Start with Startup Sioux Falls
Andrea Van Essen
May 28, 2021
The Zeal Center for Entrepreneurship will now be known as Startup Sioux Falls, a change that represents its continued commitment to serve the city's rapidly evolving entrepreneurial space. The organization announced the rebrand on May 20 at the Hey Sioux Falls awards celebration.
Since opening in 2002 as the South Dakota Technology Business Center (SDTBC), the organization has existed to support entrepreneurs. Early on, that meant programming and physical space to incubate and accelerate high-growth technology businesses. As time went on, it became clear that innovation and inspiration weren't exclusive to a specific type of business. The 2016 rebrand to the Zeal Center for Entrepreneurship represented a shift that aimed to support entrepreneurs at all stages.
Five years later, the switch to Startup Sioux Falls reframes the organization as a community that empowers founders, rather than a specific facility or building. Startup Sioux Falls aims to provide resources and tools that can make entrepreneurship less overwhelming by helping founders network, launch and grow their ventures.
Part of that shift involves a planned relocation to the heart of the city—downtown Sioux Falls. The current facility on the northwest corner of town has served its purpose for this stage of Sioux Falls' entrepreneurial development, but it has become clear to ecosystem leaders that founders' needs have changed, and the buzz of entrepreneurship is strongest in downtown.
The move will cement the organization's transformation from a state-of-the-art incubation facility for high-tech and high-growth startups to an ecosystem organization that meets entrepreneurs where they are, in order to offer support and cultivate an even stronger community.
Brienne Maner is Startup Sioux Falls' executive director, and she believes the organization is ready to serve the community as more than just a physical space. Still, founders can expect many of the facility's high-value amenities to remain, such as space for coworking and collaboration, a network of mentorship and resources, and of course, blazing fast internet.
Additionally, the plan for a new location will include improved space for large gatherings and events.
"Obviously there's a discussion happening about what a physical space looks like for Startup Sioux Falls, but we are more than the four walls around us," Maner said. "Beyond just the physical space that we're offering, it's important that we're providing support and a strong foundation for anyone who wants to start a new venture in Sioux Falls."
Part of that support will be manifested in the relocation to downtown. "There's a certain type of entrepreneurial spirit that you can feel when you're in the downtown community that I think will bode well for us both in a physical space but also to help infuse new energy into our community," she said.
Driving the team at Startup Sioux Falls forward is their belief that acting on an idea has the potential to change an individual, our community and the world. As they advance under this new brand, they will affirm their place as the ultimate starting point for Sioux Falls' small business owners and startups.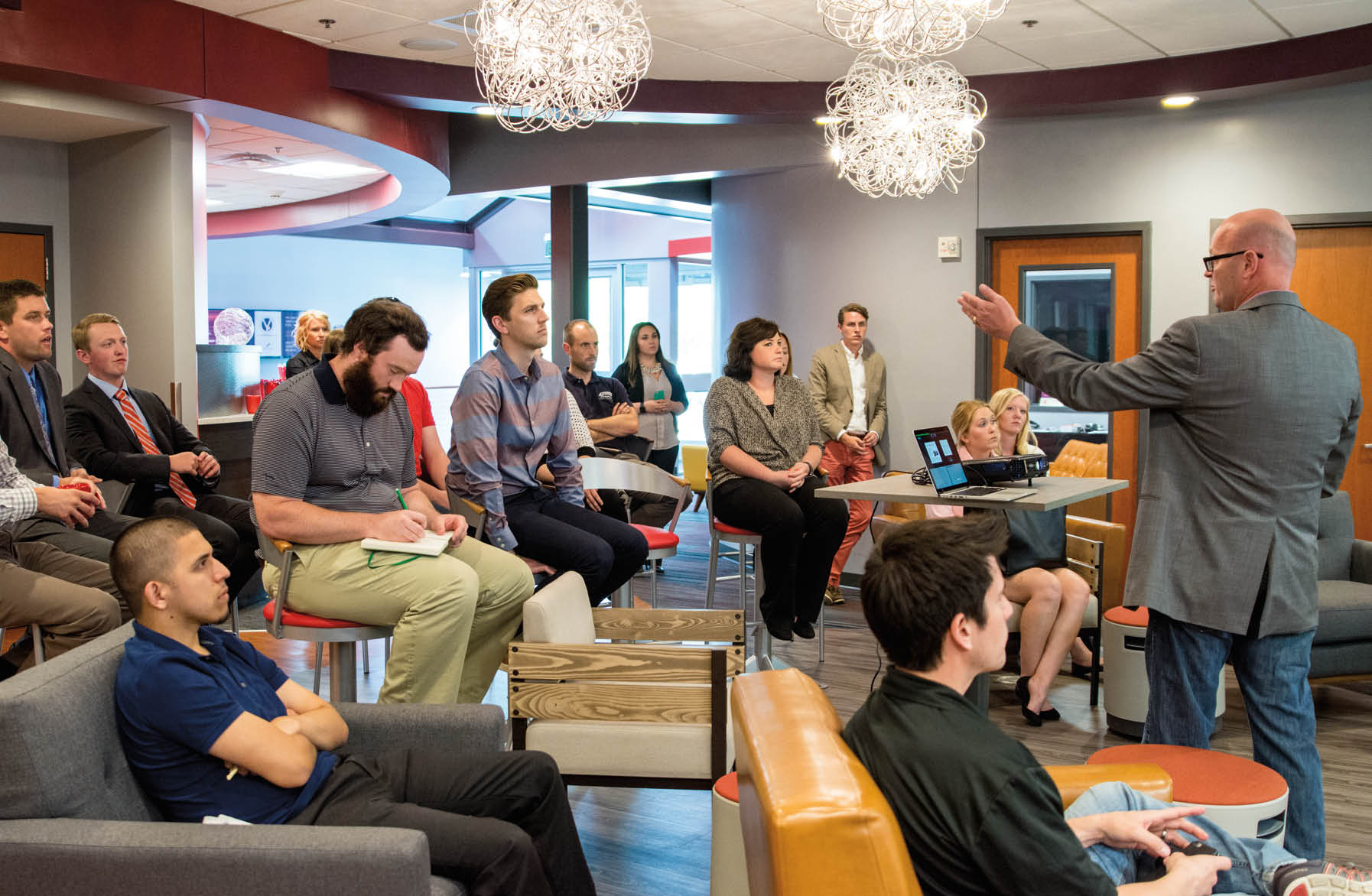 Why support entrepreneurship?
Cultivating a supportive environment for entrepreneurs in Sioux Falls is undeniably a critical element of the city's growth.
Back in the late 1990s, there wasn't much in the way of a startup ecosystem in Sioux Falls, but leaders at the Greater Sioux Falls Chamber of Commerce, the Sioux Falls Development Foundation and their joint venture partnership, Forward Sioux Falls, saw activity bubbling at the surface, and they stepped up to the task.
In 1999, a technology committee was formed to explore ideas that could diversify the economy. Among other local tech industry and business leaders, the committee included Dave Link, formerly with Sanford Health and now program manager for Dakota State University, and Rich Naser, Forward Sioux Falls' staff representative who would go on to serve as Zeal's executive director until 2018.
The committee created a technology development plan for the region—a plank of which was to develop the SDTBC. Funding sources included grants from Governor Bill Janklow and Senator Tom Daschle that allowed them to establish the SDTBC and build that first facility.
"It was designed to be more than a building—that was just part of the equation, that we wanted to make sure we had the support and services to offer to startup companies growing in the community. So we worked to put together a whole menu of services and activities in addition to the space there," said Link.
At the time, the facility was more targeted than it is today, focusing primarily on entrepreneurs and companies that were innovative, scalable and extremely high-growth.
According to Naser, it was an interesting time to be in the startup world. "Back when we were planning in the late 90s and early 2000s, we were told by other incubators, 'Hey, if your company can't go public in 18 months or so, you don't want them.' That's how frothy the marketplace was around the country before the dotcom bubble. It was an unusual time," he said.
Naturally, the SDTBC followed the opportunities in the marketplace at the time, focusing on those innovative companies which were often in the biotechnology space. Today, that market has expanded and become more inclusive of other business models—a shift that demands a new and improved ecosystem organization.
"I think it's just an evolution of the types of opportunities that are available to create a scalable business," Naser said. "There are lots of ways to disrupt markets and come up with something beyond just the technology of your business. It's just a natural progression of what's going on in the economy on a larger scale."
Staying up-to-speed with that progression and the startups that grow out of it is the role of an ecosystem organization like Startup Sioux Falls, and it's one that community organizations like the Chamber, Development Foundation and Forward Sioux Falls are happy to support.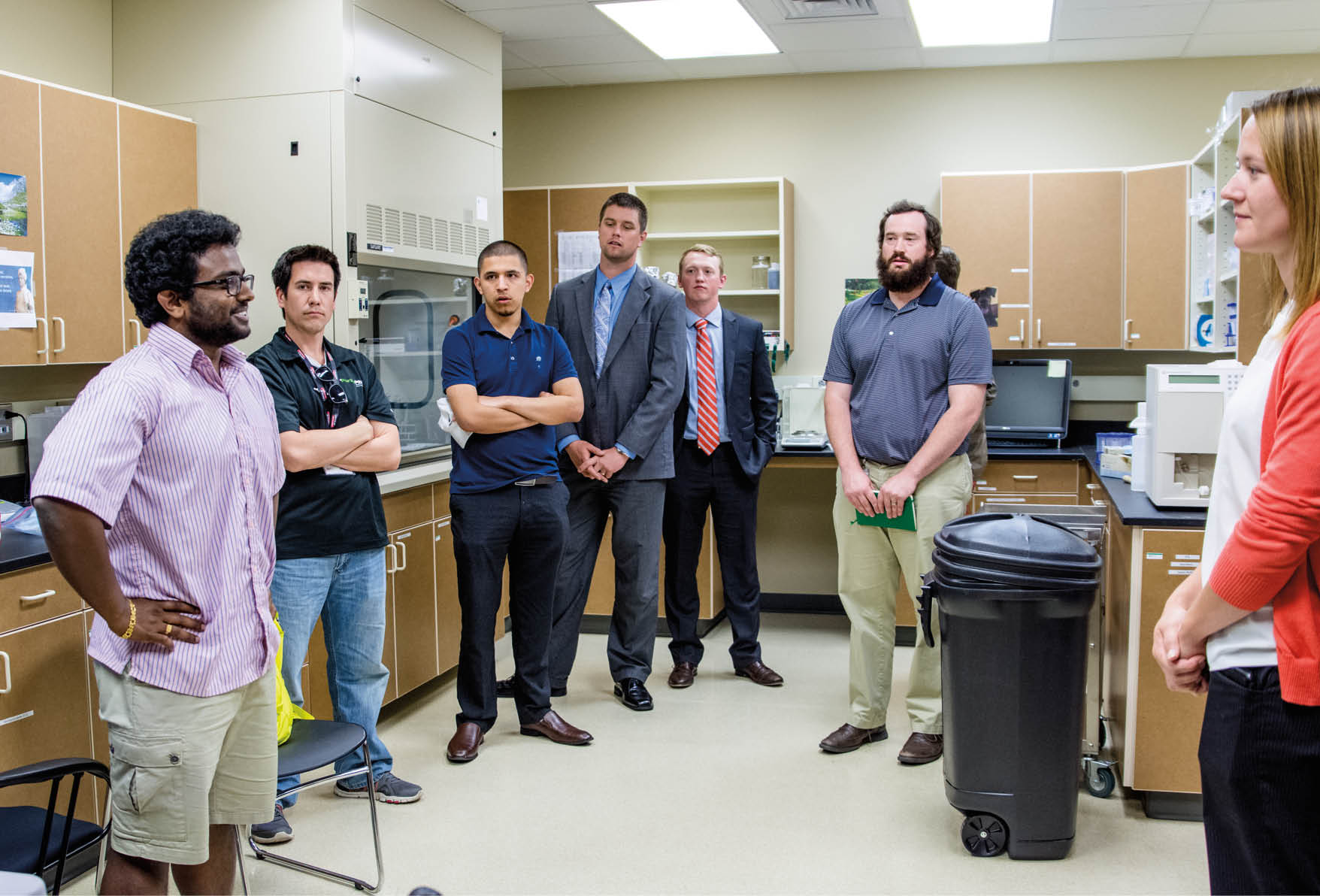 "I think it's just an evolution of the types of opportunities that are available to create a scalable business. There are lots of ways to disrupt markets and come up with something beyond just the technology of your business. It's just a natural progression of what's going on in the economy on a larger scale."
The evolution of Startup Sioux Falls
In spring 2019, Paulson started working on a project he hoped would bring founders together. He dubbed the community "Startup Sioux Falls."
"I started working on [it] after hosting the first ever entrepreneurship day on March 6, 2019. I was inspired by Andy Traub's words at 1 Million Cups and felt our community really needed to offer more support to its founders," Paulson said.
Paulson created a Facebook group for founders where they could network and benefit from each other's wisdom. He also built a website that featured an ecosystem guide with information about all of the organizations in Sioux Falls that supported entrepreneurs, as well as news stories and podcasts about the burgeoning startup community. Additionally, Paulson began facilitating a steady stream of events where those founders could have in-person touch points with one another.
Later that year, Paulson merged his community with the Zeal Center for Entrepreneurship in an effort to provide consistency and focus on their shared mission. Now, the organization will fully adopt the Startup Sioux Falls name, as well as new branding, to further clarify and solidify that mission. "In the last two years, Zeal and Startup Sioux Falls have realized that Sioux Falls needs a startup ecosystem organization more than it does a dedicated accelerator facility," Paulson said.
Karla Santi, the founder of Blend Interactive, has served on the Zeal board for four years and played an active role in the rebranding effort. "When I think of Startup Sioux Falls, I think about the engaged community of passionate entrepreneurs willing to help each other and be involved in the success of others," Santi said. "The Zeal Center
for Entrepreneurship has been a wonderful asset to our community, but the word 'center' in the name can be interpreted as being restricting or contained within those walls. What the organization provides goes well beyond
what a facility can offer."
Santi believes that the community was ripe for this transformation. "The organization has evolved from a facility housing a collection of tech startups to an entire community of entrepreneurs that extend well beyond the walls of the Zeal Center. Pair that with an increase in new businesses launching during and post-Covid, and the timing couldn't be better," she said.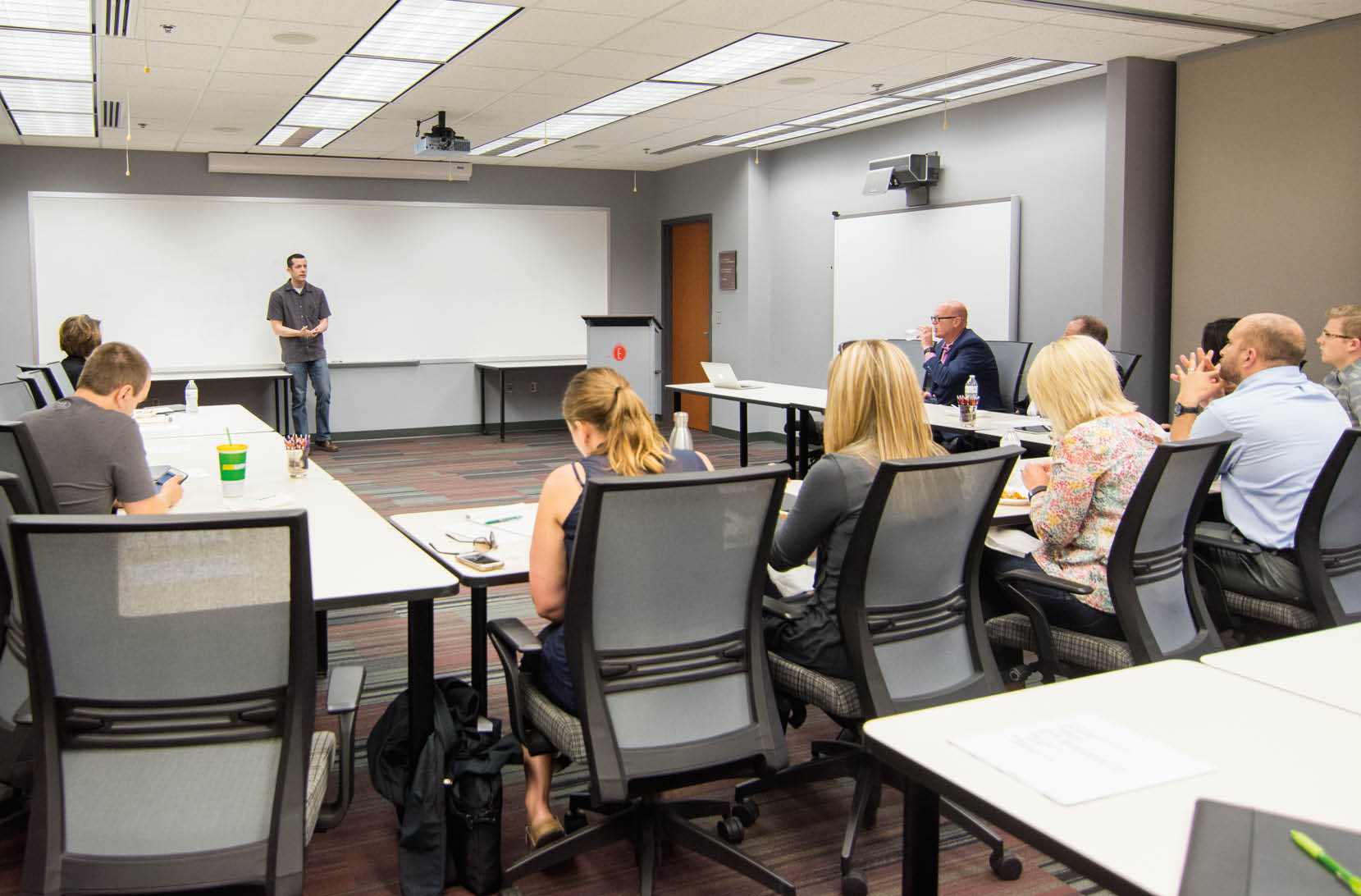 What to expect from the new brand
As previously noted, much of what the Zeal Center for Entrepreneurship previously offered will remain available to the startup community. However, the rebrand allows Startup Sioux Falls to lean more deeply into its mission of empowering founders. By simplifying and clarifying the brand, its mission, its vision and its values, Startup Sioux Falls becomes the clear destination for founders, regardless of the stage of their business.
The CO.STARTERS accelerator program that was launched in January of this year is a prime example of the open and inclusive support the organization has to offer. CO.STARTERS is a program that allows ecosystem organizations to host 10-week cohorts of startup founders,
guiding them through a crash course in entrepreneurship. By the end of the ten weeks, founders have a clear picture of how to move forward with their business.
Dakotah Jordan is a graduate of Startup Sioux Falls' inaugural CO.STARTERS cohort (the second cohort is wrapping up as this goes to print), and she is also a Chamber member. Her business, Dakotah Yoga, offers a unique, non-studio approach to yoga, as well as other wellness practices like meditation, breath work, and reiki.
In the midst of her CO.STARTERS experience, Jordan found the clarity necessary to quit her day job and go full-time with Dakotah Yoga. "CO.STARTERS allowed me dedicated and focused 'How are we going to get this to work?' time. My goal was to have a plan to launch Dakotah Yoga to full-time by the end of the ten weeks, but I put my notice in at my full-time job in week eight. That dedicated work time paid off," Jordan said. "It gave me a community to test ideas with, get feedback and be encouraged when things were difficult. The resources and information during the course also gave me the confidence in areas I felt completely lost in prior to CO.STARTERS."
Startup Sioux Falls plans to host one more cohort this year, graduating an estimated 40 founders in 2021. Additionally, Maner is committed to finding new ways to serve Sioux Falls' evergrowing and diverse community.
"When we did our market research to determine what the right program would be, [CO.STARTERS] was the clear choice. That being said, we don't know the future. We may have to get more creative with the types of cohorts that we're offering. We may need to get more niche, and provide more opportunities for students, women entrepreneurs and new Americans," Maner said. "We want to break down barriers, whether that's resources, language or location, so more community members can take advantage of what we're offering."
Regularly recognized as a top place to start a business, Sioux Falls is experiencing rapid population growth and a burgeoning entrepreneurial ecosystem. It's an exciting time to live here. Whether it's through accelerator programs like CO.STARTERS, networking events like 1 Million Cups or Startup Socials, or individualized resources like mentorship or coworking, Startup Sioux Falls is primed and prepared to support that growth and the entrepreneurs who are driving it.
Whether you're looking to tap into resources, find ways to get involved or simply learn more about what's happening in the Startup Sioux Falls community, you can plug in by visiting their recently-updated website at startupsiouxfalls.com and clicking "Get Started."