News
Veterans Community Project Community Appeals Campaign
Mike Lynch
November 1, 2023
5.5 min read
The Veterans Community Project (VCP) has launched a Greater Sioux Falls Chamber of Commerce Community Appeals campaign to raise $1.2 million. VCP is asking Chamber members to support its mission to provide veterans with transitional housing options and a space to facilitate the essential supportive services these veterans need.
If VCP is enabled to thrive here, lives will be changed; families restored and more people will be converted into our workforce.
VCP of Sioux Falls is moving our community forward by not only addressing veteran homelessness but also by weaving individuals and businesses in our community into its mission through volunteer work and advocacy. When completed by the end of 2025, the Sioux Falls village will have 25 tiny homes.
VCP board member Jeanine Hoff Lubben said the difference that this will make in our community is enormous. "Unfortunately, we have many homeless vets here in town, not to mention the surrounding area and our state. If VCP is enabled to thrive here, lives will be changed; families restored and more people will be converted into our workforce."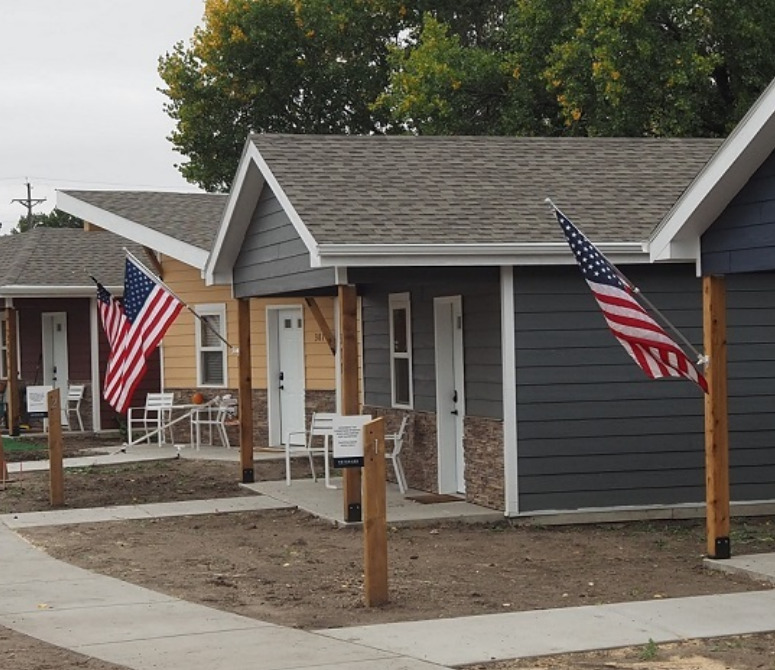 Unlike traditional transitional housing programs, a tiny home provides the Veteran with privacy, a sense of security and the ability to reintegrate at a comfortable pace. Each tiny home features a bed, a small kitchen and a bathroom. VCP works within the social service community to complement supportive services, not to compete. Case managers coordinate wrap-around services and provide overall leadership and supervision of case management. However, the bulk of specialized services are provided by existing partner organizations and agencies. This support includes addiction counseling, suicide prevention, mental and behavioral health and other necessary services.
Matt Smith, a member of the VCP board, is passionate about VCP's mission because it will not only house veterans in need, but also provide them with a specially trained team that will work with them to transition to a new life. Smith said, "VCP is so much more than housing and that is why I am excited about the Village Center that will be built, providing a place for veterans to meet with case managers, receive services and build community with other veterans living in the village."
Veterans succeed at their own pace and receive an individualized care program explicitly designed to meet their needs. They may stay in their tiny homes as they progress in their program and toward transition to permanent housing. The positive transition rate to permanent housing is 85% and the average length of stay is approximately 14 months. VCP of Sioux Falls will provide transitional housing and services to 20 or more homeless veterans with the tools and support necessary to overcome homelessness and achieve self-sufficiency. Approximately 85% of veterans housed in VCP Village complete three visits to a behavioral health provider within the first 45 days of being housed and case managers connect 100% of veterans requiring ongoing behavioral or physical support to partnering providers.
In the United States today, veteran homelessness has become a substantial problem. The United States Interagency Council on Homelessness estimates that in the United States on any given day, there are over 580,000 individuals and families experiencing homelessness, and over 38,000 of those individuals are veterans.
The VCP Village will have a profound impact from both a quality of life and economic development perspective beyond a primary objective to reduce homelessness. The provision of stable housing and comprehensive support services helps veterans reintegrate into society as productive and stable members. This, in turn, contributes positively to the overall stability of the community. Additionally, VCP's community-based approach fosters a sense of unity and support within the neighborhoods where they operate. Neighbors often become actively involved in supporting the veterans and building a stronger, more compassionate community.
VCP Development Director Alisha Grove said that the word "community" isn't just part of their name, it's part of their DNA. "Veterans Community Project is funded by people who want to do more than thank a veteran for their service," said Grove. "Now is your opportunity to permanently leave your mark on this life-changing, community-changing mission. Join us in this compelling vision. Join us and help serve those who served us."