Member Voices
Volunteer Spotlight: Phil DeGroot
Jill Callison, for the Greater Sioux Falls Chamber of Commerce
April 14, 2023
3 min read
For the last dozen years, during the third week in January you'll find Phil DeGroot out of the office and into a showring at the Sioux Empire Livestock Show.
DeGroot, an ag banker and vice president at The First National Bank in Sioux Falls, spent 10 years as the volunteer superintendent for swine show. Last year, he turned those duties over and stepped in to fill a gap that needed attention. the Mayor's Round-up and Sale of Champions, culmination of the Livestock Show.
"We made sure we got that all set up, helped make phone calls for the auction, the premium auction we have Friday night, and also our scholarship auction," DeGroot said. "We were making sure we had a plan. It was a lot of fun."
DeGroot grew up on a farm in northwest Iowa. That's why he gravitated toward ag banking and why he chose to help at the livestock show.
"Part of it is to get to know other people in the ag community in Sioux Falls, especially the ag businesses," DeGroot said. "It's also showing off to people around Sioux Falls what ag is about. It's part of what I want to do to make sure people understand it's an important part of Sioux Falls."
DeGroot looks forward to the Livestock Show each year. He knows it will be a good chance to catch up with members of the ag community and find out how their lives are going. Over the past dozen years, he also has seen how the scholarships awarded during the event have impacted the youngest participants' futures.
It's also an opportunity to work with other members of The First National Bank in Sioux Falls in a different setting. He joined that team seven years ago.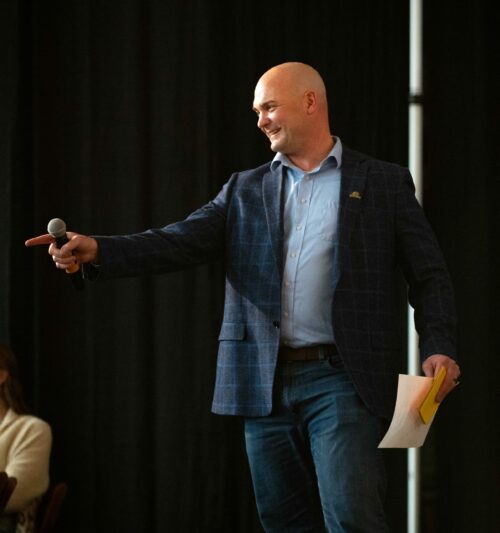 Just the giving back to the ag community is very important, but you meet a lot of fun people, interesting people. You build relationships that probably last the rest of your life.
"Our whole ag team, from ag bankers to assistants to credit analysts, help and go out there," DeGroot said. "One of our credit analysts, he couldn't do it this year, but we clerk the Angus show. Everybody in our ag department at First National are able to be there."
That week builds a sense of teamwork and camaraderie that lasts for the other 51 weeks of the year, he said. Those other 51 weeks, while DeGroot and others are busy planning the next Livestock Show, he will continue to enjoy the benefits of being a Chamber volunteer.
"You get to meet a lot of new people, you make new connections," he said. "Just the giving back to the ag community is very important, but you meet a lot of fun people, interesting people. You build relationships that probably last the rest of your life."