Feature Stories
Why women belong in construction
Elizabeth Duffy
April 13, 2022
4 min read
As Regan Duvall walked into the first class for her new major at South Dakota State University, she stopped short. The entire classroom was filled with men. She was not surprised – it was a construction class after all – but she froze in the doorway.
"It was like the scene in western movies where the outlaw walks into the bar and the music stops," she reflects. To her relief, Regan heard a friendly voice and saw a hand waving her over.
"One friendly person can really make a difference," said Duvall, now Safety & amp; Quality Control Director at Jans Corporation. "After that first class, fitting in was never a big challenge," she remembers. But that was college, where half the construction management faculty were women, including the dean.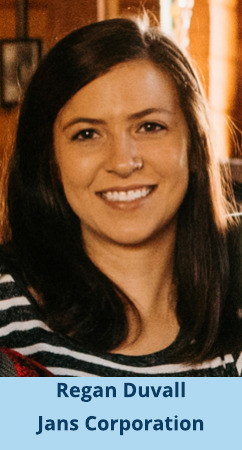 In the national workforce, only 11% of those in the construction industry are women, and a fraction of those women work in the field. A profession so vastly dominated by one gender lends itself to stereotypes, which opens the door to discrimination against those in the minority.
Duvall's first experience with discrimination came within her first three months of employment. While she was visiting a job site, a subcontractor made a vulgar comment to her.
"I was mortified," she said, "but I didn't tell anyone."
Duvall was unsure of how her employer would react. On one hand, they might not support her. On the other hand, they might decide hiring women was not worth the headache of protecting them. Duvall saw it as a lose-lose situation at the time.
As she progressed in her career, Duvall had many more similar experiences. Eventually, she started speaking up. With the support of her employer, Duvall felt empowered and reframed her own thinking.
"Instead of standing up for myself, I think of it like I'm standing up for the next young woman that comes to work in the industry," she said.
In addition to support from her employer, Duvall benefitted from joining the Greater Sioux Falls chapter of the National Association of Women in Construction (NAWIC). Chapter Secretary Karen Krietlow cites NAWIC's motto of leading builders, building leaders as central to their purpose.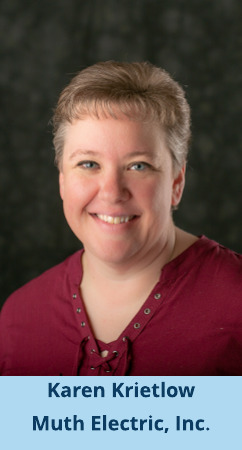 "When I joined NAWIC, what I found from it was a passion for helping other women in the industry, and a great place to learn how to be a good leader," said Krietlow, who works as a Project Assistant for Muth Electric. The NAWIC chapter meets monthly, arranging educational and hands-on activities like job site tours or plumbing projects for their forty-three members.
Krietlow recognizes there are common misconceptions about who can or should work in construction, but she feels confident construction is a viable career choice for anyone looking for a good opportunity.
"Many women want to do something with their hands, and they want to be able to provide for their families better than they have been," said Krietlow.
A self-described busy body, Duvall couldn't stand the thought of a desk job. "I've been into building and making and creating since I was little," she said.
While construction was a natural fit for her interests, Duvall understands the importance of a diverse workforce. "If everyone was a left-brained thinker, you would end up with the most ugly, boring, uncomfortable buildings that were practical, and if everyone was right-brained, it would be a nightmare to build," she said. "So when you look at what all goes into construction […], you truly need all different types of people."
While there was a time in history when physical strength was a requirement for construction work, things have changed. "We have the tools and equipment so all ages, all genders, and all abilities can do the work," said Duvall.
Employers can do their part to create a safe environment for women by enforcing robust anti-discrimination policies with both employees and subcontractors. Duvall suggests employers discuss their policies in the interview process so prospective employees know what to expect. But first, construction companies should ensure their job descriptions and employment advertisements are inclusive to candidates of all genders and abilities.
Working in construction gives people the opportunity to have pride in their work.
"You can drive around Sioux Falls and say 'I helped build that building,'" said Krietlow. "It's great to be a part of the growth of Sioux Falls."