Advocacy
2022 Legislative Report and Scorecard
Jennie Doyen
June 1, 2022
2 min read
The Greater Sioux Falls Chamber of Commerce has released its annual Legislative Report for the 2022 South Dakota Legislative Session.
The Legislative Report is a recap of the Chamber's advocacy work on issues that are key to the success of the business community. It reviews the bills that impact members under the framework of the Chamber's Legislative Platform.
A key piece of the Legislative Report is the Legislative Scorecard. The scorecard tracks how all 30 legislators from the Sioux Falls area voted on the issues that are important to the Chamber's membership.
Lawmakers earned a "Sioux Falls Community Champion" designation if they voted with the Chamber on 100% of the bills on the scorecard and a "Sioux Falls Supporter" designation if they voted with the Chamber on more than 80% of the bills.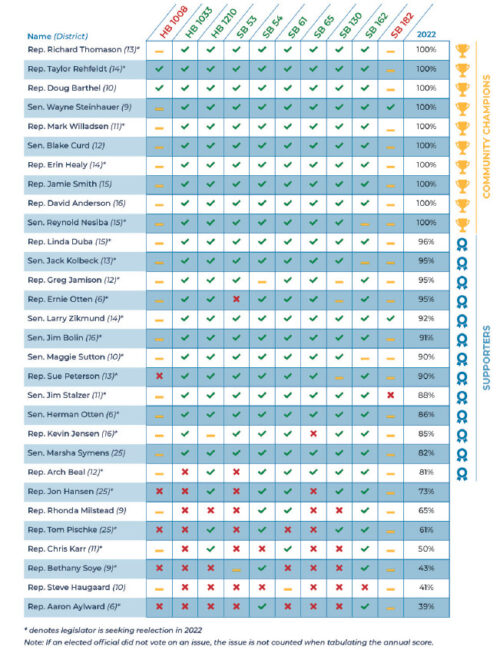 Key Bills
The full 2022 Legislative Scorecard includes how legislators voted on nearly 30 bills. Here is a summary of the 10 bills that were of highest priority to the Chamber.
HB 1008
Vaccine Retribution: Would have allowed an employee to bring a claim against an employer for actual and punitive damages for injuries or illness caused by a vaccination if it is mandated as a condition of their employment.
HB 1033
Workforce Housing: Sought to make an appropriation for housing infrastructure loans and grants. This bill was hoghoused by a conference committee into an entirely new bill. The Chamber was involved when this bill addressed workforce housing and the scorecard reflects this.
HB 1210
USD Discovery District: Appropriated $15 million to construct a new biomedical innovation facility at the USD Discovery District in Sioux Falls, allowing USD to move to Phase III of their project.
SB 53
Workforce Housing: Appropriated $100 million for housing infrastructure grants that will run through GOED and another $100 million into the Housing Opportunity Fund at the South Dakota Housing Development Authority (SDHDA) for revolving loans with flexible terms. GOED is required to make 50% of their funding available to municipalities with a population less than 50,000.
SB 54
DSU Cyber Program Expansion: Appropriated $30 million to assit DSU with their cyber program expansion, which includes launching the Governor's Cyber Academy in every South Dakota high school.
SB 61
STC Health Simulation Center: Appropriated $4.5 million to purchase equipment for a health sciences clinical simulation center at Southeast Technical College. Once completed, the facility will allow for approximately 150 new students annually to help meet the increasing demand within critical health care career fields.
SB 65
Housing Opportunity Fund: This bill would have added housing infrastructure as an eligible expense under the Housing Opportunity Fund and removed some of the limitations regarding income limits and geographical distribution guidelines from project focused solely on housing infrastructure.
SB 130
DSU Applied Research Lab: Allowed the Board of Regents to acquire land in Sioux Falls donated by Sanford Health for the Dakota State University Applied Research Laboratory. It also appropriates $50 million of privately donated funds to the project.
SB 162
Discretionary formula: Revised the discretionary formula for reduced taxation of new structures and residential property.
SB 182
Government intrusion: Sought to prohibit any state agency, elected official or employee of the State of South Dakota to enter into a contract with a bank unless the contract specifies that the bank has no categorical policy, rule, or guidance requiring it to refuse services to firearm manufacturers, distributors, suppliers or firearm trade associations.