Feature Stories
Medical marijuana
Amy Smolik
June 3, 2022
10 min read
What employers need to know
South Dakota is one of 37 states where medical marijuana is now legal.
Figuring out what that means for employers is still being defined.
"When the measure passed in 2020, it was 95 sections long," said Justin Smith, a shareholder with Woods, Fuller Shultz & Smith. "Since then, there's been two intervening legislative sessions with changes to the law."
It's hard not to get in the weeds when talking about cannabis rules and regulations. A major challenge of cannabis usage is that there is currently no test that measures impairment. Cannabis compounds can linger in the body for weeks after using.
"The single biggest weakness and problem for employers and businesses is that existing technology doesn't allow for tests to tell you whether someone is impaired vs cannabis just being in your system," Smith said.
According to the Marijuana Policy Project, a national organization that works on marijuana policy, as of 2021, more than four million Americans are medical marijuana patients. South Dakotans are not included in this number. Numbers tracked by the South Dakota Department of Health show that as of mid-May, 768 patient cards had been approved — and will continue to grow.
The easy — and recommended — answer is to consult with an employment attorney about setting policies for your business related to use and testing.
Here's an overview of what the State and City are regulating, and some gray areas for employers to be aware of.
South Dakota and medical marijuana
The 2020 election marked the fourth time since 2006 that South Dakota voters had the opportunity to vote on marijuana initiatives. Both Initiated Measure 26 (medical marijuana) and Amendment A (recreational marijuana) were approved by the voters. Both initiatives were slated to become law on July 1, 2021.
However, in 2021 the South Dakota Supreme Court upheld a lower court's decision to invalidate Amendment A because it violated Amendment Z, which restricted the number of issues that could be part of a ballot measure. In May 2022, a group submitted signatures to place recreational marijuana on the November 2022 ballot, so it could be back again if approved by the South Dakota Secretary of State.
Current qualifying conditions for medical marijuana cards include AIDS/HIV, amyotrophic lateral sclerosis (ALS), multiple sclerosis, cancer associated with severe or chronic pain, nausea or severe vomiting, or cachexia or severe wasting; Crohn's disease; epilepsy and seizures; glaucoma; and Post-Traumatic Stress Disorder (PTSD). Any South Dakota resident may petition the department to add a serious medical condition or treatment to the list of debilitating medical conditions as defined by law.
South Dakota's medical cannabis program is housed with the Department of Health. In July 2021 the medical cannabis program administrator and the medical cannabis attorney positions were both filled. The administrator position is charged with standing up the new program and working with other staff to put the new processes in place. The Department of Public Safety provides staff to perform inspections of all medical cannabis establishments. The Department of Revenue has also played a key supporting role in putting cannabis processes together.
According to a spokesperson with the Department of Health, the timelines to get these processes in place were short, but the department has met every deadline set by the voters. IM 26 passed in November 2020. The South Dakota Codified Law, 34-20G, went into effect on July 1, 2021. Administrative rules pertaining to medical cannabis were put in place in October 2021. There are 13 chapters of rules that guide various aspects of the program. In addition, three major online software solutions were put in place for establishment registration, patient/physician registration and seed-to-sale tracking.
The Department of Health placed authority with local municipal and county governments regarding medical cannabis establishments and licensure.
Medical marijuana terms to know
Source: South Dakota Department of Health
Medical Cannabis
All parts of any plant of the genus cannabis, whether growing or not, in its natural and unaltered state, except for drying or curing and crushing or crumbling. The term includes an altered state of cannabis absorbed into the human body. The term does not include fiber produced from the mature stalks of such plant, or oil or cake made from the seeds of such plant. The term does not include the plant Cannabis sativa L. and any part of that plant, including the seeds thereof and all derivatives, extracts, cannabinoids, isomers, acids, salts, and salts of isomers, whether growing or not, with a delta-9 tetrahydrocannabinol concentration of not more than three-tenths of one percent on a dry weight basis; (§22-42-1)
Dispensary
Any entity registered with the department pursuant to this chapter that acquires, possesses, stores, delivers, transfers, transports, sells, supplies, or dispenses cannabis, cannabis products, paraphernalia, or related supplies and educational materials to cardholders. (§34-20G- l (15))
Medical Cannabis Establishment
A cultivation facility, a cannabis testing facility, a cannabis product manufacturing facility, or a dispensary. (§34-20G-l (16))
Cardholder
A patient who has been diagnosed by a practitioner as having a debilitating medical condition or a designated caregiver who has been issued and possesses a valid registry identification card (§34-20G-l (6))
Debilitation Medical Condition
A chronic or debilitation disease or condition or its treatment that causes wasting syndrome; severe, debilitating pain; severe nausea; seizures; or severe and persistent muscle spasms, including those characteristic of multiple sclerosis; or any other medical condition as defined by the Department of Health. (§34-20G-1 (8))
Practitioner
A physician who is licensed with the authority-to prescribe drugs to humans. (§34-20G-1 (20))
Non-Resident Cardholders
Non-resident cardholders fall under the provisions of the new laws if they have been diagnosed with a debilitating medical condition and were issued a registry card by another jurisdiction, have submitted any required documentation to the Department of Health, and have received confirmation of registration. (§34-20G-l (19))
Designated Caregiver
•Is at least 21 years old; •Has agreed to assist with a qualifying patient's medical use of cannabis; •Has not been convicted of a disqualifying felony; and •Assists no more than five qualifying patients, unless the patients reside in or are admitted to a health care or residential care facility where the caregiver is employed. (§34-20G- l (10))
What's new in 2022
Many bills related to medical cannabis were introduced in the 2022 session with only a handful ultimately passing and becoming law as of July 1. Some major changes associated with those laws include giving physician assistants and advanced practice registered nurses the ability to certify medical cannabis patients as well as some changes to the testing/laboratory rules.
The legislature modified the definitions of certain terms and added terms that have a substantial impact on employers, according to an analysis by Woods Fuller. The most important additions are the terms "safety-sensitive job" and "under the influence of cannabis," said attorney Seth Lapour with Woods, Fuller, Shultz & Smith.
However, because the term is brand new and not yet interpreted by the courts it is still a gray area. This definition leaves considerable discretion to the employer. The employer's belief must be "reasonable" under the circumstances. If challenged or analyzed by a court, it is likely it would consider all the surrounding facts and circumstances to determine whether an employer "reasonably" believed injury or damage could result.
The legislative changes to Ch. 34-20G were significant for employers with respect to medical cannabis. With the creation of the term "safety-sensitive job" and the definition of "under the influence of cannabis," employers were given broad latitude to determine whether a specific task is dangerous and whether an employee is considered impaired enough as to qualify for discipline.
The 2022 legislature also revised the criminal code to include a new restriction on the ingestion of medical cannabis:
No person may smoke, eat, consume, or vape marijuana, marijuana concentrate, or marijuana products in any public place or place of employment. A violation of this section is a Class 2 misdemeanor. A second or subsequent violation is a Class 1 misdemeanor.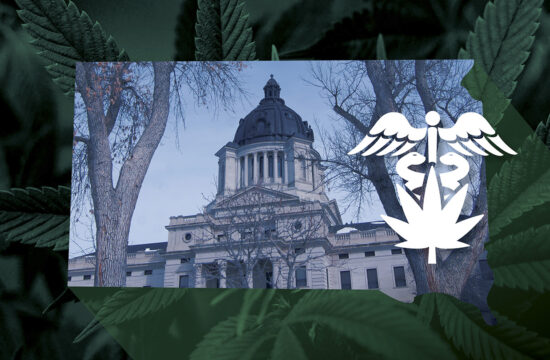 Sioux Falls and medical marijuana
The City has implemented its medical cannabis program and operates it consistent with State law and City ordinance. The City implemented passage, interpretation and implementation of its medical cannabis program along with, and often simultaneous to, state law and regulation. Relevant City policies are Ordinance Chapter 121 (Medical Cannabis Regulations) and Chapter 160 (Medical Cannabis Zoning Regulations). No additional staff were hired because of the passage of IM 26.
State law dictates that the Department of Health doesn't impose any limits on establishment numbers. Local governments, through ordinances, can impose limits on the number of establishments within their jurisdiction. One stipulation is that they must allow at least one dispensary in their local jurisdiction. The Sioux Falls City Council set the number of dispensaries at five.
Medical marijuana timeline
A brief look at the history of marijuana in South Dakota and nationwide.
1931
As part of a larger trend nationwide to restrict cannabis, South Dakota banned the drug
2000
Hawaii is the first state to legalize medical marijuana
2002
Initiated Measure 1 would have made it legal to plant, cultivate, harvest, possess, process, transport, sell or buy industrial hemp or any of its by-products with a tetrahydrocannabinol (THC) content of 1% or less; it was defeated 62.03%-37.97%
2006
Initiated Measure 4 would have provided safe access to medical marijuana for certain persons; it failed on a 52.3%-47.7% vote
2010
Initiated Measure 13 would have authorized the possession, use and cultivation of marijuana by and for persons with certain medical conditions; it failed 63.31%-36.69%
2012
Colorado and Washington are the first states to legalize recreational marijuana
2016
Flandreau Santee Sioux Tribe began selling cannabis on the reservation following a 2015 vote by tribal authorities to authorize it; under the regulation, buyers are required to consume the product on tribal property.
November 2020
Two issues related to marijuana appeared on the ballot. Amendment A, a ballot initiative to legalize, regulate and tax cannabis for recreational use passed with 54.2% of South Dakota voters in favor. Initiated Measure 26 legalized medical cannabis, passing with 69.92% of the vote.
February 2021
A lawsuit argued Amendment A was unconstitutional due to violating the state's single-subject rule for ballot measures (Amendment Z, which passed in 2018). A circuit court judge ruled in favor of the lawsuit, which prevented the legalization of recreational marijuana in South Dakota from going into effect pending a higher court's decision.
July 2021
IM 26 — medical marijuana — went into effect. Practitioners begin issuing written certifications, or registry cards.
November 2021
The South Dakota Supreme Court overturned Amendment A, upholding the lower court's decision. The South Dakota Department of Health printed the first medical cannabis patient cards. The City of Sioux Falls conducted a lottery for its allowed dispensaries.
May 2022
Signatures submitted to put an initiated measure on the November 2022 ballot that would legalize marijuana use, possession, and distribution for individuals 21 years old and older.
July 2022
Several new laws related to medical marijuana go into effect: •Added definitions of "safety-sensitive job" and "under the influence of cannabis" to existing state law regarding medical marijuana •Nursing homes, treatment centers and mental health centers can implement restrictions on cannabis use within their facilities and are protected from being forced to store and administer medical cannabis to clients and patients. •The Department of Health must provide written notice if revoking a previously issued medical marijuana ID card •The number of cannabis plants a qualified card holder can have in their private residence is capped at four plants. •Physician's assistants and nurse practitioners are eligible to certify patients as qualifying for medical marijuana use. •Testing requirements for cannabis products must be tested in batches exceeding no more than 50 pounds.
November 2022
If the signatures submitted in May are validated by the Secretary of State, South Dakota voters can vote on an initiated measure legalizing recreational marijuana usage
What else employers need to know
Given the nation's current workforce shortages, the trend seems to be to stop testing for marijuana because it limits an applicant pool.
A recent analysis by Quest Diagnostics released in March 2022 showed that in 2021 the rate of positive drug test results among America's workforce reached its highest rate since 2001 and was up more than 30% in the combined U.S. workforce from an all-time low in 2010-2012. The same study showed positivity rates for marijuana in the general U.S. workforce, based on more than 6 million urine tests, continued an upward climb, increasing 8.3% (3.6% in 2020 versus 3.9% in 2021) — the highest positivity rate ever reported in this study. In the last five years, positivity for marijuana in the general U.S. workforce increased 50% (2.6% in 2017 versus 3.9% in 2021).
Employers have a need to balance safety and compliance, while attracting and retaining key employees. State laws vary about marijuana; however, all employers do not have to allow drug use in the workplace or tolerate employees who come to work under the influence. South Dakota's law reflects this as well —
No employer is required to allow the ingestion, possession, transfer, display, or transportation of cannabis in any workplace or to allow any employee to work while under the influence of cannabis. No employer is prohibited from establishing and enforcing a drug free workplace policy that may include a drug testing program that complies with state and federal law and acting with respect to an applicant or employee under the policy.
In addition, businesses are not required to allow the smoking or vaping of medical cannabis on their property. Landlords are not required to allow the cultivation of cannabis on the rental property.
Under this state law, employers can completely prohibit medical cannabis in the workplace. An analysis by the Woods Fuller firm identified several other statutes that directly impact a business's or employer's ability to regulate medical cannabis, though not revised in 2022.
Related to workers' compensation, a government medical assistance program or private health insurer, workers' compensation insurance carrier, or self-insured employer providing workers' compensation benefits, is not required to reimburse a person for costs associated with the medical use of cannabis. However, issues surrounding employees seeking reimbursement for medical marijuana costs are sure to arise and employers will need to know how to address these requests.
For businesses with federal regulations or funding tied to their businesses that are at risk due to positive drug tests, federal law supersedes state law. The rights provided in state law do not apply to the extent that they conflict with an employer's obligations under federal law or regulation, in particular that they would disqualify an employer from a monetary or licensing-related benefit under federal law or regulation.
Nothing in state law prohibits an employer from disciplining an employee for ingesting cannabis in the workplace or for working while under the influence of cannabis. However, it's nearly impossible to assess user's level of impairment and it's not yet widely known what effects varying levels of THC will have on people. The statutes do not define or regulate a standard concentration, brand, strain — one of the biggest holes in the legislation, Smith said. Unlike alcohol, with tetrahydrocannabinol (THC), the chemical responsible for most of marijuana's psychological effects, there is not sufficient science or evidence to say what amount of THC equals impairment.
Even after reading the state law, it's likely that employers still have questions about what they can and cannot do regarding medical marijuana usage in the workplace. Can employees be terminated for positive marijuana tests? Can job offers be rescinded for the same reason? Should businesses test for marijuana use, and if so, how do you test?
"There are lots of gray areas and questions," Smith said. "We need to raise awareness that this is not a simple deal. Before an employer drafts policy on use, possession, testing or anything else — talk to an employment attorney."
Other resources
Any resident of this state may petition the department to add a serious medical condition or treatment to the list of debilitating medical conditions as defined by this chapter. The department shall consider a petition in the manner required by rules promulgated by the department pursuant to this chapter, including public notice and hearing. The department shall approve or deny a petition within one hundred eighty days of submission. The approval or denial of any petition is a final decision of the department, subject to judicial review. 34-20G-26.
No background checks are required to issue an ID card – which means no violent or drug related offenses will prohibit someone from obtaining an ID card and medical marijuana.
• Does not provide the required information, fee, or materials;
• Previously had a registry identification card revoked; or
• Provided false information.
Allowable Amount of Cannabis (both State of South Dakota and City of Sioux Falls)
• Three ounces of cannabis or less.
• The quantity of cannabis products as established by rules promulgated by the Department under SDCL 34-20G-72.
• If the cardholder has a registry identification card allowing cultivation, no more than three cannabis plants unless cardholder meets the requirements provided by the Department and SDCL Ch. 34-20G.
• If the cardholder has a registry identification card allowing cultivation and meets the requirements set forth by the Department and in SDCL Ch. 34-20G, the amount of cannabis and cannabis products that were produced from the cardholder's allowable plants, if the cannabis and cannabis products are possessed at the same property where the plants were cultivated.
A note from the President:
The Chamber strives to provide meaningful and current information to our members via Chamber News. I knew it would be difficult to tackle the topic of legalized marijuana in South Dakota. There is still a lot of uncertainty surrounding this complex issue. But that is exactly why this information is so valuable for all businesses. As states across the country deal with legalizing marijuana we will continue to see employment laws and state laws change to address surfacing issues. I often hear frustration from employers that they need more guidance. I hear you and I am aware that the content provided in this article likely does not answer all the questions. As time goes on, the Chamber will continue to work with government and private business to ensure we are creating pro-business policies and providing clarity for employers, while adhering to the vote of the people.
Jeff Griffin
President & CEO
Greater Sioux Falls Chamber of Commerce