Feature Stories
Embracing Change
Jennie Doyen
October 1, 2021
12 min read
Ramirez becomes Chair of the Board
Most people are familiar with the phrase "change is the only constant in life." It is attributed to Heraclitus, an ancient Greek philosopher.
Change is something everyone experiences, but not everyone welcomes. Alex Ramirez is one of those individuals who chooses to embrace change. During his 50+ years, he has changed cities three times, reinvented his career, and built then rebuilt his own business. Each major life change, says Ramirez, was a transformative opportunity.
"You can't be afraid of transforming yourself. It is all about learning and improving – changing into something better so that you can make your future what you want it to be."
Ramirez maintains this optimistic approach to change in all situations, from his day-to-day interactions to long-term planning. It's an attitude he plans to put to work in the year ahead as he serves the Greater Sioux Falls Chamber of Commerce as Chair of the Board of Directors.
On October 1, Ramirez began his 12-month term in the Chamber's top volunteer leadership position. The community continues to wrestle with challenges from the global pandemic, and Ramirez expects ongoing support for small businesses to be one area of focus for the coming year. In addition, he hopes to do his part to encourage more people and businesses to become involved in the Chamber.
"Joining the chamber is the first thing, and we do want to grow our membership," he said. "But also, I'd like more people to engage in the work we are doing, join the conversation and then move to action."
I'd like more people to engage in the work we are doing, join the conversation and then move to action.
The road to Sioux Falls
Ramirez was born and raised in Uruapan, Mexico, a city he describes as similar to Sioux Falls. "It was a safe place, with friendly people. Growing up, I roamed the neighborhood with my friends," he said.
Ramirez's mother and sister immigrated to the United States when he was just three years old. His grandparents raised Alex and his three brothers while his mother worked toward her goal of bringing the boys to the U.S.
"It took my mom 15 years to get the legal papers to bring me to California. So, I left Mexico at 17. It was really hard to leave my friends, my grandparents and all the things I loved behind. But I wanted to attend college in the U.S. and more than anything I wanted to be with my mom again."
The move to a new country was the first of several changes that Ramirez calls transformational. During his early years in California, he worked hard to pay for his college courses and earn enough to move his family out of project housing. He eventually rose to a stable position as an operations manager for a pharmaceutical company.
He describes it as a good job that he learned a lot from doing. "But then I started to feel stuck," he said. "I wanted more interactions with other people."
Ramirez put in his notice without knowing for sure what he would do next. He had long been a hobby musician, so he decided to put his equipment to more use and turn it into his job, launching USA Media TV as a media production business.
At its start, the business was primarily a recording studio for musicians. To cut down on expenses, Ramirez taught himself how to edit too, and soon expanding into making music videos. That led to commercial video work for companies like eBay and PayPal.
One of the most important lessons he learned early in his days of entrepreneurship was the importance of relationships. "I had to learn patience. I had to learn how to work with a lot of different types of people," he stated. "Because even if you are the best at the work you do, you need a good relationship to keep the customer."
When the opportunity came to move to Sioux Falls in 2011, Ramirez felt confident in the face of another major change. "I knew it would be a little hard, but I knew it was going to be better for my family. And so, you can't be afraid of change – you just need to find the good in it," he said.
His move to South Dakota marked a personal transformation for Ramirez. He shares that while living in California, he was not involved in the community at all. He made the decision to change that in his new community.
"My kids were going to be raised here, and maybe even choose to stay here. So, I wanted to be part of making their future. And that meant I needed to get involved and contribute what I can," he stated.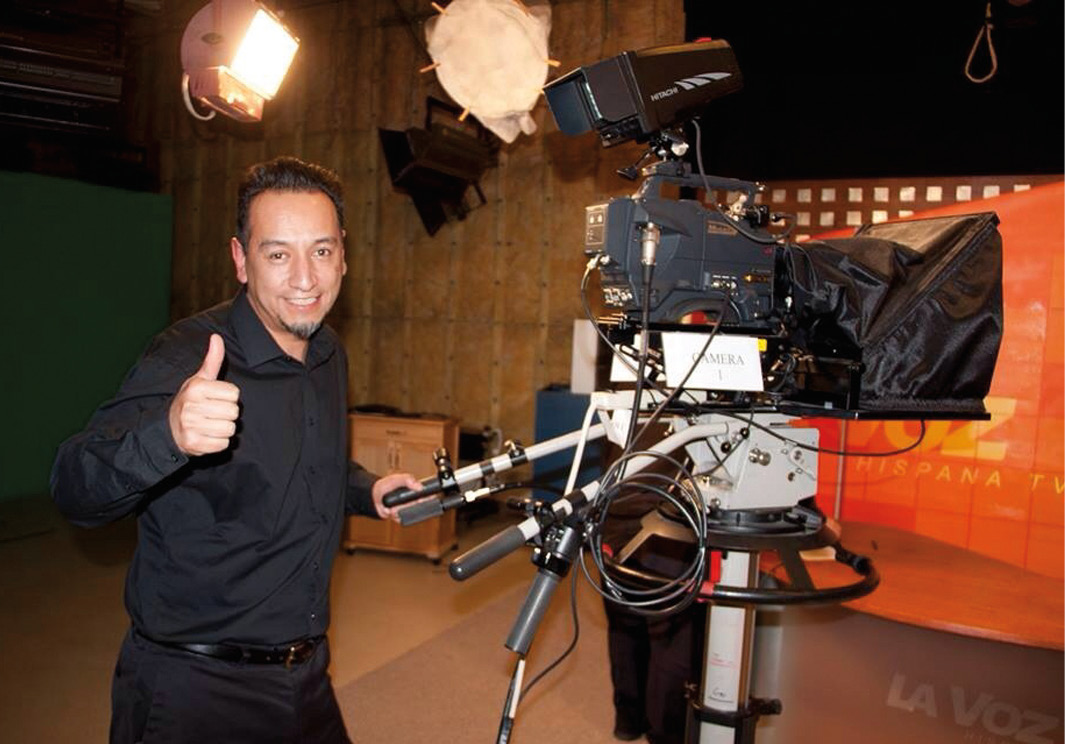 Getting involved
As he began working to rebuild his business in Sioux Falls, Ramirez initially felt that he didn't fit in, so he explored the possibility of starting a Hispanic chamber of commerce. He approached former Chamber executive Evan Nolte to ask about the possibility of a partnership.
"After one meeting with Evan, I saw that I had the wrong idea in being separate. He wanted to build bridges with the minority communities, and I thought maybe I could help," Ramirez said. So, he joined the Greater Sioux Falls Chamber of Commerce and set about getting involved in any way he could. "The reason I volunteer so much is because I want others in the Hispanic community to see it and know that they can too – they have a voice."
Ramirez champions the importance of networking. He says it is not just about meeting new people, but about sharing ideas and experiences. In this way, you can learn from others and possibly grow your business at the same time.
He acknowledges that it is not always easy to network. "You need to work at it. You need to put yourself out there a bit." He recommends attending an event with a friend or colleague who can help by introducing you to new people.
At one of his first Chamber Mixers, Ramirez was approached by Jim Schmidt. He recalls, "He extended his hand, then he took me around and introduced me to everyone else! Everyone needs someone like Jim to help you connect."
(Any member can contact the Chamber office and ask about help with networking at an upcoming event.)
Schmidt, who is the President of the Sioux Empire Housing Partnership, remembers meeting Ramirez for the first time and being impressed by him. Schmidt said, "He struck me as a very talented young man with a lot to offer. He was sincere and straightforward; and he always wanted to learn and improve himself and those around him."
Ramirez said he was drawn into the Chamber by the networking opportunities, but he stayed for the depth of work and programming. "I learned that the Chamber does so much more than Mixers and ribbon cuttings…though I do love the ribbon cuttings!" he said. "They do so much for the business community and our whole city."
According to Ramirez, there are many residents in our community who may not be aware of the Chamber or understand what it does. However, those same residents do see the impacts of the programming. Ramirez wants to help educate people, particularly those in minority communities, about the value of the chamber.
"We need to work on making the connection for people. The success of Sioux Falls is due in part to the work of the Chamber and our partner organizations, and the initiatives of Forward Sioux Falls," he said.
"The Chamber is working for them, even if they are not a member."
As an example, Ramirez points to the Chamber's successful efforts to make the driver's license written exam and study materials available in Spanish. "Driver's licensing was critical for so many reasons – employers, people wanting to work, safety reasons, and more," he said.
Ramirez helped the effort by testifying to legislative committees in Pierre on more than one occasion. He doesn't take credit for the law's passage, but says he is proud to have been one representative of the Hispanic voice on the topic. "I want to assist in whatever way I can. I am most interested in being part of the conversation."
Building community
His term as chair of the board coincides with the start of a new five-year program of work for Forward Sioux Falls. Ramirez says he is looking forward to working with others on these programs and initiatives that help our community continue to grow.
"People all over the world are starting to notice our little city. And that is a great thing," stated Ramirez. He predicts that in the next decade the city will grow significantly, attracting new businesses who wish to build here and a much larger population.
Though Sioux Falls continues to wrestle with increasing the size of its workforce, Ramirez is optimistic about the future. "I see more people being drawn here because they find a community that is peaceful and welcoming, and is a good place to live."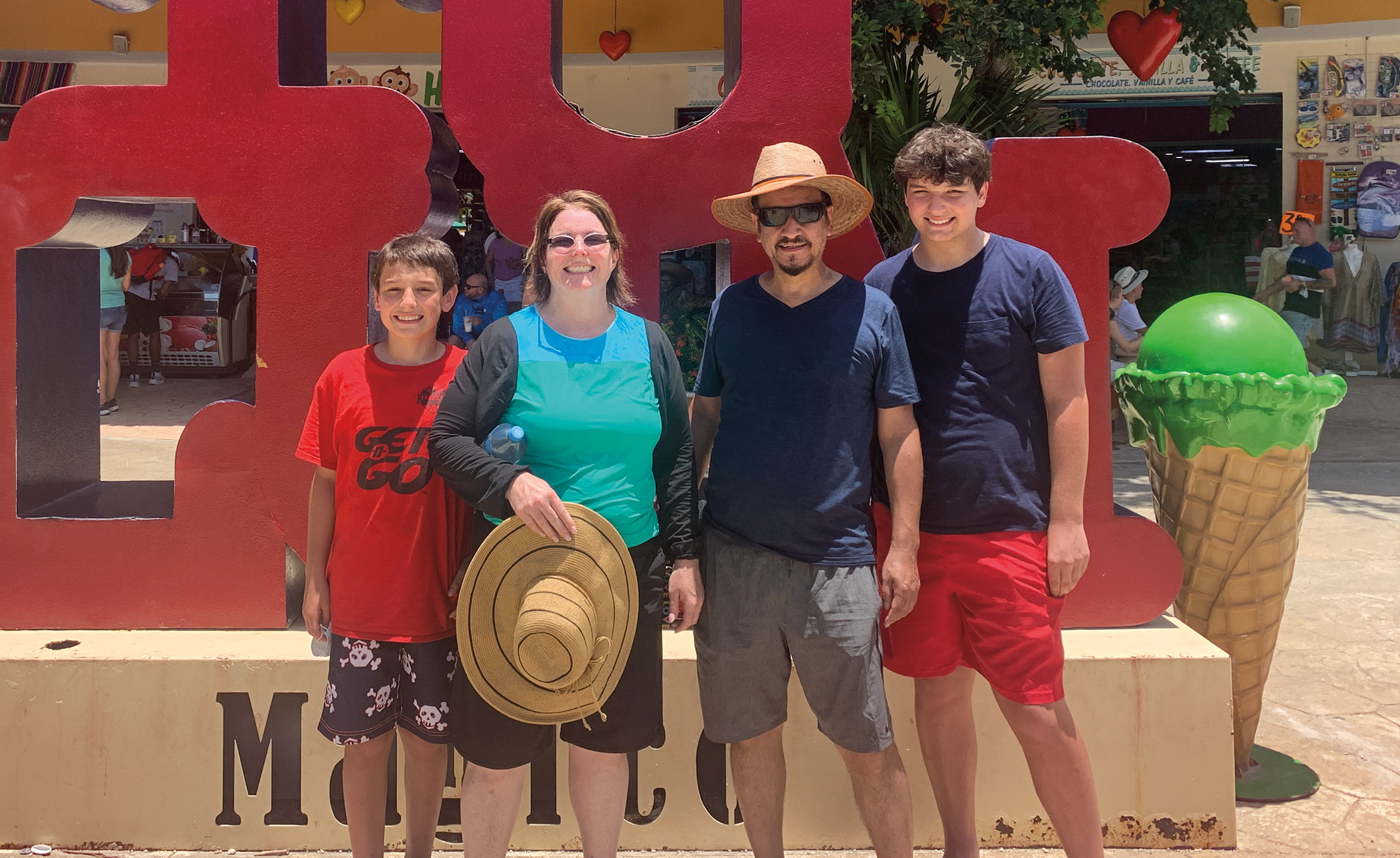 Ramirez recalls the first few months after moving his family to Sioux Falls from northern California. They were ill-equipped for the weather. At the first major snowfall, one of the family's new neighbors – a bearded man in a leather jacket – knocked on their door and offered some help and advice.
"He shared with us the rules about sidewalk cleaning and how you can't park on some roads while the plows are out. We did not know any of that. Then he cleared our sidewalk for us, then offered to let me use his shovel next time," said Ramirez.
The story illustrates the welcoming community that the Ramirez family found when they moved here. That neighbor became a friend that they trusted for advice and recommendations on services, restaurants and shopping as they settled into their new city.
Thousands of people move to Sioux Falls each year, and our community is increasingly becoming more diverse. Creating a community that is welcoming to all is something that Ramirez sees as an ongoing effort. He stated, "If we reach out and support others, we can continue to keep our community safe and strong and create a bright future for everyone."
The Chamber seeks to foster an open and welcoming environment, and to provide businesses with tools they need to create that environment in their workplaces. This past year, it launched a DE&I Activator Series in partnership with Pathways to Inclusive & Equitable Workplaces. Ramirez says this program is a good example equipping people to take the step from talk into action.
Schmidt believes that Ramirez's personal and professional journey demonstrates the importance of reaching out to new people and learning from others. He stated, "To see Alex aspire to leadership roles speaks volumes about him and his family. But it also says something about our business community. We can and do embrace the contributions of all individuals in our community."
Ramirez will be formally introduced as the Chair of the Board at the Chamber's 115th Annual Meeting on Tuesday, Oct. 19, when he will share some of his vision for the coming year. The evening will be a celebration of the success and opportunities in our community, and a chance to imagine our future transformations.
Five fun facts
about Alex Ramirez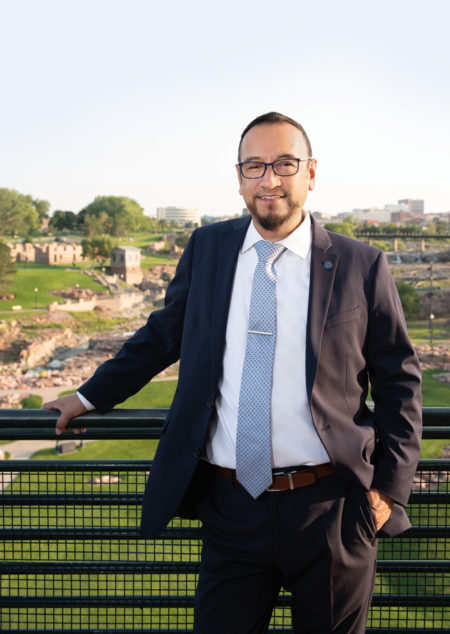 1.
Alex loves to cook and enjoys experimenting to craft new dishes. He was appeared on an episode of Grill It! With Bobby Flay, cooking grilled shrimp enchiladas
2.
Alex has traveled extensively, the list of places he has visited includes Italy, Greece, United Kingdom, Germany, France and more.
3.
Alex knows how to rebuild a car engine.
4.
Alex is a skilled musician and can play almost any instrument you give him. Most recently, he formed the performance group Sur y Norte to play a show at Levitt at the Falls.
5.
Alex's favorite thing to do in Sioux Falls is to climb the observation tower at Falls Park and view the city through the eyes of a tourist.