Feature Stories
Meet the creators: La Luna Café
Amy Smolik, for the Greater Sioux Falls Chamber of Commerce
September 7, 2022
4 min read
Located in Uptown Sioux Falls, La Luna Café is a destination for artists, families and businesspeople alike. It promises coffee, food and love — brought to you by a family who is passionate to serve.
La Luna is owned by Salvador and Edith Jaimes and started with the help of their three children. Salvador and Edith came to Sioux Falls in the early 2000s from El Salvador primarily to start a church. They had previous experience in the food industry and after talking about opening a coffee shop in Sioux Falls for years, in 2019 they finally took the plunge.
Opening any small business is an exciting and challenging endeavor. Doing it just before a pandemic hit, with some family members also serving as pastors of a church and other family members going to school, added a few more hoops to jump through.
Oldest son Salvador graduated from the University of Sioux Falls and now attends Princeton. Daughter Tatiana also graduated from USF and has started her professional career in social work but will still be active at the café. Youngest son Diego is now a student at USF.
"I can really appreciate our business community here. Everyone is so supportive," Tatiana said. "I love seeing people in their work outfits coming in on their way into work."
The Jaimes family extends their support to the creative community as well, serving as a home to artists who display their work for sale, as well as regular music performances and poetry readings.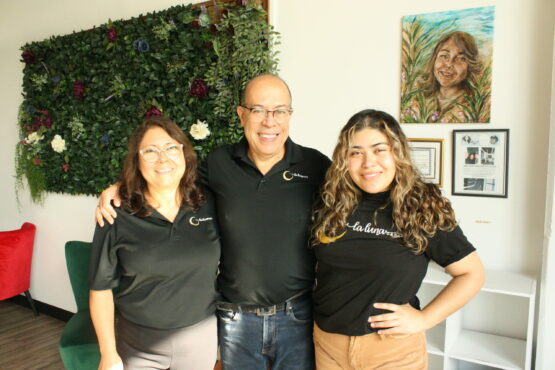 Art was always part of the business plan, Tatiana said. "It's fun to support the community through art and making art ourselves. Every plate we serve is art. We love latte art and make our drinks as pretty as possible. We're very specific on details in making our meals."
Tatiana said they view everyone who enters La Luna as a creative of some type, even if they don't necessarily consider themselves an artist. "We just want to push Sioux Falls to foster creativity," she said.
Creating a space that is welcoming to all was key to opening La Luna Café, as was joining the Greater Sioux Falls Chamber of Commerce.
We wanted to support the community having a space for people to be creative and they naturally gave us support back.
"We knew joining the Chamber was going to be a good thing. It's a built-in support system— a group that will give you a shout out," she said. "We wanted to support the community having a space for people to be creative and they naturally gave us support back. It's not just a give-give or take-take — it's give-take."
Salvador and Edith continue to grow their church, Iglesia Restauracion en Cristo (Restoration in Christ Church). They are both fueled by operating the café: Salvador, who loves waking up to a good cup of black coffee and a pastry; and Edith, who receives joy by creating food for others.
"Mom loves cooking for people — it brings her so much joy," Tatiana said. "She wants to watch people eat and enjoy the food, she loves to provide that service and finds joy in other people's enjoyment of eating."
While Tatiana will be stepping back a bit in her role at the café, she's still coordinating the rotating art displays. The current display celebrates their own baristas and showcases their latte art.