Feature Stories
Meet the creators: Time Management Systems
Amy Smolik, for the Greater Sioux Falls Chamber of Commerce
September 7, 2022
4 min read
Growing up near Sioux City, Mindy Kroll listened to her parents talk about their business over the dinner table. They talked about challenges, opportunities and ways to evolve the company. As a result, she knew that she, too, wanted to be her own boss someday.
Her parents adapted their business, Time Management Systems (TMS), and created new solutions for their clients as technology evolved from typewriters to copiers. After graduating from South Dakota State University and starting her career in sales, Kroll joined the family business in 2007, working remotely as she and her husband wanted to stay in Sioux Falls.
In 2013, Kroll and her sister, Jen Vanderloo, purchased the business from their parents. Kroll is the CEO and Vanderloo is the CFO, working out of the Sioux City office. The team of 26 employees is split between the two offices. In a nutshell, Time Management Systems sells software — but it is much more than that, Kroll said.
"We create solutions. We take what they have and integrate with our platforms. Our goal is to empower companies with strategic solutions through our creations," she said. "We don't want to be just a time and attendance company. We find solutions. We want companies to ask — 'what else can you do?' We'll create it!"
TMS employees are very forward-thinking. Many of the products and services created have come directly from input from frontline staff and requests from clients — "our staff is integral in the evolution of products that we write," Kroll said.
The company has client niches that utilize the services, from school districts to healthcare to manufacturing and grocery stores. Those dinner conversations Kroll listened to while growing up were about time and copier services and now have evolved to payroll, human resources, security and surveillance.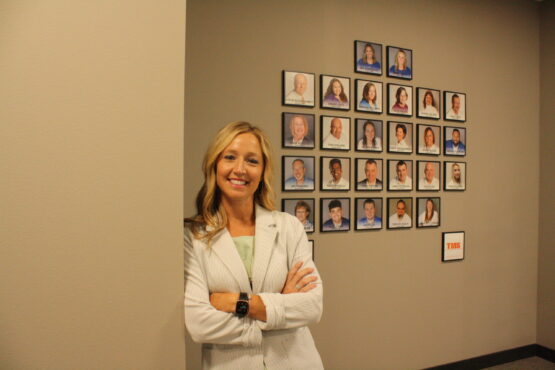 Because of technology, TMS clients are located across the country. Kroll wanted to work in Sioux Falls and keep an office here because the city is constantly growing and changing. "I look at so many cities that are dying and going backwards or have people leaving — Sioux Falls is not one of those cities," she said. "Everyone wants to live in a place when there's hope for the future, especially with everything that's going on in the world. Sioux Falls embodies that very well."
Our goal is to empower companies with strategic solutions through our creations.
For Kroll, being a member of the Greater Sioux Falls Chamber of Commerce creates connections. From events to advocacy, the Chamber is a great promoter for small businesses like hers.
"The Chamber does a phenomenal job of keeping people connected. I like the Morning Mingles — I can stop in on my way to work, grab coffee and meet people. Everything is very inviting," she said.
Working and living in a city that fits her personality — "content, but not complacent" — means going to work is fun for Kroll.
"My favorite part of my job? I get to pick who I work with. And I work with some awesome, smart people," she said.
As for being an entrepreneur, it's more fun than she thought it would be. "Growing up I watched my parents solve problems. I really enjoy leading and it's fun to create and build things — I am fortunate to work with the brightest and most forward-thinking team, which allows us to dream bigger," Kroll said.