Member Voices
Message from the chair
Paul Hanson, Sanford Health
March 2, 2023
3 min read
"Someone's sitting in the shade today because someone planted a tree a long time ago." Warren Buffett
I'm sure we have all received the advice at some point: invest for the future. Think long-term and be patient. It will pay off in the end.
It is more than just a way to ensure you can retire comfortably someday. The message rings true in so many other aspects of our daily lives too.
In Sioux Falls today, we enjoy the results of investments made in years past. The creation of Forward Sioux Falls more than three decades ago has boosted quality of life and contributed to an impressive growth trajectory for our region. A more specific, and recent, example could be the investment made by the voters of Sioux Falls five years ago to pass a $190 million school bond. Today, Jefferson High School and Ben Reifel Middle School are both open and serving students, and a new elementary is planned to open in 2024.
now it is our turn to invest in what comes next
Look around Sioux Falls and I'm sure you could come up with your own examples of investments paying off. So, now it is our turn to invest in what comes next. I'm proud of the collaborative investment made by our local health care organizations, education institutions and community leaders that led to the creation of the new Health Sciences Clinical Simulation Center at Southeast Tech. Investing in education and training programs is key to ensuring we have the workers we'll need tomorrow – and that is true across all industries.
Internships are another great way to invest in our next generation of employees. Our partners at the Development Foundation put together a great guide to help you create an internship program at your business. View it here.
We also have the opportunity to imagine what our downtown might look like decades from now through long-term investments in the Riverline District. A committed group of leaders is seeking input on that project and I encourage you to participate.
For those invested in seeing Sioux Falls grow and prosper, one of the best things we can do is invite others to join us in the effort. The Greater Sioux Falls Chamber of Commerce works diligently to foster connections, advocate for business, promote economic health and boost quality of life in our community. If you know someone who is not yet a member, please invite them to join the Chamber!
An investment in membership today, means a stronger Sioux Falls tomorrow.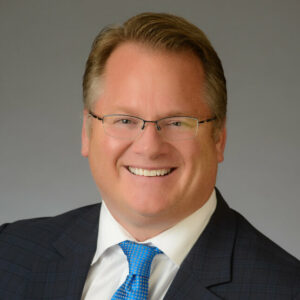 2022-23 Chair of the Board
Paul Hanson
President, Sanford Health