Member Voices
Message from the chair
Paul Hanson, Sanford Health
April 3, 2023
2 min read
Any organization that engages volunteers will be quick to tell you how valuable those individuals are to the programs and work that they do. Non-profit agencies, churches, youth sports teams, hobby groups, service clubs, the list goes on…most either wouldn't exist or would have very limited programming if not for volunteers.
Giving of time and talent through volunteering is one way to invest in our community.
The Greater Sioux Falls Chamber of Commerce is one of those organizations. Generally speaking, for each employee paid by the Chamber, we have 28 volunteers adding their contributions to the work. The commitment and passion of volunteers influences the culture of the organization that they are serving.
This is how our Chamber remains strong and vibrant!
Volunteering can take many forms. You might act as a liaison of the organization to its customers, spend time in a back room sorting supplies, or deliver meals to a house-bound senior. Personally, I have found mentoring to be incredibly rewarding. It gives you such a unique insight on how future leaders think, obtain and process information. It provides a sense of confidence that we are truly blessed to have young people so engaged and focused on improving outcomes.
In a time of worker shortages and hiring challenges, it may be tempting to tighten expectations of employees. Balancing the needs of your business with the needs of your employees, and being flexible where you can is an art form. And it is critical to the success of not just your business, but our community. We are so fortunate that in Sioux Falls, we have many "artists" in a variety of businesses, who are balancing workforce issues and providing wonderful services for those who live here.
Giving of time and talent through volunteering is one way to invest in our community. Giving of treasure is another. This month, Active Generations kicks off their Community Appeal campaign to raise funds for the construction of a second location on the east side of Sioux Falls. When the volunteer campaigner calls, I encourage you to consider supporting this effort.
No matter how you choose to serve our community – thank you!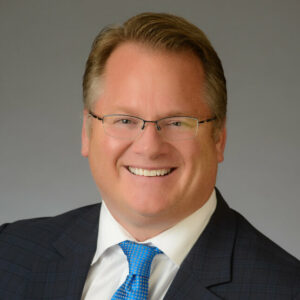 2022-23 Chair of the Board
Paul Hanson
President, Sanford Health