Member Voices
Message from the Chair
Scott Lawrence
October 3, 2023
3 min read
When I joined the Chamber's board of directors a few years ago, I thought I had a pretty good handle on the organization's work and structure. I soon learned that the was so much more happening behind the scenes than I realized.
I clearly remember the first time I attended an annual gathering of all the volunteer chairs of the Chamber's various committees. Each chairperson reported on the purpose of their committee, their accomplishments and future plans and their respective budgets. On paper, that might sound routine, but it was just the opposite. The dedication and enthusiasm of these leaders was evident, and it was incredibly inspiring. I left that meeting fired up to do my part in serving our community!
Sometimes being a leader means making space for others to shine.
It is a privilege to step into the position of Chair of the Board for the Greater Sioux Falls Chamber of Commerce. In the year ahead, my job is to hold the course and support the great work already underway by the hundreds of others already engaged in community-building through the Chamber.
Sometimes being a leader means making space for others to shine. Each October, the Chamber welcomes new board members, new committee chairs and a new class of Leadership Sioux Falls. You'll be introduced to all of them in this issue of Chamber News. I extend my thanks to all the retiring board members and committee chairs – and, in particular, to past chair Paul Hanson, Sanford Health – for your service to our Chamber.
I am confident that Sioux Falls is headed in the right direction. So many people have given of their time and talents over their years to collaboratively strengthen our community. I invite you to join me in celebrating that collaboration at the Chamber's 117th Annual Meeting on Oct. 17, 2023 at the Sioux Falls Convention Center. Our theme for the evening is Working in Concert, which will be beautifully illustrated through the music of the South Dakota Symphony's Dakota String Quartet and Dakota Wind Quintet. This is the largest business gathering of the year, so I encourage you to take advantage of the opportunity to connect with leaders from across Sioux Falls' many industries!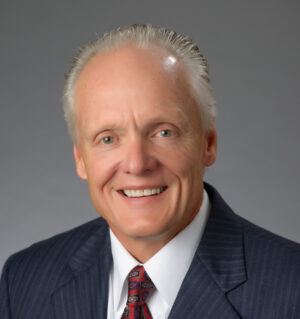 2023-24 Chair of the Board
Scott Lawrence
Lawrence & Schiller, Inc.