Member Voices
Message from the Chair
By Alex Ramirez, USA Media TV
December 1, 2021
3 min read
In business, as in our personal lives, there is an ebb and flow of activities that are driven by the seasons. We wrapped up Labor Day and fall celebrations, followed by costumes and candy for Halloween, only to leap into Thanksgiving, pausing for breath long enough to hang up the decorations and celebrate our holiday season, be it Christmas, Hanukkah or Kwanzaa, and then the New Year or Tres Reyes Magos. There is one more season after New Year's Eve that I especially look forward to, and, no, it isn't Valentine's Day just yet! It is the South Dakota legislative season, starting in January and running through mid-March.
While the State Legislature is in session, the Greater Sioux Falls Chamber of Commerce is there.
The Chamber advocates on behalf of your business at all levels of government year-round, but things really ramp up during the first few months of the year. While the State Legislature is in session, the Greater Sioux Falls Chamber of Commerce is there. We have a full-time lobbyist in Pierre throughout session, plus a team of staff and volunteers that help to monitor activity remotely and guide the advocacy efforts of the Chamber as issues arise. We are there to be the eyes, ears and voice of your business and the business community in general.
I am proud to communicate that your Chamber offers a number of opportunities for you to interact with government elected officials throughout the year, and particularly during the legislative session. As a new-to-Sioux Falls entrepreneur over 10 years ago, I found value in joining our Chamber and being able to talk to the people who make real change in government to encourage a positive business climate.
I would like to invite you to take advantage of these great events put together by your Chamber. Please attend a legislative event such as Good Morning Sioux Falls, participate in a Legislative Coffee or get on the bus with us to Pierre for an event you will never forget – Sioux Falls Day at the Legislature!
Stepping back to December, I would like to take this chance to remind you to shop local. I cannot emphasize it enough. During this holiday season, when you spend your money in Sioux Falls, the dollars are more likely to be spent again here. Money that turns over within our community helps fuel our economy and keep us all in business. You can find a full listing of our members in the Member Directory on the Chamber's website.
In closing, I would like to wish everyone the most joyous holiday season, and warmest wishes that you can now (safely) gather and celebrate with friends, family and loved ones. I am honored to be serving as your Chair, and the Chamber staff and I look forward to a bright and successful 2022! Thank you.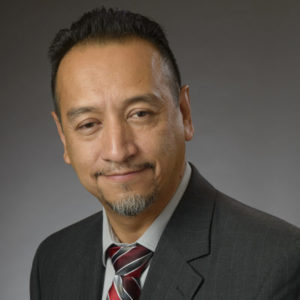 2021-22 Chair of the Board
Alex Ramirez
USA Media TV