Member Voices
Volunteer Spotlight: Andrew Curley
Jill Callison, for the Greater Sioux Falls Chamber of Commerce
April 14, 2023
3 min read
Andrew Curley's professional and personal interests blend seamlessly when it comes to volunteering with the Chamber. The director of government relations for Midco, he serves on the YPN steering committee and is active in the Chamber's public policy work through the IMC.
Events he has facilitated for the YPN in recent years are aimed at educating and engaging young adults in civic issues. His employer has been a Chamber member for more than 70 years, and its leadership supports Chamber membership among its employees. But that encouragement also meshes with his personal desire for civic involvement.
"It's really how I've gotten started in volunteering throughout the community," Curley said. "The more you show up, the more you meet people and are presented with other opportunities. The Chamber has been my entry point in getting involved."
Curley took part in Leadership Sioux Falls two years ago and recently joined the EmBe board of directors.
The IMC advises the Chamber on public policy and advocacy issues. Involvement with the IMC also is an asset as the civic engagement chair for YPN. His IMC work is a great way to share Midco's perspective on issues and a way to bring the Chamber's thoughts on different matters to Midco, Curley said.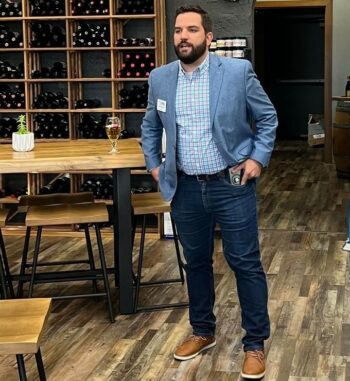 YPN, which is open to young professionals before they reach age 39, is Curley's particular passion now. At 34, he has five more years of membership and intends to make the most of it.
"YPN is a great way to meet people that you otherwise wouldn't interact with," Curley said. "It's a great way for people starting off in your professional life to network, whether it's a happy hours or coffee or professional development."
Curley hasn't decided what role he'd like with the Chamber after YPN. YPN and ICM are good fits for him now both personally and professionally, and when the time comes, he'll find something else that suits.
"To make Sioux Falls a great place to raise a family, it takes volunteers like [those with] the Chamber of Commerce," he said.
To make Sioux Falls a great place to raise a family, it takes volunteers like the Chamber of Commerce.